Tata Tiago EV launch highlights: Range, spectacular pricing revealed
Tata Motors officially launched its most-awaited electric vehicle (EV) in the form of Tiago EV today. Tiago EV has been eagerly awaited by customers in India as it could be a window through which masses enter the battery-powered personal four-wheeled mobility space. While Tata Motors has a lion's share in India's electric car segment with Nexon EV and Tigor EV dominating charts, it is the affordability factor of the Tiago EV that is generating maximum buzz.
Check out the highlights from the launch event of Tiago EV right here: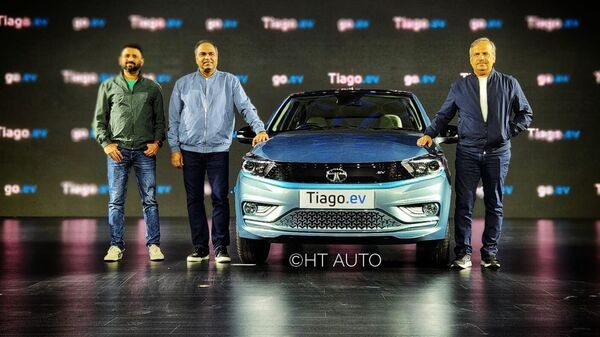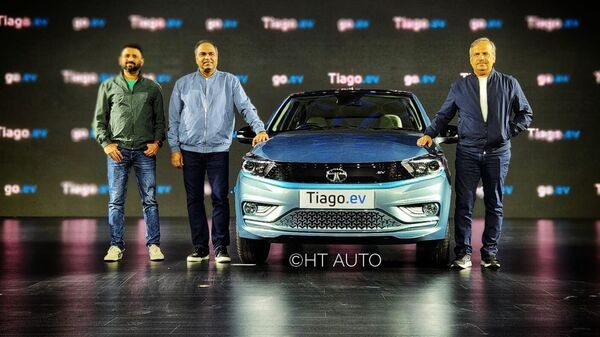 Tata Motors is confident of the mass-market segment embracing electric technology and for Tiago EV to strike a deep connect here.
28 Sep 2022, 12:16 PM IST
What do you make of the Tiago EV?
Check out our full report on the website and don't forget to follow us on our social media channels - YouTube, Instagram and Twitter.
That's all from the live blog. Thanks much for joining.
28 Sep 2022, 12:03 PM IST
Tiago EV promises to take battery power to the masses
Even if introductory, this is some very solid pricing for an EV. At ₹8.49 for the base XE variant with 19.2 kWh battery pack and all the way to ₹11.79 lakh for the top-of-the-line XZ+ Tech Lux variant with 23 kWh battery pack, Tiago EV is now out on the hunt and raring to strike.
28 Sep 2022, 11:56 AM IST
Booking window and delivery timeline
The booking window for Tiago EV opens from October 10. Deliveries of the vehicle will start from January onwards.
Special mention for existing EV owners from Tata Motors' camp. Of the first 10,000 bookings for Tiago EV, 2,000 units have been reserved for them.
Also check these Cars
Find more Cars
28 Sep 2022, 11:55 AM IST
Tiago EV launched at ₹8.49 lakh!
Tiago EV has been launched at a very enticing price point of ₹8.49 lakh for the base variant. The pricing is ex-showroom and introductory, valid only for the first 10,000 bookings made.
28 Sep 2022, 11:44 AM IST
Tiago EV to be offered in multiple colour options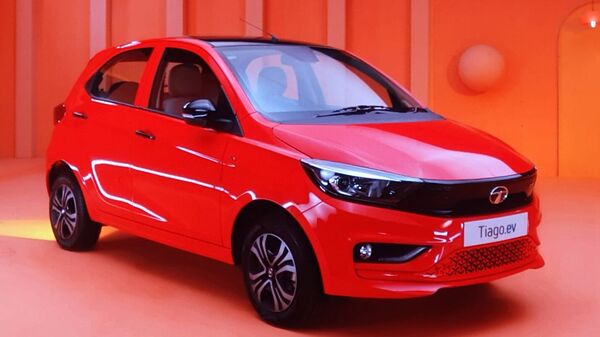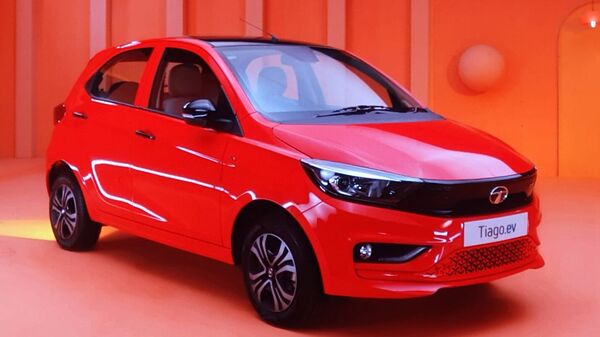 Tiago EV is seen here in a bright shade of Red, one of several colour options on the car.
28 Sep 2022, 11:39 AM IST
Feature highlights of Tiago EV
Tiago EV gets an eight-speaker Harman sound system, rain-sensing wipers, connected car technology, automatic transmission as standard, among other highlights.
28 Sep 2022, 11:38 AM IST
Starry highlights of Tiago EV
Tiago EV is being made available with two battery options, each with a different range. A 24 kWh battery is good for 315 km range. There is also a 19.2 kWh battery pack for around 250 kms range. These range figures are claimed numbers.
There are two drive modes available, including a Sport mode. Zero to 60 kmph comes up in 5.7 seconds.
28 Sep 2022, 11:37 AM IST
And here's your first look at the Tiago EV from the outside…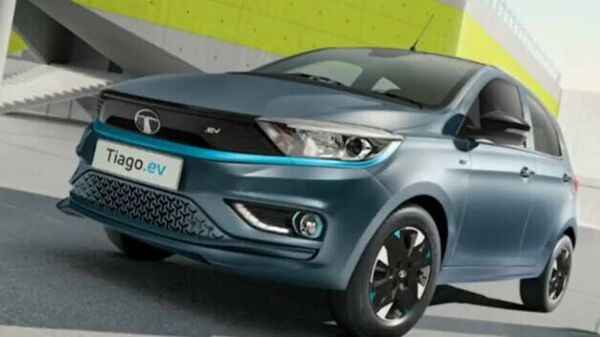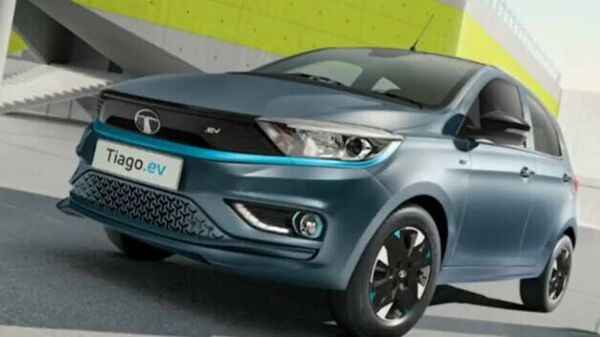 Tiago EV gets two battery pack options - 24 kWh for 315 km range. There is a 19.2 kWh battery pack for around 250 kms range.
28 Sep 2022, 11:30 AM IST
What is the expected price of Tiago EV?
Expect Tata Motors to assume an extremely aggressive posture as far as pricing of the Tiago EV is concerned. We expect the base price to start at somewhere in the region of ₹10 lakh (ex showroom, pre incentives)
28 Sep 2022, 11:02 AM IST
Recap watch
Here's our first-drive review of the Tigor EV that was launched in September of last year.
28 Sep 2022, 10:57 AM IST
What are the feature highlights of Tiago EV?
It has already been confirmed that Tiago EV will support fast charging options. Details would be shared at the launch event which is around half hour from now. Apart from charging speed, the EV will get cruise control, one-pedal driving, multiple regenerative braking modes and connected car technology.
28 Sep 2022, 10:42 AM IST
What is the battery size of Tiago EV?
Tiago EV is expected to share several elements with Tiago EV. This includes the technology at play and the platform. The Tigor EV is propelled by Tata's Ziptron technology and has a 26 kWh lithium-ion battery pack at its core. This helps it produce around 75 hp and offer 170 Nm of torque. While these figures are likely to be same on the Tiago, it could have a lesser range than Tiago EV's claimed figure of a little over 300 kms per charge. Of course, all of these are speculations for now as far as Tiago EV is concerned.
28 Sep 2022, 10:28 AM IST
How will Tiago EV stand out from the Tiago?
Apart from the obvious difference in powertrain, Tiago EV will also boast of styling updates on the outside to separate it from Tiago. While essentially the same dimensions and design philosophy, the EV version of the car will come with a closed grille at the front, plenty of EV badges and is likely to be offered in the trademark shade of Blue that is also available on other Tata EV models.
28 Sep 2022, 10:20 AM IST
Should you buy an EV?
The short answer is a 'Yes'. Yes, if you want to drive a zero-emission vehicle and contribute in the fight against climate change. But do note that battery production does involve use of several non-renewables and that India still produces most of its electricity from non-renewable sources.
But your need for an EV may be different from that of another. EVs make most sense if you frequently drive and frequently drive long distances. Do note that the support infrastructure on highways and smaller towns is still missing, and charging your car at home is still your best bet. To break even, studies show that one has to drive around one lakh kilometers.
28 Sep 2022, 10:03 AM IST
A four-pronged strategy
Tata Motors is going big on all fuel types – its Harrier and Safari SUVs get only diesel engine options while many of its other models are petrol-powered.
The likes of Tigor get a petrol engine, petrol engine-combined with CNG and the latest is an entirely electric powertrain. This will also be how the company moves forward with the Tiago which also gets a CNG kit option.
28 Sep 2022, 09:37 AM IST
What are your electric car options at present?
As mentioned below, each of the luxury car makers in the country now has at least one EV in their respective product portfolio.
In the mass-market segment, Tata Motors offers Nexon EV, Nexon EV Max and Tigor EV. Pricing range is between around ₹12 lakh to ₹19 lakh
MG Motor India has its ZS EV which was recently updated as well. The pricing starts at ₹22 lakh.
Hyundai Kona has been around for quite some time and is priced at ₹24 lakh.
Then there is Kia EV6 which comes in via import route and carries a price sticker of ₹60 lakh.
(All prices are ex-showroom and before any incentives/subsidies)
28 Sep 2022, 09:15 AM IST
Ambitious plans for flamboyant EVs
Tata Motors claims it is not just content with fitting batteries inside existing models as has been the case with Nexon, Tigor and now the Tiago. Earlier this year, the company showcased two very ambitious electric concepts in the form of Cuurv and Avinya.
These concept EVs aren't coming in any time soon but do give a generous glimpse into what the future of Tata EVs could be like.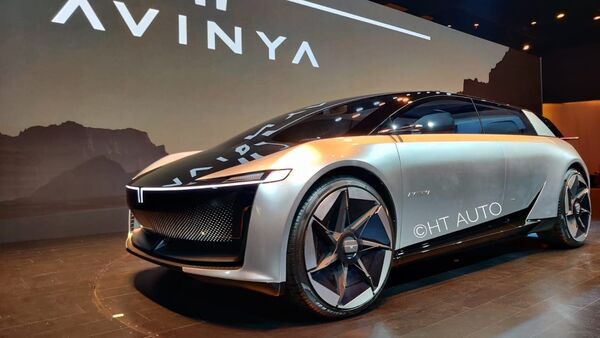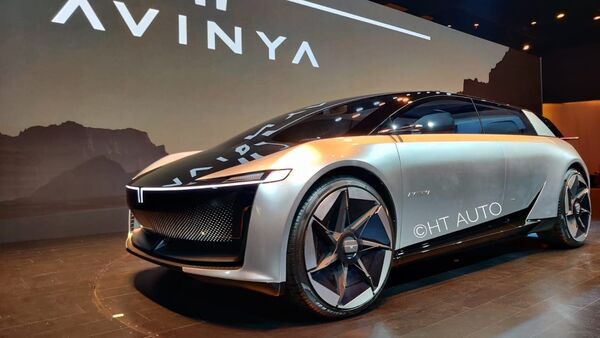 Avinya is based on a new Gen 3 platform which is built with lightweight materials and focuses on bringing down the overall mass of products based on it. This means that the Avinya may offer over 500 kms range in its production version.
28 Sep 2022, 08:59 AM IST
Won't Tata electric cars eat into each others' share in the market?
Although there are some variations in the price points of Tigor EV and Nexon EV, Tata Motors is content having all in its own camp. Senior company officials have previously told HT Auto that it is important for the EV segment in India to grow and for them, it doesn't matter much which Tata EV contributes the maximum.
28 Sep 2022, 08:40 AM IST
How important are EVs in Tata's product portfolio?
Very. The Indian car maker expects its EVs to account for 20 per cent of its overall passenger vehicle sales in the domestic market. Shailesh Chandra, MD at Tata Motors, previously said he expects the company to hit the key milestone of 50,000 Nexon EV and Tigor EVs sold this year.
The addition of Tigor EV could act like a catalyst considering it would be the most affordable electric car from Tata Motors so far.
28 Sep 2022, 08:35 AM IST
How is Tata managing to lead in the EV race in India?
The 'affordable' options for an EV in India are still quite limited with only Tata Motors offering products under ₹20 lakh price bracket. While the Nexon EV has been a runaway hit, the launch of the Tigor EV and the longer-range Nexon EV Max has also generated quite a lot of buzz.
While Mahindra is prepping its XUV400 for a January launch, the other options are MG ZS EV and Hyundai Kona, both of which are priced significantly above the Tata products, as is the Kia EV6.
Then there are the luxury car manufacturers like Mercedes-Benz, Audi, Volvo, BMW and Jaguar, each having at least one offering for the Indian market.
28 Sep 2022, 08:35 AM IST
What makes Tiago a compelling option in the small-car segment?
The petrol engine-powered Tiago was first launched back in 2016 in a highly-competitive space which was dominated by the likes of Maruti Suzuki and Hyundai. In the course of these past years, Tata Motors has sold over 3.5 lakh units of the vehicle. Part of the success is courtesy a practical car that Tiago has established itself as, priced aggressively to boot. The subsequent launch of Tiago NXG targeted a younger car-buying audience courtesy some stylish additions to the exterior profile.
First Published Date:
28 Sep 2022, 08:35 AM IST


Shop Now

73% OFF

64% OFF

74% OFF