One-minute battery swaps are spurring EV adoption in Asia
Hsiao Ding Hong fell in love with his electric moped right away. The battery-powered two-wheeler doesn't make noise, vibrate or emit any exhaust. It has a sleek gray-blue exterior, can be controlled via smartphone app and even sings for Hsiao on his birthday. Best of all, it takes just one minute to get a full charge.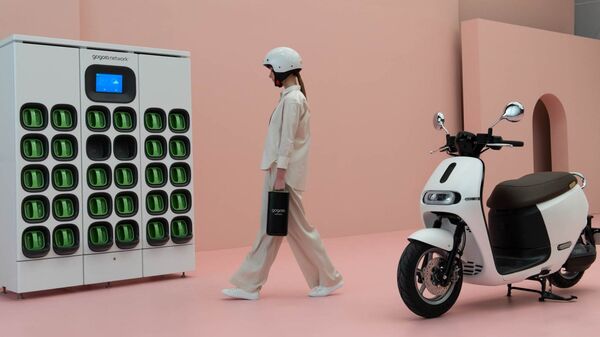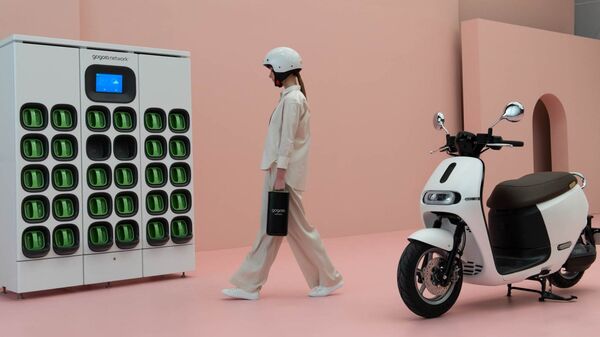 Swappable batteries will be a part of Gogoro models and the company is setting up the charging infrastructure first before bringing its product range
That's because Gogoro Inc., the Taipei-based company that sold Hsiao his moped, lets him swap out its two batteries as often as he likes for up to 630 kilometers (392 miles) of driving each month, all for a subscription fee of 849 new Taiwan dollars ($27.80). Every weekday, as the 26-year-old university administrator rides to work in Taiwan's Hualien city, Hsiao's app identifies the nearest swapping station with charged batteries in stock. Once there, he pulls out his moped's depleted batteries and inserts them into a vending-machine-like device, which then distributes fresh ones. Within 60 seconds, he's on the road again with 40 miles of new range.
"Had battery swapping not been an option, I wouldn't have purchased an electric scooter," says Hsiao, who drove a gasoline-powered model until 2021. "The battery swapping service is really appealing because it saves a lot of time."
Also check these Vehicles
Find more Cars
Hsiao is one of many in Asia who are starting to embrace electric mobility with the help of batteries that can be changed out on the fly. While battery-swapping is complicated to implement in electric cars — part of why it has failed to catch on in the West — companies like Gogoro are proving that mopeds, rickshaws and other two- and three-wheelers are well suited to quick-and-easy battery switches, which can both alleviate range anxiety and spur wider EV adoption.
The boost can't come soon enough, either. In India, for example, nearly 80% of vehicles sold are two-wheelers, and motorcycles and rickshaws account for roughly one third of fuel consumed on the road, according to clean energy research group BloombergNEF.
"Electrifying two-wheelers and rickshaws can help increase emissions mitigation in this decade before electric vehicle adoption takes off in other segments," says BloombergNEF analyst Allen Tom Abraham. In 2020, just 2% of two-wheelers in Southeast Asia were electric. BloombergNEF expects that figure to reach 20% by 2030, thanks in part to battery-swapping.
Why swapping is surging
Today, Gogoro says it has more than 500,000 active monthly users and over 260 swaps on its network every minute, plus pilot programs in Indonesia, the Philippines and India. Also in India, Hyderabad-based RACEnergy sells retrofitting kits to convert gasoline rickshaws into electric models with batteries that can be swapped at its stations. In Singapore, MO Batteries offers a local swapping pilot program and has plans to enter Malaysia; the company is also testing battery swapping with logistics heavyweight DHL in Vietnam. Swapping's potential has even lured multinationals to the fold: Honda Motor recently installed its first swapping station for moped drivers in Tokyo.
That enthusiasm stands in contrast to Western companies, whose battery-swapping efforts have largely failed to take off. Israeli startup Better Place launched in 2007 to target battery swapping for electric sedans, but by 2013 it was bankrupt, due in large part to the exorbitant cost of developing charging and swapping infrastructure for cars. That same year, Tesla Inc. unveiled a plan to enable 90-second battery swaps for the Model S, but never rolled it out at scale.
Battery-swapping stations for mopeds and rickshaws are easier to build and finance than those for cars, says Abraham at BloombergNEF. Companies like Gogoro also make a habit of signing partnerships that ensure multiple vehicle manufacturers use a standard interchangeable battery. By contrast, limited interoperability for car batteries has made swapping a hard sell almost everywhere outside of China.
Chetan Maini, who created India's first electric car, the Reva, knows how hard it is to get drivers to electrify. When Maini set out to sell the Reva in the early 2000s, EV adoption in India was limited by high upfront costs and minimal charging infrastructure. It took him a decade to develop a business that could circumvent those limitations: In 2017, Maini co-founded Sun Mobility, a Bangalore-based battery-swapping startup that partners with around 10 manufacturers of electric rickshaws and mopeds. Customers can switch out their batteries at roughly 300 Sun Mobility stations in 18 cities.
Maini says that letting drivers effectively subscribe to on-demand access makes electrification more financially manageable, as batteries account for roughly half of an electric vehicle's cost. Backed by Germany's Bosch Gmbh, which has a 26% stake in the startup, Sun Mobility has around 15,000 customers — up 650% from last year — and is working with investors to raise at least $100 million for further expansion, according to co-founder Ajay Goel. Maini estimates that moped drivers save up to 40% on monthly costs.
"From a time and space perspective, the swap solution is efficient," says Abhinav Singh, a director in charge of the delivery operation at Amazon India, which last year doubled, to 200, the number of vehicles in its fleet using Sun Mobility's battery-swapping service. "You're able to turn the vehicles around really fast."
What's next for swapping
For some battery-swapping startups, vehicle electrification is just the beginning. Gogoro founder and Chief Executive Officer Horace Luke says his company is already transforming some of its 12,000-plus stations into so-called virtual power plants, meaning parked batteries could send electricity back to the grid when demand spikes. Gogoro has tested this idea at 10 stations in Taiwan so far, and Luke says he's preparing to monetize the service.
While Asia's battery-swapping experience offers a case study for other developing nations — similar services are emerging in Kenya and Brazil — the model still has hurdles to work through, chief among them the need for more battery standardization. Companies like MO Batteries are working to provide universal solutions, but the reach of any given swapping startup is limited by how many manufacturers use the model of battery it supports.
And while battery-swapping stations are proliferating, there still aren't enough of them to support a full-scale electric transition. In India, for example, each Sun Mobility swap allows an Amazon rickshaw driver to travel 45 kilometers (28 miles), which is sufficient for grocery delivery in downtown Mumbai but falls short of reaching the suburbs. To get the company's long-haul delivery fleet on board, "the ubiquity of the swapping solution will have to be as much as fuel stations," Singh says.
It will also take time for drivers to overcome their range anxiety, even with swapping on the table. In Taiwan, where Gogoro has spent hundreds of millions of dollars and nearly a decade expanding its network, Hsiao still plans all his battery switch-outs ahead of time — even for the scenic 22-mile drive to a local gorge. He also swaps batteries more than is needed, citing factors like uphill driving that make him nervous about running out of juice. It's for "ensuring peace of mind," Hsiao says. "If I were on my gasoline scooter, I wouldn't have worried about that."
First Published Date:
10 Apr 2023, 09:42 AM IST
Recommended for you
View all
NEXT ARTICLE BEGINS


Shop Now

55% OFF

21% OFF

73% OFF