How not to use ADAS? Viral video of couple's stunt on Mahindra XUV700 shows
Advanced Driver Assistant System (ADAS) is becoming an increasingly popular feature among car buyers in India. Earlier limited only to high-end luxury vehicles like Volvo and Mercedes-Benz, this technology has now made its way to the affordable vehicles in India made by carmakers like Mahindra and Mahindra, Hyundai and Tata Motors. From Mahindra XUV700 to the Honda City facelift sedan, cars of different shapes and sizes are now being offered with this premium feature. However, a viral video of a couple pulling off a stunt on a moving XUV700 has the social media buzzing: If India is ready for such features yet?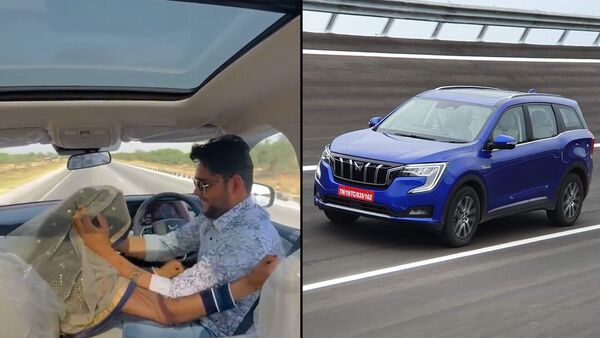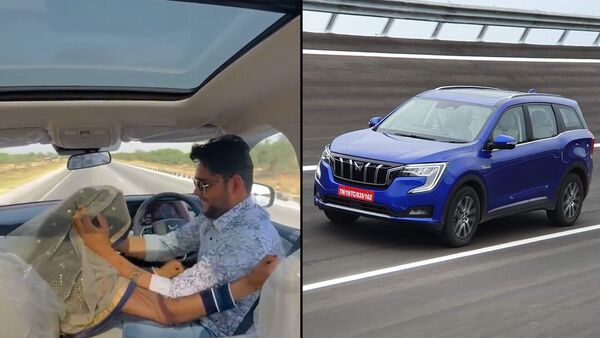 Screengrab from the viral video of a couple inside a moving Mahindra XUV700 (courtesy: Facebook) has created a stir on social media about Indians' habits of misusing advanced technology inside modern cars which can cause fatal accidents.
The viral video, shared on Facebook recently, shows a man driving a Mahindra XUV700 on aa highway with his wife. The person was showing off how drivers can take a backseat given the accuracy of the ADAS technology inside XUV700 to keep it rolling. He even raises his legs across the seat in a relaxing mode as the SUV keeps on speeding down the highway, possibly using features like adaptive cruise control and lane keep assist. It shows complete disregard to safety of himself and other occupants in case of an emergency. It also shows negligent behaviour of the driver while behind the wheels.
This is not the first time an Indian car with ADAS feature has been misused and led to such stunts to gain social media attention. Recently, another video of a man sitting on the driving seat with his legs up and playing cards with his friends went viral. Earlier, videos surfaced on the internet, showing the Mahindra XUV700 driving itself on the highway. All the videos drew sharp criticism on social media, but they have not stopped surfacing still.
Similar Products
Find more Cars
Watch: 2021 Mahindra XUV700 review: Price, features, specs explained
ADAS technology was developed primarily to assist drivers to tackle different situations on the road where possible accidents can be pre-empted and avoid human error. It offers features like adaptive cruise control to maintain the vehicle's speed based on the speed of the vehicle in front, automatic emergency braking to stop the vehicle in case it detects an obstacle on the road ahead, lane keep assist to keep the vehicle between lanes even if the driver is too fatigued.
Mahindra XUV700 offers ADAS features like Adaptive Cruise Control to detect speed of vehicles around and adjust its speed accordingly, High Beam Assist that switches between high-beam and low-beam depending on oncoming traffic, Traffic Sign Recognition to read road signs, speed limits and alert the driver, Automatic Emergency Braking to detect pedestrians and cyclists in the SUV's path, Driver Drowsiness system to detect alertness level of drivers and warn.
All carmakers advertise ADAS technology as only assistive in nature and advises drivers to be alert with hands on wheels all the time. It is particularly helpful in case of long drives along highways and can help to offer drivers much needed breather from constantly focussing on the road.
First Published Date:
13 Mar 2023, 12:22 PM IST
Recommended for you
View all
NEXT ARTICLE BEGINS


Shop Now

55% OFF

23% OFF

9% OFF