Price war squeezes Chinese carmakers with no relief in sight
China's increasingly heated car price war is exacting a heavy toll on automakers. Steep discounts have failed to reverse a slide in sales for most manufacturers, and earnings have taken a hit.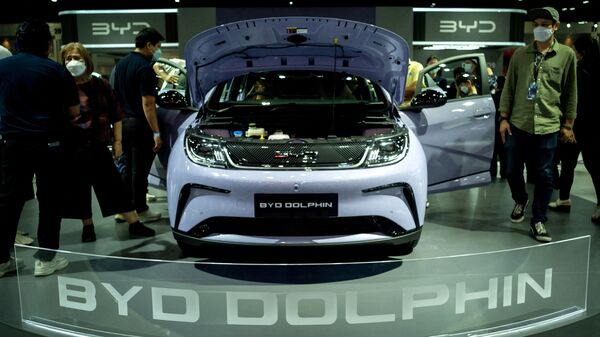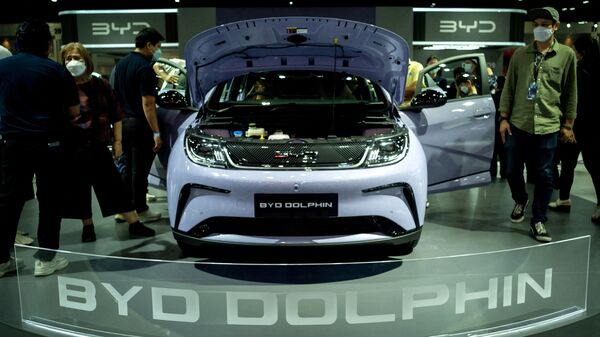 File photo for representational use: Visitors view a BYD Dolphin EV car at a motor show.
A Bloomberg analysis of first-quarter results from more than a dozen Chinese automakers showed revenue and profit margins are under pressure. Save for a few exceptions such as BYD Co. and Changan Automobile Group Co., most top listed Chinese automakers suffered a decline in profits — the worst showing since the beginning of 2020, when the industry was crunched by the start of the pandemic.
"It turned out the price cuts didn't stimulate too much extra demand," said Minghsun Lee, head of greater China auto research at Bank of America Corp. "Consumers have the perception that car companies will continue to cut prices, so they'll wait."
Also check these Vehicles
Find more Cars
Here's how key metrics of deliveries, revenue and profits are faring:
Deliveries
Of the 17 Chinese carmakers that have published March deliveries, 10 saw sales rise from a year earlier, suggesting the impact of price cuts has been mixed. While March sales rose for Geely Automobile Holdings Ltd., Changan Auto and Guangzhou Automobile Industry Group Co., their first-quarter profits still declined between 1% and 11% compared to a year earlier.
Electric-vehicle upstarts Xpeng Inc. and Zhejiang Leapmotor Technologies Ltd. fared even worse, with first-quarter sales plunging around 50% from a year earlier.
BYD led the pack of eight companies that posted an increase in first-quarter sales year-on-year, with 89% growth. That helped the Warren Buffett-backed automaker dethrone Volkswagen AG as China's top-selling car brand.
Another bright spot: Dongfeng Automobile Co. After offering discounts of up to 40% on the Citroen C6 (produced in a joint venture with Peugeot SA), it managed to ship 4,086 of the model in March, having sold just 126 in February.
Overall sales for Dongfeng however fell 2% in March and 28% in the quarter from a year earlier. The joint ventures it operates with Honda Motor Co. and Nissan Motor Co. have seen sales tumble for at least two years in China.


File photo used for representational purpose. (REUTERS)
Revenue
Quarterly revenue declined at seven of the 15 companies to report so far. Last year, six automakers saw first-quarter revenue drop, while all but two posted growth in the first quarter of 2021.
The three companies suffering the biggest fall in revenue were EV upstart Leapmotor, with a 28% drop, and legacy carmakers Dongfeng (down 27%) and SAIC Motor Corp. (down 20%).
Dongfeng and SAIC have long relied on sales and profits from joint ventures with global automakers including General Motors Co., Honda and VW, which are losing market share to EV juggernauts like Tesla Inc. and BYD. Sales from the Honda and Nissan joint ventures made up 64% of Dongfeng's deliveries in 2022, while the GM and VW joint ventures accounted for 47% of SAIC's sales last year.
"There's a structural change that's happening in China," Bank of America's Lee said. "Local brands have been taking market share from foreign brands. Initially, the Korean and French brands started to lose market share, then the German and American cars and the trend has gradually spread to Japanese brands, once the strongest in China."
Profits and Margins
The price war and ballooning investment in the transition to EVs ate into growth. Of the 10 companies that turned a profit in the quarter, only three posted an increase. That's down from four in 2022, and all of them in 2021. Again, BYD was an outlier, posting a 410% surge in earnings, while Changan Automobile's profit rose 54%.
The dilemma facing all legacy carmakers, not just Chinese ones, is that gasoline cars currently generate more profit and better margins. By selling a increasing number of electric cars, they're actually making less money, according to Lee.
"But if they want to survive, they have to embrace EVs otherwise they'll disappear," he said. "So they have to choose. Worldwide, traditional car companies want to have more EV sales, but profitability will be worse."
Changan's profits rose 54%, largely due to a 5 billion yuan ($722 million) windfall from a merger with partially owned EV brand Shenlan. Not counting that and other extraordinary gains, the company's net income last quarter declined 35% compared to 2022.
Despite the hit, the Chongqing-headquartered company may show a way forward for legacy carmakers. It's gaining market share steadily, rising to the third best-selling car brand in China for April, according to data from country's Passenger Car Association out Tuesday. It's also the first Chinese legacy auto company to set a deadline for phasing out gasoline cars by 2025.
The firm has focused on developing its own models and launched popular EVs such as the Lumin, the seventh-best selling electric sedan in the first quarter, and the SL03, which came in ninth. Its gross margin was 18.6%, close to Tesla's 19%. Unlike Dongfeng and SAIC, 85% of Changan's sales and profits come from proprietary brands.
BAIC Motor Corp.'s industry-leading 26% margin comes from selling luxury Mercedes-Benz Group AG cars, which accounted for 96% of revenue in 2022.
No Relief in Sight
Retail passenger vehicle sales increased 2.5% in April from March, data from China's Passenger Car Association released Tuesday showed. Year-on-year, they jumped 56%, but that's off an artificially low April 2022 when lockdowns across the country due to Covid meant people weren't buying cars.
Still, the widespread and deep price cuts show no sign of abating. A total of 695 passenger car models, or around 23% of all vehicle types on the market, were subject to price drops of more than 10,000 yuan in the three months through April, according to data from research provider China Auto Market.
Even so, Lee expects passenger car wholesales to stay flat for 2023, with a slight decline in domestic demand offset by growing exports, where Chinese carmakers will be looking for growth. The market is too crowded with dozens of traditional and EV makers, and no major player has exited yet, he said. "There are too many companies and everyone wants to survive," he said.
First Published Date:
10 May 2023, 08:34 AM IST
Recommended for you
View all
NEXT ARTICLE BEGINS


Shop Now

55% OFF

19% OFF

73% OFF