Mahindra Scorpio-N under waterfall: How much is too much for a sunroof?
The popularity of sunroofs among buyers in the Indian passenger vehicle market has been epic. While restricted to upper variants of select models till not so long ago, manufacturers are only too glad to recognize the growing demand and therefore, oblige. But numerous instances of a sunroof being used for something more than letting in fresh air into the cabin have been surfacing with a video recently going viral in which the roof of a Mahindra Scorpio-N allegedly began leaking water when it was slowly driven under a waterfall.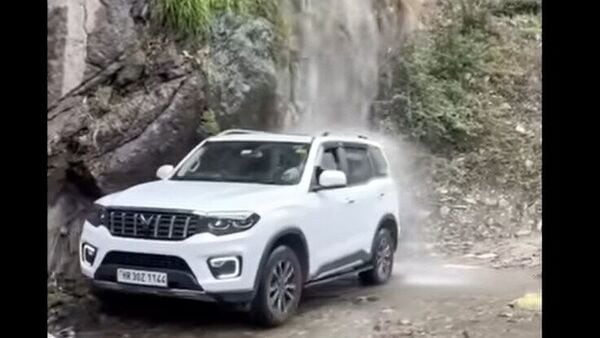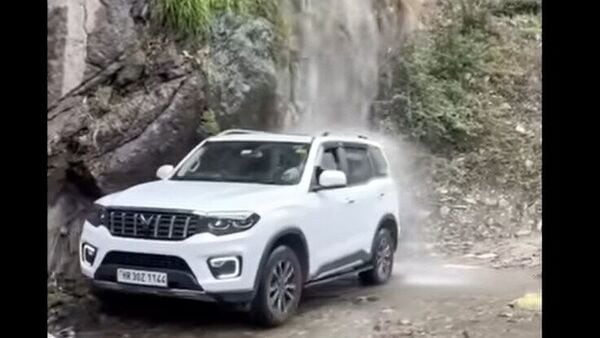 Screenshot taken from video posted on Youtube by Arun Panwar.
A video doing the rounds on social media shows a driver - an automotive influencer - taking the Mahindra Scorpio-N under a waterfall for what appears to be a wash. The sunroof seems to be tightly shut even though the front passenger-side window was open. As the vehicle comes under the full force of the waterfall, water comes in not just from the open side window but the roof-mounted speakers as well. It is not clear if water also seeped in from the closed sunroof but the video has led many to react sharply. While some question the driver for testing nature's fury, others have cast aspersions on the build quality of Mahindra vehicles.
The size of sunroofs in modern-day vehicles are expanding with variants like panoramic sunroof and moonlight often being advertised prominently. While manufacturers claim these are as solid as the conventional roofs, there may still be limits. Many who reacted to the above video have highlighted that the force of the waterfall may have been too much for any sunroof on any vehicle to handle. They highlight that sunroofs are making car owners indulge in stunts that may not be safe at all times.
Similar Products
Find more Cars
Others, however, have pointed out that Mahindra needs to test its vehicles better because there is water leakage from the roof-mounted speakers as well. A few of these netizens have highlighted quality issues in their own respective Mahindra vehicles.
As far as the above video is concerned, the vehicle in question needs to be inspected and it won't be fair to either slam Mahindra for quality-control issues or blame the driver solely for the eventual folly. But the larger issue may well be if there is a growing need to educate car owners and passengers on sunroof usage - both in terms of what is legal as well as on the engineering limitations against the full force of nature.
First Published Date:
28 Feb 2023, 10:07 AM IST
Recommended for you
View all
NEXT ARTICLE BEGINS


Shop Now

55% OFF

23% OFF

9% OFF