Flying taxis are real but not quite ready for take-off yet
Once a part of comic book and movie folklore, flying taxis are expected to be a reality soon. However, commercial take-off may take longer than we think. In most big cities, commuters waste hours on the road because of traffic. Metro rails may be faster than driving to your destination, but there will soon be an option to book a flying taxi using a ride sharing app and fly to said destination.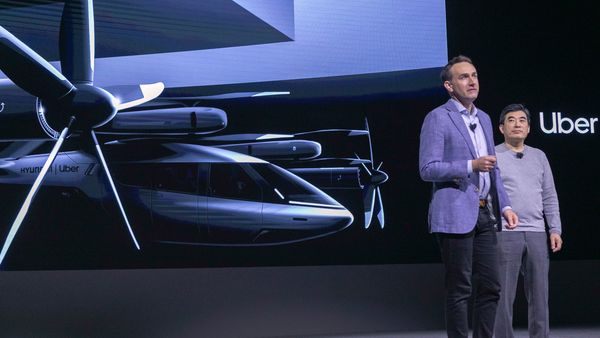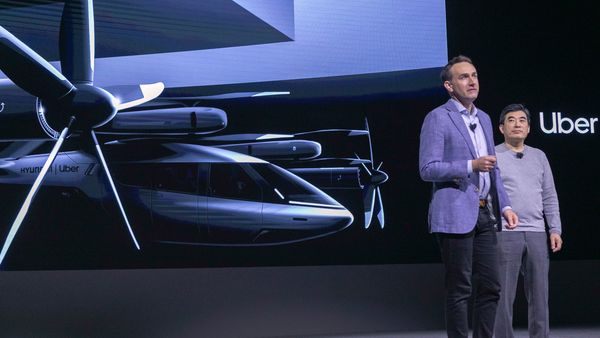 Eric Allison (L), Head of Uber Elevate, and Jaiwon Shin, Head of Urban Air Mobility at Hyundai, talk about the S-A1 electric vertical takeoff and landing (eVTOL) aircraft at CES 2020.
"As the global population keeps increasing and flowing into cities, congestion will become a major problem," said Pedro Pacheco, senior director analyst, Gartner. "Given that individuals want the ability to travel faster and more conveniently, advanced technology is the only way to achieve this while at the same time limiting environmental and congestion impact," he added.
At this year's Consumer Electronics Show, or CES, Hyundai showcased Elevate, a prototype of its personal air vehicle (PAV) for Uber's aerial ride sharing network. Elevate can fly at 180 miles per hour and go up to 2,000 feet. Designed to take off vertically, transition to wing-borne lift in cruise, and then transition back to vertical flight to land, the aircraft can cover 60 miles in one charge. Initially controlled by a pilot, this electric vehicle will also support autonomous flying.
Also check these Vehicles
Find more Cars
Hyundai's PAV isn't the first of its kind. Intel-backed German startup Volocopter has built a two-seater multicopter that can fly autonomously or with a pilot. Also powered by electricity, Volocopter's latest prototype has a very different design from Hyundai's PAV and has 18 electric rotors fitted atop a circular frame. The presence of multiple, smaller rotors makes it less noisy when compared with large rotor-based helicopters that run on combustion engines. For the ease of the flier, Volocopter has put a single joystick for controls, with the option to switch to autonomous flying.
In the US alone, there are about six vehicles that are awaiting aircraft-type certification. So, the technologies and the market are maturing. "It is our expectation that we will see limited scale demonstration projects in several cities around the world by 2023," Robin Lineberger, principal-global and US aerospace and defence leader at Deloitte, pointed out.
This new breed of flying vehicles are designed to make less noise, run on electricity, support autonomous flying so that they can accommodate more passengers and are much smaller in size, something that should make landing and take-off in urban areas easier. However, for safety reasons it is unlikely that these vehicles will be allowed to land anywhere.
Lineberger explains that these air taxis will not be dispatched to an individual location, but will rather fly on pre-established routes. Taking off and landing from pre-established "vertiports", which are helipad like structures for landing such vehicles. So, the air taxi is just one mode in a "multi-modal transportation experience" and not the first or last mile solution.
Like in all autonomous vehicles, safety is an important issue in air taxis, as autonomous technologies are still maturing, and the on-board detection systems used to avoid obstacles still have a long way to go.
A traffic management system with defined air space along the lines of Digital Sky (India's platform for regulating drones) will be required for autonomous flying taxis as well. Aviation regulators worldwide have been closely watching this new mode of transport. According to reports, the European aviation regulator—European Union Aviation Safety Agency—is preparing a set of tests to evaluate the safety of flying taxis and the software running them.
The Civil Aviation Authority of the UK has created a virtual sandbox for testing flying taxis, while China is also mulling over a framework for flying standards and certification.
Pacheco said the main roadblock will be legislation. "Air travel is highly regulated, so it is very hard to understand when regulators from each country will be willing to allow regular flying taxi services. This entails not only safety clearance for flight but also more effective air traffic control to cope with higher number of flying vehicles in the skies," he added.
Several companies aim to begin services in the next four to five years, but the wait can be longer. Lineberger doesn't expect them to take off before 2035. "To be very clear, this is for the vehicles with pilots. Full autonomy is beyond the 2035 time-frame. How far beyond still remains to be seen," he added.
First Published Date:
17 Jan 2020, 09:29 AM IST
NEXT ARTICLE BEGINS


Shop Now

70% OFF

65% OFF