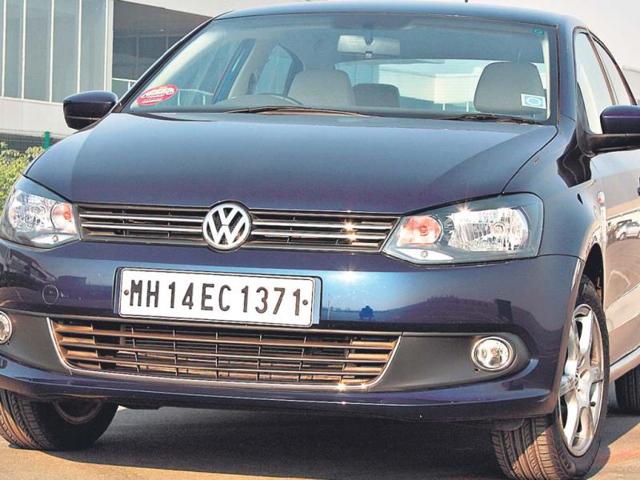 VW Vento TSI : the perfect automatic sedan, almost
3 min read

.

Updated: 03 Jan 2014, 02:54 PM IST

The engine is small but it is high on performance thanks to an advanced gearbox. But, at Rs. 10 lakh, is India ready for it?

Demand for automatic cars is gradually on the rise in India. Referred to as gearless cars in common man's terms, these offer a smooth, hassle-free drive and technological advancements, besides being quite fuel economical as well in some cases. Perhaps it is this trend coupled with a revival in petrol car sales of late that is luring Volkswagen more and more to launch automatic versions of its cars.

They did it with small car Polo earlier this year. Now is the turn of the Vento sedan.

But unlike small cars where automatic versions are still few and far between, there is a greater availability among sedans. So, does the Vento TSI bring anything new to the table?

EXTERIOR

Nothing new here as far as looks are concerned. Barring an overplay with chrome on the grille and fog lamps and TSI badging at the back, this is just a regular Vento. And given that the Vento itself is a Polo with a boot, you end up paying so much more but it does not stand out on the road. As a design, Vento inherits Polo's clean timeless visage that is proportionate and contemporary. Without being flashy like the Hyundai Verna, it is a car that will not look dated easily. A little more creativity though was required since the TSI charges a premium over the regular car.

INTERIOR

Nothing has changed in the interiors, too, except for the linear gearbox and the lack of a clutch pedal. High on quality with superb fit and finish, the cabin is built to last. And it gets all blings and whistles in features including rear parking sensors. Space inside is decent for a car of this size but the launch of the new City next week will make it look cramped.
PERFORMANCE, RIDE AND HANDLING
The big talking point here is the 7-speed DSG gearbox that is so capable that it does a stellar job of hiding the deficiencies of the small 1.2-litre engine. On paper the engine does not have the legs for highway-chugging but its high torque makes it a beast in city. But being the best on paper never won anybody anything. So how does all the technology fare in real time Indian roads? The first thing that hits you when you tun on the ignition is how silent the engine is. Automatic cars are known to be sluggish and noisy. None of that is true for this one. As the torque flows in at a very low 1,500 rpm, the car gets off the block in a flash. You don't even have to press the accelerator for that. Simply move the foot away from the brake and it hur tles forward. The superior transmission negates any turbo lag that the car may have had. Drive it gently in the D mode and it will callibrate itself to give you a decent bang for your buck. But it is the happiest in sports mode when you revv the engine hard and throw it around the corners. There is manic acceleration that does not quite hit because there is no turbo-boost anywhere. It is linear with just a gentle humm of the motor. The only grouse is the light steering that does not go well with hard cornering and the lack of paddle shift gears that would have made the drive a little more involving.
VERDICT
The Vento TSI without a shade of doubt has more technology driving it than any other sub - ₹10 lakh sedan in India. The engine though small, is capable, and the gearbox is impeccable. It is still not more fuel-efficient than a manual sedan and that will limit its attractiveness in these times of high fuel prices. But as a car that is high on performance and offers an exciting ride, it has few competitors.