Watch: Driver loses control of Lamborghini in Bengaluru, rams traffic post
Lamborghini Gallardo is one of the most iconic of all supercars and its 500 bhp of power requires high level of skill and expertise to drive.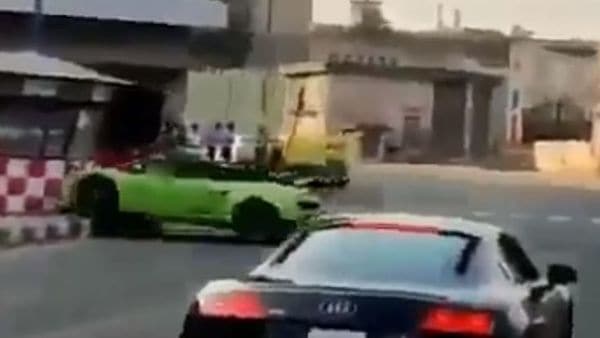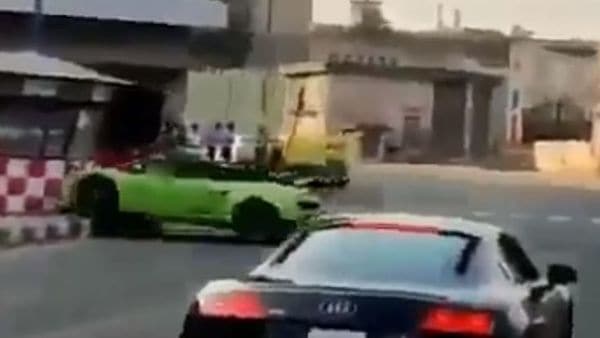 This scree grab was taken from a video posted on Twitter by @balivada
In a shocking video that is going viral online, a Lamborghini Gallardo worth at least ₹1.50 crore met with a sorry fate in Bengaluru when its driver rammed the supercar against a traffic post.
The short video clip of the incident shows the green Gallardo at a traffic signal along side a white Porsche and a black Audi before taking off at a lightening speed. Within seconds, however, the supercar turns to left and this is probably where the driver loses control and slams the car straight into a traffic post.
Another clip, also shared online, reveals a completely wrecked bonnet of the Gallardo after the unfortunate accident.
While local cops are investigating the incident, it once again comes as a stern reminder about the skill and expertise required to control a supercar, especially on Indian roads.
The Gallardo from Lamborghini is one of the finest models from the Italian maker and is capable of producing maximum power of over 500 bhp. There is also 540 Nm of torque at ready disposal which gives the supercar its propulsion power. Raved by automotive enthusiasts around the world, the Gallardo has attained an iconic status over the past several years and demands to be driven by people who understand its capabilities completely and remain in control when behind the wheels.
First Published Date:
12 Feb 2020, 05:06 PM IST
NEXT ARTICLE BEGINS