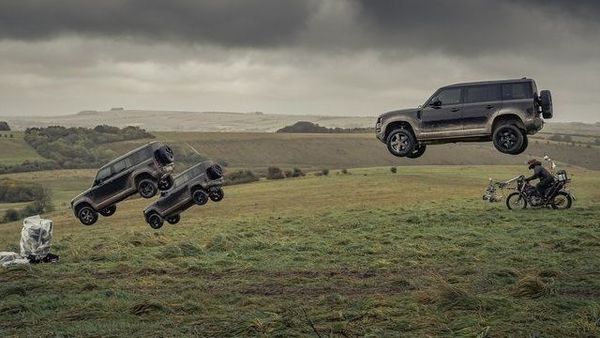 The new Land Rover Defender will be flying in the latest James Bond film
1 min read
.
Updated: 18 Feb 2020, 11:20 AM IST
The automaker has shown what the SUV had to endure during the filming of the latest James Bond flick - No Time to Die.
The new Land Rover Defender jumps a ramp, flies more than 10 meters, the suspension is punished, jumps down an irregular road, enters a river, passes through a trunk and finally suffers a rollover, to stay on all four wheels and continue the way.
The new commercial of this rough vehicle is just a sample of what the new star of James Bond movies can do. The new off-road technology of the new Defender amazes at every moment, and that is why he made all his scenes in No Time to Die, which will premiere in April 2020.
Land Rover Range-rover-velar
1997 cc|Petrol|Automatic (Torque Converter)
Land Rover Range-rover-evoque
1997 cc|Petrol|Automatic (Torque Converter)
Land Rover Range-rover
2996 cc|Petrol|Automatic (Torque Converter)
Also Read: The new Land Rover Defender is the 'stunt vehicle of choice'
Stunt coordinator Lee Morrison says: "We pushed the Defender more than we thought possible to create maximum tension." During the shooting of the car chase in Scotland, the Defender flies over 30 meters in the air.
Check details of the new Land Rover Defender
"We did not need to modify the body or install any dump cage," says Nick Collins at Land Rover.
Watch: What the new Land Rover Defender pulled off in the new James Bond film


Behind the steering wheel sat Jessica Hawkins as co-coordinator Lee Morrison hand-picked from the Formula 3 W Series where she showed off her ability. "It doesn't get more exciting than being a stunt driver in a James Bond movie," says Jessica Hawkins.
Just 10 cars were involved for the shooting - these were the first cars assembled at the factory in Slovak Nitra. In the movie, the crew used the Land Rover Defender 110 X with a 5-door black Santorini Black body, dark underbody protection and 20-inch black wheels with off-road tires.
The chase sequence in was directed by stunt coordinator Lee Morrison, who worked alongside Oscar winner Chris Corbould, Supervisor of Special Effects and Action Vehicles.
"We have exceeded all possible limits with the Defender to generate great expectations and show the fans the extraordinary challenge that has been recorded by the exciting sequence of persecution they can enjoy in No Time to Die," said Lee Morrison.
All off-road vehicles involved in the filming process were completely standard. The only refinement was the installation of a safety cage to protect stuntmen performing tricks.