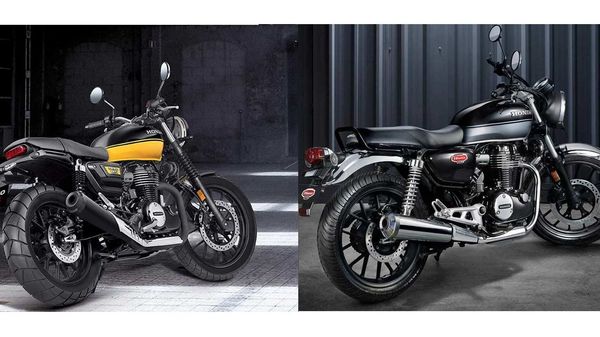 Honda CB 350 RS vs H'Ness CB 350: Top 10 differences explained
2 min read
.
Updated: 17 Feb 2021, 01:18 PM IST
The new Honda CB 350 RS gets a number of updates over the H'Ness CB 350 which was launched in India last year.

The CB 350 RS looks sportier in comparison to its counterpart.
Honda Motorcycle and Scooter India recently revealed the new CB 350 RS which is a sportier trim of the H'Ness CB 350 bike. The latter went on sale in India last year. The new neo-retro offering has been priced at ₹1.96 lakh (ex-showroom, India) and will be sold through Honda's premium BigWing and BigWig Topline chain of dealerships.
Here are the top ten key differences it carries over the donor model.
The Honda CB 350 RS has been introduced in two new color options – Radiant Red Metallic and Black with Pearl Sports Yellow. These options are different from what's currently on offer on its donor model.
While the H'Ness CB 350 gets a chromed treated circular housing, the sportier version of the CB 350 features a new external cover for the headlamp with gray finish.
While there are circular turn indicator units on the H'Ness CB 350, the 'RS' version gets much sportier-looking indicators which are also LEDs.
While the H'Ness CB 350 was seen kitted with neat front suspensions forks, the CB 350 RS features fork gaiters at the front for a more sporty look. These will also help to keep the suspension rods cleaner for a longer time, thus requiring less overall suspension maintenance.
The side body panels bearing the 'H'Ness' logo have been replaced with slightly angular-looking panels on the new RS model.
The new CB 350 RS gets a skid plate which protects the engine panels from the lower side for a more rugged use.
The new RS version of the CB 350 motorcycle features wider tyres with block pattern. These are completely different from the road-focused tyres offered on its retro classic counterpart.
No Honda Smartphone Voice Control (HSVC) feature:
Honda has removed the Smartphone Voice Control (HSVC) feature from the CB 350 RS bike, although, the same is offered in the DLX Pro variant of the H'Ness CB 350.
The RS spec model gets a tuck and roll seat which as per Honda improves overall comfort during long rides. Moreover, even the tail light design has been tweaked to give the RS spec model a more intimidating appeal.
Same design, minus chrome:
The CB 350 RS basically features a similar overall design and layout, albeit with a different colour theme. Apart from that, also the chrome detailing has been significantly reduced on the sportier version of H'Ness.