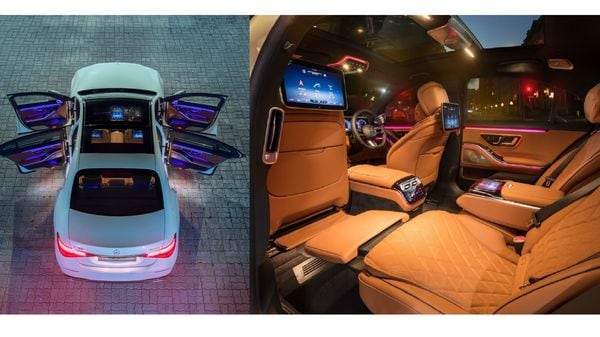 2021 Mercedes-Benz S-Class: Five firsts in flagship sedan
1 min read
.
Updated: 17 Jun 2021, 05:14 PM IST
With the latest update, the Mercedes S-Class has arrived with something that's only found on supercars - Rear Axle steering.

The S-Class Launch Edition boasts the sporty AMG Line exteriors and interiors with 20-inch alloys – a first time on the S-Class in India.
Mercedes-Benz on Thursday announced the launch of the 2021 S-Class in India. Mercedes' latest luxury saloon has been priced at ₹2.17 crore for the diesel and ₹2.19 crore for the petrol model (ex-showroom prices).
The model broke cover last year with a range of new updates making it 'the most advanced S-Class ever'. Mercedes claims that the seventh generation of its flagship limousine has not only become smarter thanks to the all-new technology that underpins the new model, but it also takes the driving experience to a whole new level.
With the latest update, the new-gen S-Class continues to rival the likes of other cars in the segment such as the Audi A8 and BMW 7 Series.
Here are some of the key highlights seen for the first time on the Mercedes S-Class.
1
Rear Axle steering: With the latest update, the S-Class has arrived with something that's usually found on supercars - 'Rear Axle steering'. The company says that the steering angle at the rear axle is up to 4.5 degrees, contributing to maneuverability and agility on tight spots. In addition to that, it also brings forward handling benefits from an extended wheelbase at higher speeds.
2
NTG7 MBUX (Mercedes-Benz User Experience): The NTG7 MBUX debuts in the new S-Class. The company claims that the computing power of MBUX is 50% more than the unit featured in the previous model. The car gets five screens onboard, which according to Mercedes is a benchmark in the interface between the driver, passengers, and the vehicle.
3
All-new portrait OLED head unit: The all-new portrait OLED head unit found on the latest Mercedes S Class now provides a 64% larger screen area for a better User Interface. In addition, the car also gets a redesigned instrument cluster spanning 12.3-inches.
4
Seamless door handles: It gets all-new seamless door handles that are the first-ever on an S-Class. They are activated when the driver approaches or touches the outer surface of the door handle, leading to electrical extension of the handles.
5
Frontal airbag: The new S-Class gets the world's first frontal airbag for the rear two passengers on the outer rear seats. Mercedes claims that in severe frontal collisions, it minimises the loads acting on the heads and necks and thus makes the car safer for the passengers.