For $650,000, a Porsche you'll happily drive into a ditch
You may not realize it, but a lot of people want a Porsche that can go off-road.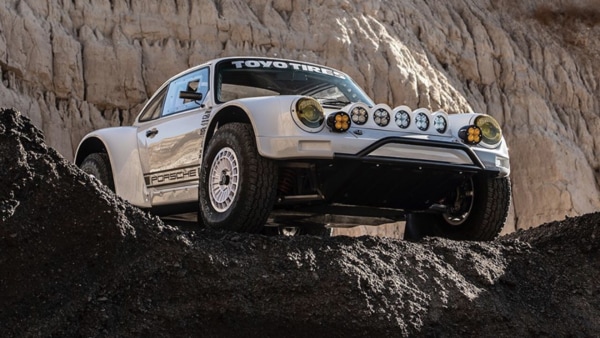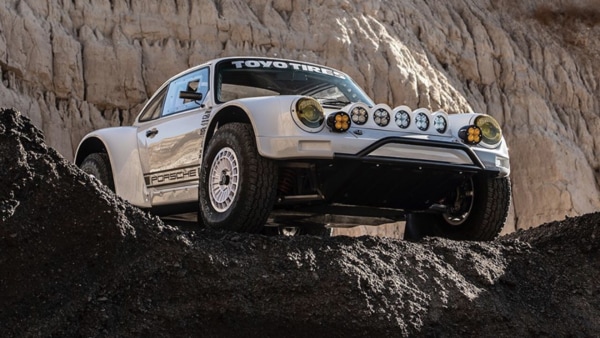 This photo of Porsche 911 was shared by TJ Russell (Photo courtesy: Instagram/the_baja_911)
In November, a builder named TJ Russell unveiled a gleaming white Porsche 911 at the Specialty Equipment Market Association (SEMA) show in Las Vegas. The car, known as the Baja 911, had wide, flared fenders;huge, knobby tires;a roll cage;and nine (!) headlights.
It looked like the type of desert car Steve McQueen would have dreamed about, like what Porsche would have made had it continued its rally endeavors well past the halcyon years when it raced 6,200miles from Paris to Dakar in a legendary car called the 953.
Also check these Cars
Find more Cars
Add to compare
Check latest offers


Add to compare
Check latest offers
Add to compare
Check latest offers
Add to compare
Check latest offers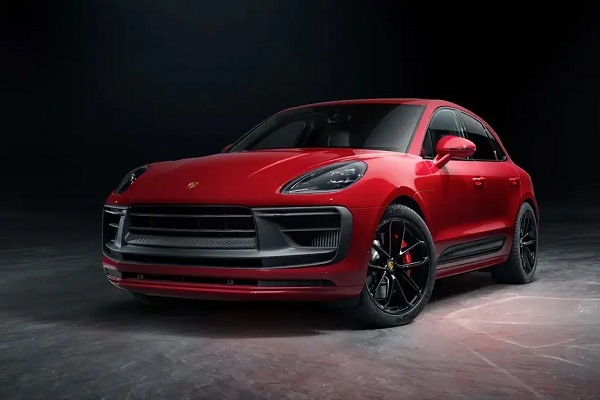 1984 cc | Petrol | Automatic (Dual Clutch) | 12.35 kmpl
₹83.21 Lakhs - 1.36 Cr*
Ex-showroom price
Add to compare
Check latest offers
Add to compare
Check latest offers
During the SEMA debut, the Baja 911 was swarmed for hours with international automotive press, industry insiders, well-known builders, and fan boys taking photos, making videos, and generally drooling over the hand-craftsmanship that Russell completed, alone, over the course of more than a year. Since then, the car has appeared in dozens of dust-caked glamour shots, set with the sun illuminating its aggressive stance while it dances over boulders and through sand. It is plastered all over car blogs and Instagram feeds, and in YouTube videos and trade magazines.
But the Baja 911 is more than just a pretty face. It has more than a foot of ground clearance, a unique suspension system of cushy and nimble shocks, a reinforced chassis, and a purpose-built 3.8-liter, 365-horsepower engine paired with a specialized five-speed transmission engineered to perform for thousands of miles, day in and day out, in 100F-plusheat.
It has been sprayed with a layer of sound deadening and ceramic coating to insulate the cabin from noise and heat; the interior metal surfaces are welded and sealed from the front fuel supply and rear engine bay in orderto guard against collision and water damage; and the carbon seats in the rear fold down to reveal a locking storage box for spare parts and tools.
The whole car weighs just 2,800 pounds—400 pounds less than a stock 911 fresh from the Porsche factory. It's a featherweight suited for navigating the punishing sands, boulders, and heat of Mexico's Baja Peninsula—the source of its name.
At $650,000, the Baja 911 represents the top 1% of a larger group of cars known as "Baja," "safari," or "rally" cars, so named to evoke the type of driving they do. They're designed to race in glamorous and gritty off-road contests such asthe East African Safari Classic Rally,the Carrera Panamericain Mexico, the Peking to Paris Motor Challenge, or the Rally Caminos del Incain Peru. In simplest form, the terms—used interchangeably—refer to any vehicles modifiedtoperformoffpaved roads.
"Rallies are exhilarating like you can't believe," says Jeff Gamroth, who builds rally-ready Porsches at his company Rothsport Racing in Sherwood, Ore. In 2018, a Gamroth car won the NORRA Mexican 1000 off-road race.It was the first time in history a Porsche had ever won a 1,000-mile-plus desert race. "There's times you're going 100 miles an hour through the forest, with trees going sideways on either sides. Or you'll be on a dry lake bed for one minute, driving flat-out 110 mph, and then get onto silt beds with talc powder dirt so fine it's like water."
Rally cars have a long history. The Baja Bug(a modified Volkswagen Beetle) and the Meyers Manx, a dunebuggy-looking tub with wheels, were popular in Southern California in the 1960s. The Manx, in particular, earned international acclaim in several movies, includingThe Thomas Crown Affair. Enthusiasts would modify the bodies of stock vehicles to make them suitable for harsh environments, cutting off fenders and removing the entire front or rear sections of the car, or jacking them up to allow for more ground clearance over boulders and inclines. They'd add tall antennas on the back for CB radios and winches and luggage racks to prepare for the inevitable times they'd get stuck or bogged down out in the wilderness.
Meanwhile, in England, a British racing champion named Vic Elford was becoming famous for winning rally events in Porsches modified to better handlecross-country terrain. By the 1970s, Porsche was participating in rallies in Africa with so-called Porsche 911 SC Safari cars outfitted with additional ground clearance, massive underbody protection, and frames reinforced for the 3,000-mile-pluscompetitions. In 1978, Porsche took second and third places in the Kenya Safari Rally, the only team to reach the finishing line with two vehicles still running. In 1984, a Porsche 935 911 won the world's most prestigious off-road race, the Paris to Dakar Rally.
Of course, not only Porsche has this history—rally style Ford Broncos have crisscrossed desert sands virtually since the Bronco debuted in 1965 (in1971, Forddebuted a limited run "Baja Bronco" to commemorate the Bronco'svictories in both theBaja500 andBaja1000 events); Mercedes famously raced a1980 Mercedes-Benz R107 500SL; and Audi, Lancia, and Subaru eachhave long rally histories. Even Saab is in on the act, includingthe gray one with orange racing stripes that enthusiast Mark Skinner built in Brooklyn, N.Y., last year. It was inspired by the Saabs that won the Great American Mountain Rally in New York in 1956.
"The safari thing transcends all demographics, from people on the street to other drivers on the road to little kids who see it and scream," says Skinner, who owns Zurich Classic Motors, a company specializing in buying and selling Saabs from the 1980s and 1990s."The style is becoming more and more popular as technologies continue to stump the visceral experience of cars. In the Safari car, everything is visceral: just modern enough but not too modern."
There are no clear numbers on growth for what has always been a corner of a corner of a niche industry, but aquick jaunt through Instagram, YouTube, car gatherings, and even Bring a Trailerlends plenty of evidence that its awareness and popularity are on the rise. In the American South, Leh Keen has built Safari-inspired 911s as fast as he couldsell them since 2016; Tuthill Porsche in England has built themsince 1977.
"The safari/rally market is going like it's never gone," Gamroth says. "The phone rings every day with people wanting to talk about rally Porsches and parts. It's way up—it's gone nuts. I honestly don't see any end in sight."
Most recently, Jim Glickenhaus's Baja Boot truck spanked Ford's own entry in the Baja 1,000 in November. The win is notable:Glickenhaus made his name building what must be the farthest thing from off-road rigs—half-million-dollar racing Ferraris. You can buy one of your own for $250,000 and a little bit of a wait. (Demand is at all-time highs, says Glickenhaus.)
But it's among Porsche aficionados that the appetite for rally cars has truly flourished—and from the oddest glut. Owners of expensive old Porsches such as Turbos from the 1970s ($200,000 and up) used to be able to count on feeling special any morning they chose to pull into the parking lot at a local car gathering. The same goes for those who ownhandcrafted and bespoke cars built byCalifornia-based shops such as Emory Motorsports and the aforementioned Singer, which recentlystarted selling a $1.8 million car. These days, those owners often find themselves joined by two or three others driving similar models, with all having expectedto feel special. It's like showing up atthe party to find you're not the only girl wearing vintageVersace.
The ubiquity of those once-elusive Porsches has prompted wealthy owners to look for something even more exotic. It has pushed the formerly humble, extremely rarefiedworld of rally cars into the upper echelons of design and pricing.
Enter Russell, of Baja 911 fame. He built the car out of his shop, Russell Built Fabrication, but he honed his skills over nine years as a metal fabricator at Singer, the California company at whichhe built more than 170 of the company's $650,000-plus cars.
During his time there, Russell realized that a car was like a blank canvas—open to any whim of the person daring enough to modify its basic shape. So the lifelong off-road racer and dirt-bike world record holder found himself fantasizing about how he'd build one if he could build it any way he wanted.
"When the Safari scene got popular, it was impressive, but it also pissed me off," Russell says. "People were ranting and raving over some of the cars, but I had grown up driving in the dunes.I was, like, 'It's just a lift kit and a [headlight] rack'"—cosmetic upgrades that lacked significant mechanical ability underneath the hood.
"I knew there would be a market for the people who appreciate well-engineered and wellthought-out vehicles that can really go off-road, not just look like it," he says. So he spent six months imagining how he'd build a Safari Porsche and then drew up designs. He paid $32,000 for an old Porsche 911 Cabriolet in Huntington Beach, Calif., and spent the next 18 months handmaking the components he'd add. He carved a roll cage out of aircraft aluminum, body panels out of sheets of chromoly, and headlight covers out of carbon fiber. And he called onGamroth, of Oregon's Rothsport Racing,to build a new engine for it.
It took Russell seven tries, using carving foam, just to get the shape of the rear of the car right; he spent months working nights and weekends—plus his life savings—to refine the line of the side rockers, the size of the fender flares, the angle of the roofline. By the time he had finished, he was down to his last three months' rent. (Russell left Singer in 2018 to focussolely on building the car on spec.)
"The Porsche world is super picky," says Russell. "All the little details are the difference of what make those cars highly sought after or just another garage build. I knew I'd have one shot to blow them all away or for everyone to say, 'Good luck, dude,' and forget all about it. This would never work if I made it look like just a cheap Jeep shop."
So far, so good. Though it hasn't raced, the Baja 911 has proven itself on dry runs through California back roads and up its rockymountain passes. It hasbeen promised to an enthusiast in Germany. Russell has already confirmed several additional commissions for 2020—and counting.
First Published Date:
06 Jan 2020, 19:10 PM IST
Recommended for you
View all
NEXT ARTICLE BEGINS


Shop Now

55% OFF

21% OFF

73% OFF