Electric war: Why pricing is key in MG ZS vs Hyundai Kona battle
Back in June of 2019 when Hyundai took the covers off of Kona, the SUV became the first premium all-electric offering in India. There was quite the buzz and some of it continues several months in. At a launch price of ₹25.3 lakh (ex showroom), however, the Kona was never likely to take the Indian automotive sector by storm. And it hasn't. But the promise of that same storm may once again be brewing, this time courtesy MG Motor's ZS EV.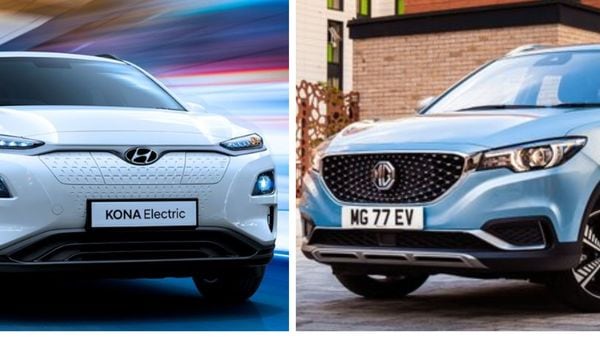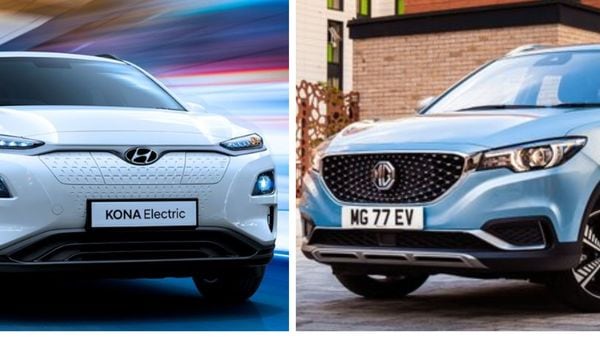 Photos courtesy: Hyundai and MG Motors.
Kona will finally get a direct rival in ZS EV when MG launches the much-awaited car on December 5. The ZS EV's all-electric motor is capable of generating 148bhp of power while the 45.2 kWh battery can give the SUV a stated range of 428 kms. In direct comparison, the Kona has max power figures of 134bhp and its 39.2 kWh battery gives it a claimed range of 452 kms.
While electric vehicles like Kona and ZS EV are fantastic news for India, a country grappling with massive pollution woes, affordability may become the single-biggest factor in deciding whether buyers do indeed ditch cars running on conventional fuel. There has been a growing demand from various sectors for government to increase subsidies on electric vehicles to make them more popular. As things stand currently, however, electric cars remain a status option than a popular one.
This is where MG Motors can capitalize.
The only real competition for the ZS EV is from Kona. And it's not much to write home about.
The Kona's sales have not even hit triple-digits in any of the months since launch in June. The highest of 88 was hit in August after prices were slashed to ₹23.71 lakh (ex showroom) courtesy a reduction in GST rates.
If MG gets smart with its pricing, the ZS EV could well be the catalyst everyone has been waiting for, charging points and service concerns notwithstanding. Underpinning the Kona's price is likely although it could only be in the form of an introductory cost scheme. If the British company does indeed to take the pricing battle to the Koreans, however, how much would be the question. This question is as valid for its face off against Kona as it is for establishing electric vehicles as a (relatively) affordable option to choose from.
In all of this, it would also be interesting to see how the likes of Tata Motors and Mahindra respond as these two companies also have an electric-car presence in the country, albeit in lower segments.
First Published Date:
25 Nov 2019, 12:49 PM IST
NEXT ARTICLE BEGINS


Shop Now

70% OFF