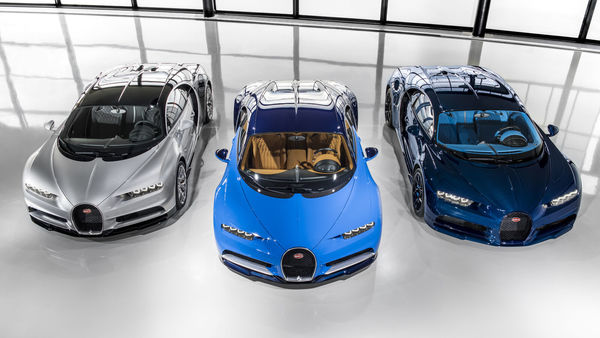 Bugatti Chiron at final production stage. Less than 40 units to be produced
1 min read
.
Updated: 30 Oct 2021, 03:02 PM IST
The final units will take the shape of Chiron Pur Sports and Chiron Super Sport only.

Bugatti Chiron made its global debut in 2016.
Bugatti Chiron is all set to enter its final production stage in Chiron Pur Sports and Chiron Super Sport form as Bugatti has less than 40 build slots before the bespoke hypercar completes its 500-unit production run.
After its global unveiling at Geneva International Motorshow in 2016, the first customer delivery of the car was made in March 2017.
Similar Cars
Bugatti stated that within 18 months from its initial announcement, 300 of the limited 500 series run of the Chiron had been sold. The company also conveyed that despite the pandemic, the sales of Chiron remained unaffected. Bugatti that introduced the latest Chiron Super Sport this year notified, along with Pur Sport, will make up the final 40 units of Bugatti's 500 Chiron production run.
(Also read | Watch: Grand delivery of world's first two Bugatti Chiron Super Sport 300+)
Chiron's strongest market in the United States contributed to a record-breaking third quarter of 2021, added Bugatti. Hendrik Malinowski, director of sales and operations said that the customers for Bugatti Chiron are true Bugatti connoisseurs. "They understand the devotion behind the pioneering design and engineering of each Chiron model," he added.
(Also see | In pics: Bugatti Chiron Super Sport debuts with 1,600 horsepower)
Bugatti Chiron, since its introduction, gathered significant attention from motorheads around the world because of its high-performance abilities. The hypercar boasts a peak output of 1,500 PS and 1,600 Nm of torque which Bugatti claims is a record for a series-production vehicle. It is capable to sprint from zero to 100 kmph in 2.4 seconds and can touch 200 kmph in 6.1 seconds followed by 300 kmph in 13.1 seconds. Bugatti Chiron also became the first production car in 2017 by setting a new world record of attaining the speed of 400 kmph from zero in just 41.96 seconds.