Own a car or two-wheeler? These should be on your checklist before Cyclone Yaas
After the west coast of India bore the brunt of cyclone Tauktae, now the east coast of the country, especially the states like West Bengal, Odisha and Andhra Pradesh are likely to expect the devastating impact of the cyclone Yaas that is expected to thrash the landscapes adjacent to the Bay of Bengal and several hundred kilometres inland as well on Wednesday, as the India Meteorological Department (IMD) has predicted.
Also Read : Hyundai car damaged during Cyclone Tauktae? Special taskforce aims to help
Several districts of southern West Bengal have already started witnessing the heavy rainfall from Sunday night. Last year in May, the cyclone Amphan created havoc in these same areas. Along with several houses, trees, and other properties, many vehicles too were damaged severely.
While some were directly crushed under the fallen trees, some were toppled due to the strong wind, blown during the cyclone. This time too, the fear of such damage is lurching in the mind of people. As people around that area have been taking precautions to prevent such damages, here are some tips people should follow to protect the vehicles from severe damage.
These tips can not only protect your vehicle during the nearing cyclone Yass, but these would be helpful even during other cyclones or thunderstorms as well.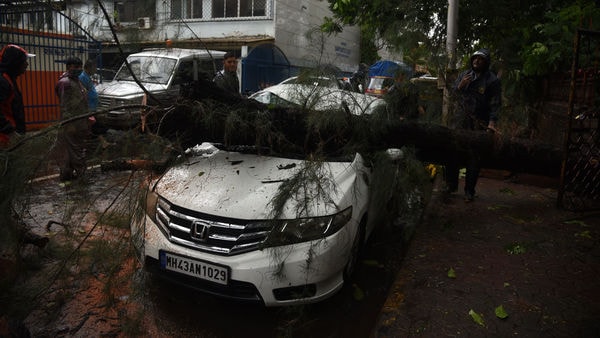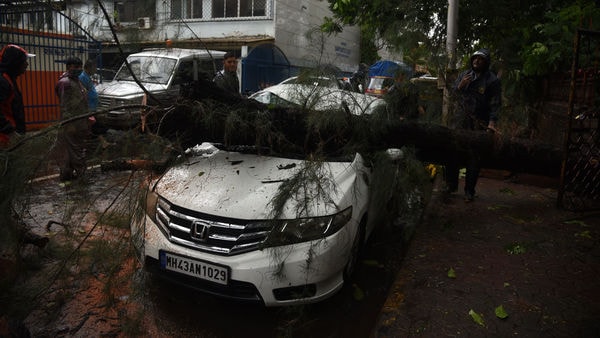 A car damaged under a collapsed tree during Cyclone Tauktae in Vashi.
Park the vehicle at a safe place
Parking the vehicle at a safe place is the first thing you should do during a cyclone or thunderstorm. It is best to keep the vehicle parked inside a garage or under a roof. If that is not possible anyway, and if you have to park it in the open, then you should at least keep the vehicle at a place where there are no large trees above it. You can use a chain to tie the vehicle with a side railing or anything like that, in order to prevent the vehicle from rolling.
Also, don't forget to use a good car or bike cover that will protect the vehicle's paint from minor scratches or dents from flying objects during a storm. The acidic element in rainwater too can damage the vehicle's paint and cause rust to the metal parts, if not taken care of. A good cover will take care of such issues. You can easily get a car or bike cover online or from local stores without shelling a hefty amount.
You should buy a vehicle insurance
Vehicle insurance is not only to save yourself from police cases but to compensate for any damage caused to your vehicle by any natural disasters as well. There are two kinds of damage a natural disaster like cyclone can cause to any vehicle. It could damage the exterior of a vehicle, while the mechanical parts too can get damaged, which can be recovered from the own damage insurance.
Comprehensive vehicle insurance that includes both own damage and third-party cover can compensate the damages caused to your vehicle by disasters like cyclone, flood or hailstorms. In case your vehicle gets damaged by a natural disaster, reach out to the insurance company and follow the steps to get your vehicle repaired. However, always check the terms and conditions of the insurance before opting for a repair job.
Also taking pictures of your vehicle's exterior and interior before and after the storm is recommended, as it will help you to submit them as proof that the damage has been caused by the natural disaster only.
Do not start a vehicle when it is submerged
A cyclone as severe as Tauktae or Yass can result in waterlogging. In case your vehicle is submerged in water after the cyclone, do not start the vehicle and avoid driving or riding through flooded areas as well. If the water gets inside any mechanical part of the vehicle, it can damage the component severely, which will not only result in you paying a hefty amount for the repair work but lower the probability of the damage being covered by the insurance, as it will be considered as damage caused by manual intervention.
Fill the fuel tank
Keeping the fuel tank of the vehicle as full before the cyclone hits is recommended as it will help you to evacuate during the storm or get help after it is required. Also, there might be a scarcity of availability of fuel after the storm. So getting the fuel tank filled can become helpful for you.
Also check these Cars
Find more Cars
Add to compare
Check latest offers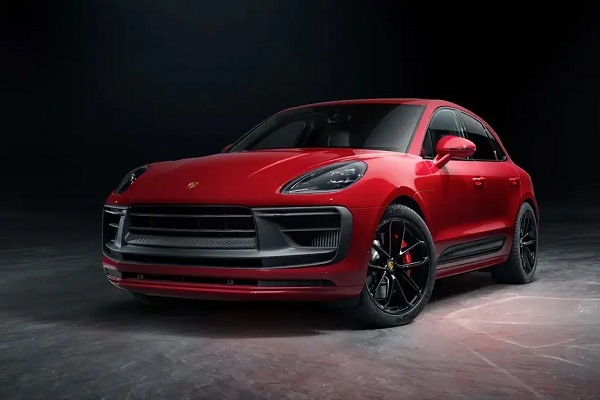 1984 cc | Petrol | Automatic (Dual Clutch) | 12.35 kmpl
₹83.21 Lakhs - 1.36 Cr*
Ex-showroom price
Add to compare
Check latest offers
Add to compare
Check latest offers
Add to compare
Check latest offers
Add to compare
Check latest offers
Add to compare
Check latest offers
Keep the vehicle's documents safe
Usually, many of us keep the documents related to our vehicles along with the cars or the two-wheelers only. However, in case, there is a storm coming, it is best to keep the documents in a zip-top plastic bag, which will save them from being damaged. Also, make copies of the important vehicle documents and keep them in a safe place.
First Published Date:
24 May 2021, 17:59 PM IST
NEXT ARTICLE BEGINS


Shop Now

70% OFF

65% OFF