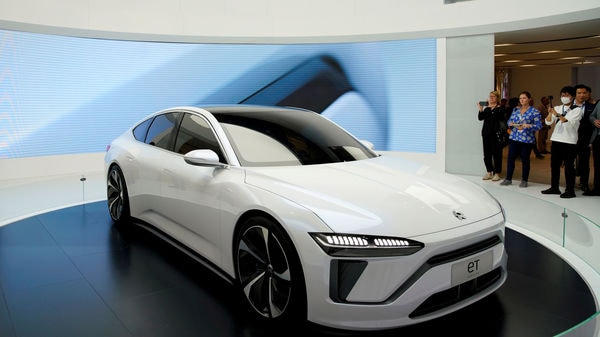 Chinese automaker NIO is relying on supplier Tesla clashed with
2 min read
.
Updated: 29 Jan 2020, 06:00 PM IST
The Chinese company now is working with Mobileye to enhance NIO Pilot -- which already has automatic emergency braking, lane changing and other features.
A troubled electric-vehicle upstart trying to take on Tesla Inc. is clinging to a supplier Elon Musk clashed with dramatically in 2016.
NIO Inc. has partnered for the past three years with Mobileye, the developer of advanced driver-assistance systems Intel Corp.
Bmw X1
1998 cc|Petrol|Automatic (Dual Clutch)
Bmw 3-series-gran-limousine
1998 cc|Petrol|Automatic (Torque Converter)
Bmw X4
1995 cc|Diesel|Automatic (Torque Converter)
acquired in 2017 for $15 billion. Musk, Tesla's chief executive officer, had a falling-out with the supplier over the electric-car maker's use of Mobileye technology for its Autopilot system.
The Chinese company now is working with Mobileye to enhance NIO Pilot -- which already has automatic emergency braking, lane changing and other features. The new version will incorporate technology the companies designed for a fully autonomous system, including lidar sensors. The changes will improve NIO Pilot's range and ability to detect objects, making the cars safer and allowing them to navigate in more-complex traffic, according to Jamie Carlson, NIO's vice president of autonomous driving and a former Tesla engineer who worked on these systems at Musk's company.
The data generated will help the Shanghai-based manufacturer achieve its longer-term goal of delivering fully autonomous vehicles by 2022. NIO sales totaled 31,913 as of Dec. 31, and its models are available only in China. Carlson didn't provide a timetable for the changes.
NIO is under pressure in its home market, where auto sales have slowed on economic and tariff uncertainties; the government also reduced electric-vehicle subsidies last year. Tesla started deliveries of its first China-produced Model 3 sedans a few weeks ago, and BMW AG and Daimler AG plan locally built electric sport-utility vehicles.
NIO also faces financial headwinds. It warned in December it didn't have enough cash to continue operating another year, even after cutting thousands of jobs and scaling back marketing expenditures. Its U.S.-listed shares surged 54% to $3.72 on Dec. 30, after the company reported a smaller-than-expected third-quarter loss -- but they were still well below a peak of $10.16 hit the previous March.
As part of its financial retrenchment, NIO has cut its R&D budget. It also eliminated 91 positions in the self-driving team because of cost-saving opportunities from working with Mobileye, Carlson said. The team now has about 60 people in San Jose, California, and 100 in China.
The partnership with Mobileye includes plans announced in November for NIO to develop fully autonomous electric vehicles for the Intel unit's robotaxi fleet, along with the option to sell the advanced driving system to other automakers.
To contact the reporter on this story: Ed Ludlow in San Francisco at eludlow2@bloomberg.net
To contact the editors responsible for this story: Craig Trudell at ctrudell1@bloomberg.net, Melinda Grenier, Ville Heiskanen
For more articles like this, please visit us at bloomberg.com
©2020 Bloomberg L.P.
This story has been published from a wire agency feed without modifications to the text.