MG ZS EV drive review: Thunderbolt now comes on four wheels
MG ZS EV SUV promises to usher in not just a car but a supporting infrastructure that can turn clean mobility into a movement.The ZS EV SUV itself is only the second offering from MG in India in under a year but is clearly a very bold step of determined intent.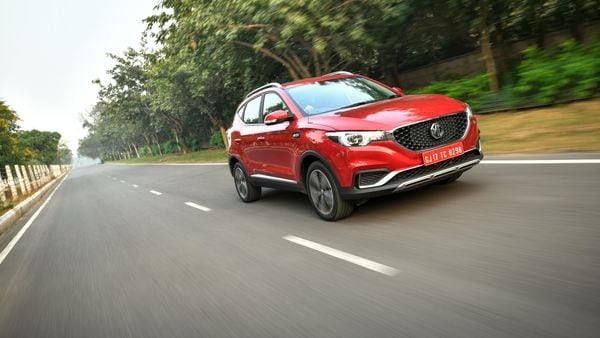 NEW DELHI : It is not the first electric SUV in India. And it certainly won't be the last. What the ZS EV from Morris Garage seeks to bring in, however, is a wind of change fueled by electric power - all of it in a strikingly good-looking package.
It is a long and winding road for the car from a company that struck gold with its first-ever offering in India - Hector - earlier this year. And even if big sales volume may not necessarily be the main focal area, MG is hoping that the ZS EV silently thunders its way and transcends itself to a movement towards clean mobility.
So can the ZS EV from MG muster up enough charge to rise to an audacious challenge? Here's the first drive review:
AC/DC and Being Thunderstruck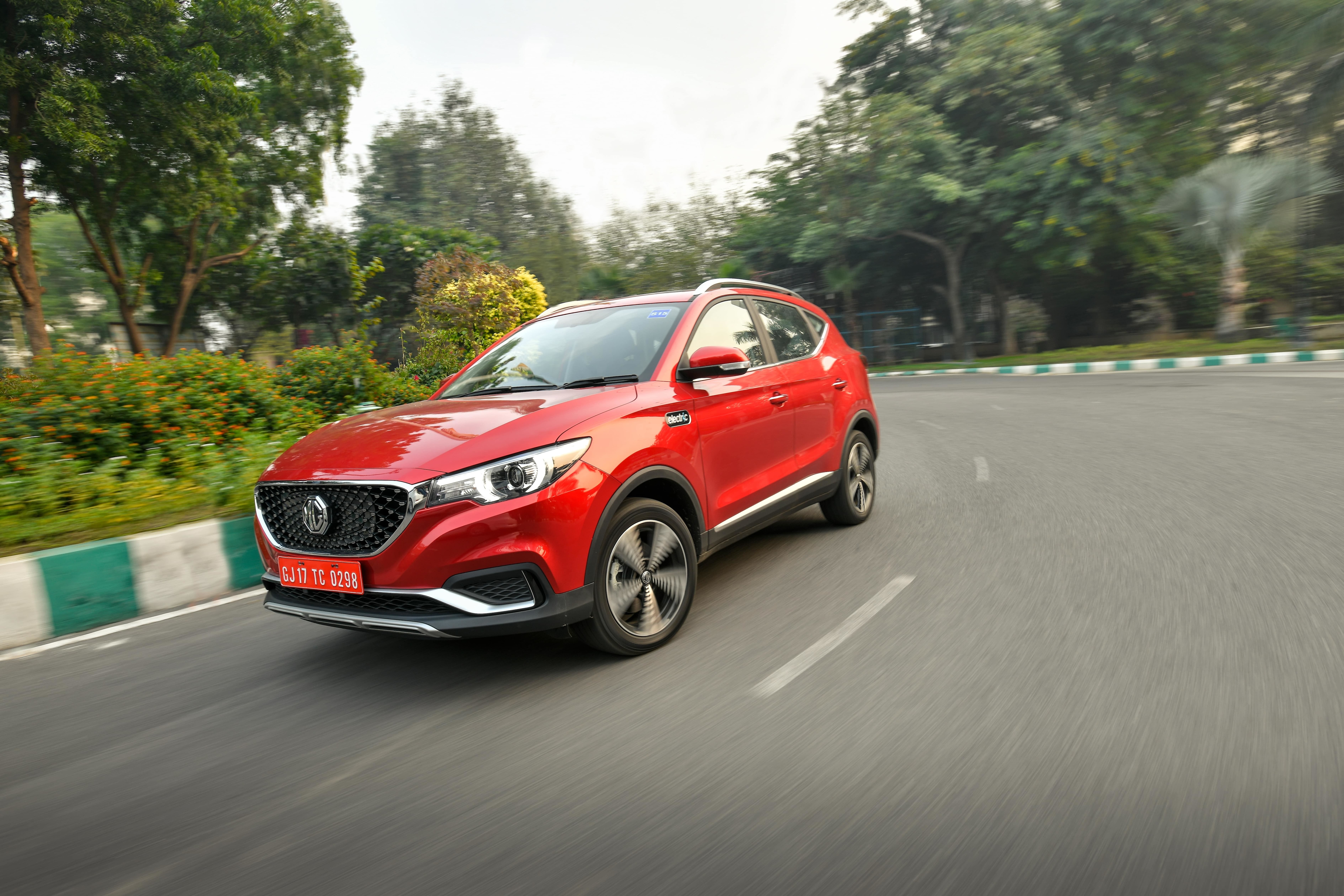 Right off the grid, the focus comes on the heart of the MG ZS EV and how it makes the SUV move. Correction, how it makes it glide.
Powered by a 44.5 kWh battery pack that is IP67 certified for protection against water and dust, the ZS EV is as silent as you would expect an electric car to be. In fact, I'll brazenly even admit that I often forgot it was running. No vibration and definitely no noise when standing still. And when on the move, the subtle sound from the electric motor only reaches the ear when pushing the car forward.
Pushing the ZS EV forward is perhaps the best part of this car. The torque comes almost instantly and that one or two seconds of power recalibrating itself through gear shifts in a conventional car is just so sweet to disregard. This is most true in the sports mode when the ZS EV jettisons itself forward without an iota of care. All that is needed is a twist of the electronic gear shift knob, push the pedal literally to the metal and bask in some astounding acceleration. MG claims the car goes from zero to 100 kmph in 8.50 seconds but I even managed to shave off .20 of a second in this test.
When range and not performance takes precedence, turn back the gear shift knob to either normal or economy mode and bask in how well the ZS EV glides forward. In the economy mode especially, the company claims that the car can travel for 340 kilometers on a single charge and even if actual real world figures would perhaps be under 300 kilometers, the three levels of Kinetic Energy Reverse System (KERS) helps put some of the power back.
KERS is indeed that effective on the ZS EV, especially in start-stop traffic where I hardly made use of the brakes. What this does, to put it absolutely simply, is gradually reduce the speed of the car when the foot goes off the accelerator - storing the extra power for when required later.
What also enhances the drive experience is a stiff suspension setup which makes the ZS EV tackle most road bumps and speed breakers with confidence at less than moderate speeds. The car also manages to go into tight corners with poise and the body roll is too insignificant to merit a mention.
What doesn't work all that well from the driver's perspective is a really weighted steering wheel. While I do like a bit of meat on the steering, it feels a tad too artificial - and therefore unnecessary on the ZS EV.
That the seating position for the driver is high up helps quite a bit in dealing with a weighted steering as there is a regal view of the road ahead and of the surroundings.
Voltaic Vision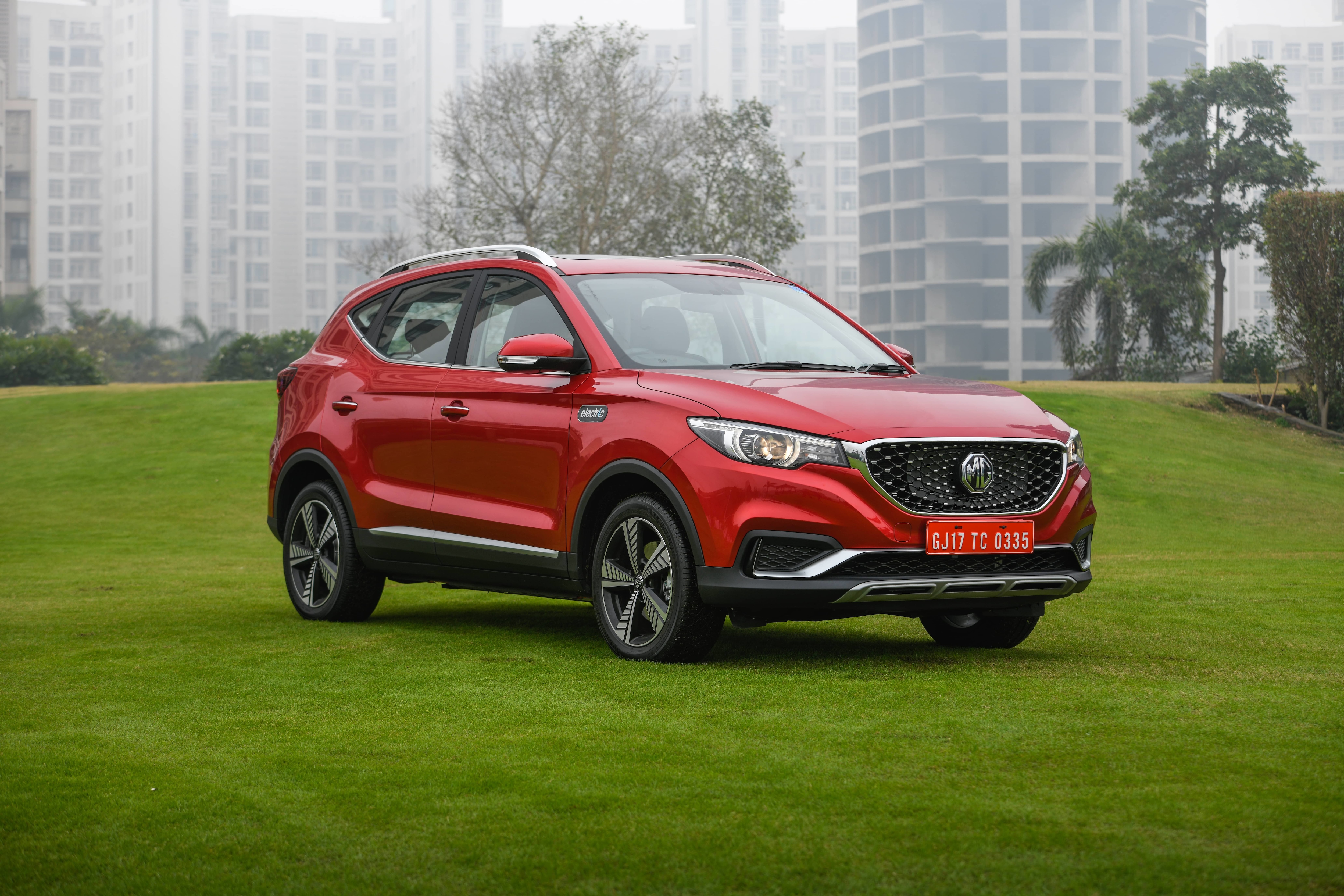 The surroundings may try to be as spectacular as possible but the ZS EV does a great job in trying to outshine anything anywhere it stands.
Unlike the Hyundai Kona - its only direct rival once launched, the ZS EV has the proportions, dimensions and visual appeal of an SUV. It has a length of 4314 mm, width of 1809 mm and a wheelbase of 2585 mm, compared to 4180 mm, 1800 mm and 2600 mm of the Kona.
(Also read: MG ZS EV vs Hyundai Kona)
Numbers may only excite mathematicians and not artists and so, the artistry:
The ZS EV may not be a ravishing masterpiece but it is quite the looker in its own right. And the look is dominated by a handsome face with an imposing front grille which houses the MG logo. This logo opens up to reveal a charge inlet where the charging cable goes in. While we aren't very sure how delicate this cover attachment is, the logo itself glows when the car is on charge - a really nice albeit cosmetic touch.
Flanking the front grille are sharp projector head lights which, MG says, are inspired by the London Eye. The LED DRLs, svelte chrome lines on the bumper and definition lines on the bonnet add a very stylish purpose to the front fascia.
Over on the side, MG has done well to keep things simple with a single definition line running though the length of the body, just under the windows. R17 windmill styled alloy wheels and the large electric badge are the other highlights here while the rear is dominated by LED tail lights which look suave and add a signature touch to the back profile. The 448-litre boot can be opened by making use of the MG logo, much like the VW logo on the Polo.
Indulgent Interiors
Step inside the ZS EV and there is an immediate sense of being welcomed by simplistic style. A large sunroof - MG calls it a skyroof - covers 80% of the roof and lets in ample natural light which gleams over a nicely spread dashboard with soft-plastics on top. The natural light also seeks to highlight the simple dash layout with a 20.23 cm infotainment screen with a host of features including connection to smartphones, car details like battery left and CO2 saved, apps like Accuweather and Gaana, NAV etc.
The air vents appear as if they have been borrowed from cars a segment up while the seats are quite plush and comfortable. The driver-side seat is six-way adjustable but this could have been taken over to the other front passenger seat as well. In parts, the use of hard plastics breaks the awe but overall, the cabin has a very premium fit, finish and feel to it.
There is quite a lot of space inside the ZS EV as well, at least when compared to the Kona. This here is not a full-blown five-seater SUV but five can surely feel quite at ease inside. What helps matters is that there is no foot bump for the middle-row passenger on the rear and the riding posture too is not too knee-up.
Securing Stations
The ZS EV has managed to score five stars in EuroNCAP safety test which commands a lot of respect. It is also easy to see just why it fared this well. Equipped with six airbags, Hill Descent Control, reverse parking assist, tyre pressure monitoring system (TPMS), cruise control and heated ORVMs to deal with fog, the ZS EV brings together a plethora of features to assure a safe drive. Automatic headlamps, while more of a convenience, is also a great safety feature.
Charging Towards Charging
All of what MG ZS EV has on its resume would come to a frightful nothing if it goes dead in the middle of anywhere. And that is where MG is trying hard to provide every bit of facility and convenience to customers as is possible. The company has already tied up with a number of external partners in providing a host of charging options. Every customer will be provided with a charging unit at a place of his or her convenience at no extra cost while even the installation would be complimentary. Using this unit, MG says the ZS EV will be able to go from zero to 80% charge in six to eight hours.
Additionally, DC fast chargers can also be used even if their numbers are quite limited currently. These chargers can significantly power up the car in under an hour.
There is also a charge cable in the boot that can be plugged to any three-pin wall unit - just like how one would charge a phone.
And then there is an emergency mobile charge facility as well for unforeseen situation where the ZS EV runs out of battery while on the move. Understandably, the network is still being expanded and while it is expected to be limited to only a few major cities for now, it is a step in the right direction.
Verde Verdict?
The ZS EV is a bold statement from a company that is not even a year old in India. That MG opted to step into the nascent electric mobility space in India with just its second offering deserves praise because cars in this segment don't just have to offer all that a car should but also a supporting infrastructure.
Even if all of that is kept aside, the ZS EV manages to tick most of the boxes really well and comes as a really, really tempting proposition for the niche audience that may well want to step into the electric space. What would decide its fate, however, is pricing and if MG manages to undercut the Kona's tag, it could well have yet another winner on its hand.
To be made available in two variants - Excite and Exclusive, the bookings for MG ZS EV are already open to people in Delhi NCR, Mumbai, Bangalore, Ahmedabad and Hyderabad.
First Published Date:
24 Dec 2019, 12:04 PM IST
NEXT ARTICLE BEGINS