A Ford EV to power your home? 5 awesome highlights that F-150 Lightning brags of
Ford has perhaps taken its biggest shot yet in the battle for dominance in the world of electric mobility. Even as the world waits for the likes of Tesla Cybertruck to hit production lines, the Ford F-150 Lightning has been officially unveiled in the US market with a clear view to capture a sizable chunk in the pick-up market space. But the F-150 Lightning isn't just another pick-up. And it may not be just another electric vehicle either.
Ford has had a dogged vision of sorts when it comes to having a larger say in the world of electric mobility and the F-150 Lightning, in more ways than one, may be a culmination of sorts of this same vision. Well, a manifestation at the very least, if not culmination of this vision.
For Jim Farley, President and CEO at Ford, the F-150 represents automotive excellence. "The F-150 Lightning is a massive moment for our Ford team. America's No. 1 auto brand is going zero emissions with America's favorite vehicle," he said. "It's quicker than a Raptor, with standard 4×4 and independent rear suspension; a power frunk, enough juice to run your house for three days."
Here's taking a closer look at what promises to make Ford F-150 a jewel in thew proverbial crown for Ford.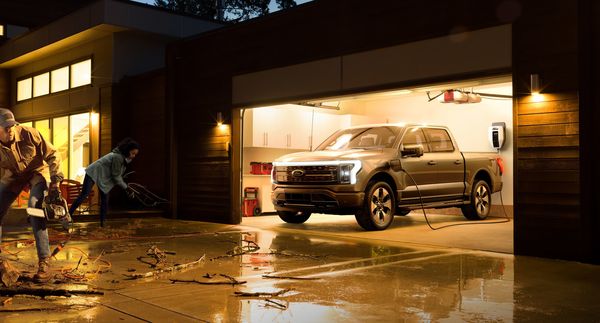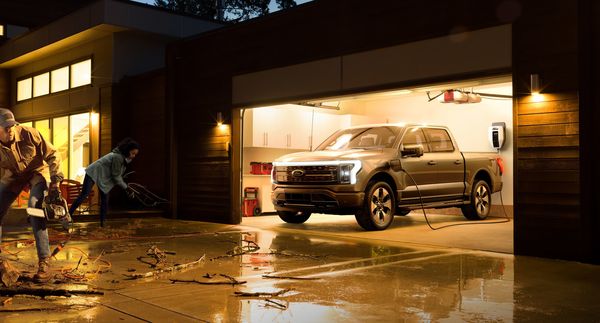 Imagine a vehicle powering an entire home? Ford F-150 Lightning, as its name suggests, can do just that.
Yes, it can indeed power a house!
Ford claims that its F-150 Lightning will be able to power a standard American house for up to three days when connected to its Charge Station Pro.
With Ford Intelligent Backup Power which is enabled by the 80-amp Ford Charge Station Pro and home management system, the car maker says this pick-up can automatically power homes in case of an outage. When electricity from conventional sources is restored to the house, the vehicle automatically returns to a battery charging state.
How this may also help customers in the future is that they may be able to alternate between the vehicle and conventional sources for their electricity needs. In many parts of the world, electricity provided by companies are charged at different rates at different times of a day. Ford claims that, in the future, a customer can use F-150 Lightning to power homes duing peak hours and return to conventional source during off-peak hours.
Frunk you!
No engine means that there is usually an increase in storage space inside electric vehicles. The Ford F-150 Lightning comes with a high-tech mega power frunk (front trunk). There is 400 litres of space and 400 pounds of payload which roughly translates to a space enough for two carry-on bags and one larger bag.
The frunk is also water-resistant and comes with four electrical outlets. If that's not enough, the drainable floor that can double as a food and beverage container. With 2.4 kilowatts of power, there's enough capability to plug in power tools, TVs, laptops, speakers, crockpots and more.
Built to battle!
Ford says the F-150 Lightning has a military-grade aluminum alloy body and upgraded frame support the advanced battery. The F-Series independent rear suspension and low center of gravity help improve isolation from the road, provide a more stable ride and reduce steering roll – while maintaining the durability and reliability expected from F-150.
There are four selectable drive modes: Normal, Sport, Off Road and Tow/Haul.
Tectonic shift in tech!
Ford F-150 Lightning comes equipped with a 15.5-inch touch screen that, as per the company, is designed to adapt to a driver's behaviour. SYNC 4A employs natural voice control, cloud-connected navigation and wireless access to your favorite services: Apple CarPlay, Android Auto, integrated Amazon Alexa and SYNC AppLink apps.
There is also a 12-inch instrument cluser which boast of animated graphics.
Ford will deploy standard over-the-air software updates.
Powering ahead
The electric pick-up truck has 563 hp on offer and over 1,000 torque for a thunderous presence even on the move. Imagine a menacing looking vehicle closing in from the rear even as you push the pedal to the metal. Because Ford claims the F-150 Lightning can hit 100 kmph in around 4.5 seconds which means this capable wrestler may well be a skilled sprinter too.
First Published Date:
20 May 2021, 10:18 AM IST
NEXT ARTICLE BEGINS


Shop Now

70% OFF

4% OFF