Joe Biden's win raises hopes for more EVs on US roads, jobs in auto sector
Even before dethroning Donald Trump from the White House, US President-elect Joe Biden has been quite vocal about change in the auto industry to back his larger climate plan. After officially taking oath, Biden is set to implement his policies to step up electric vehicle production, offer incentives for EVs, reduce carbon emission besides providing jobs in the ailing industry, thanks to the Covid-19 pandemic.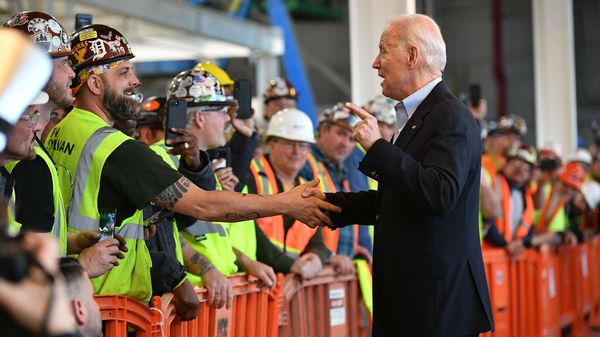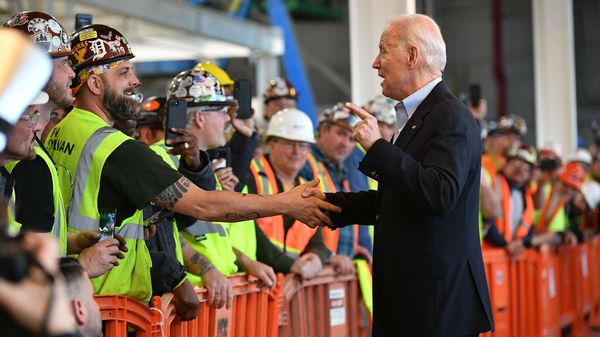 US President-elect Joe Biden meets workers as he tours the Fiat Chrysler plant in Detroit, Michigan during his campaign days. (File photo)
Biden's climate plan includes the promise to reinstate and advance more stringent fuel economy standards that were implemented during the Obama administration but rolled back by Trump.
Under the 2012 Obama rules, automakers had to reduce carbon dioxide emissions for passenger and light-duty vehicles by 3.5% annually from 2017 to 2021 and by 5% per year from 2022 to 2025. California has been allowed to set its own, stricter zero-emissions standards, which are followed by 12 other US states.
During his campaign, Joe Biden had made it amply clear that his administration's focus will be on green energy. Washington has been forced to rethink its long-term US sourcing strategy as China has become the world's largest producer or consumer of nearly all the metals used to make EVs, cell phones, weapons and other high-tech equipment.
Also Read : US auto industry vow to work with US President-elect Joe Biden's administration
Biden has promised $400 billion in public investment to transition to clean energy, including advanced battery technology and electric vehicles.
Under Biden's plan, the federal government will support states and local officials to build 500,000 new electric vehicle charging outlets by the end of 2030.
That would mark a significant increase from the United States' current charging infrastructure, which counts 87,600 charging outlets, according to US Energy Department data. The European Union, by comparison, currently has 192,000 charging outlets, according to the European Alternative Fuels Observatory.
The United Auto Workers (UAW) union, representing more than 400,000 active members, feel that a transition to EV production that takes full advantage of economic opportunities and ensures that there are quality manufacturing jobs for tens of thousands of American workers that currently work on gas and diesel powered engines.
Biden has said his climate plan aims to create 1 million new jobs across the auto industry, from suppliers to manufacturers and infrastructure. He has also said his policies should benefit union workers and create more unionised jobs.
Biden has said he wants to encourage consumers to buy electric cars through tax credits. The US federal government is currently subsidising electric cars with a $7,500 consumer tax break for the first 200,000 vehicles an automaker sells. So far, only Tesla Inc and General Motors have hit the cap. Subsidies for Tesla finished at the end of 2019, while those for GM ran out on March 31.
Biden has said he also wants the tax credit to benefit middle-class consumers and prioritise the purchase of vehicles made in America. That could pose a challenge to some automakers other than Tesla. Ford plans to build many of its future electric vehicles in Mexico and Canada. GM is planning premium-priced electric Cadillac and Hummer models costing more than $100,000.
Biden has also said he wants to set up a "cash for clunkers" rebate program that would encourage Americans to trade older, polluting cars for new electric vehicles.
(With inputs from agencies)
First Published Date:
08 Nov 2020, 09:33 AM IST
NEXT ARTICLE BEGINS


Shop Now

70% OFF

2% OFF