China's global auto ambitions pass through India
The Chinese have set their sights on the global auto market and one of their first stops seems to be India, though Europe and Africa also loom large on the horizon. While most of us might struggle to name a Chinese automaker or a Chinese car make, a clutch of companies, ranging from Geely Auto Group and Chery Automobile Co. to Great Wall Motors and SAIC Motor Corp., are already making their presence felt in India. Coming at a time when American and European carmakers such as Ford, General Motors and Volkswagen have been struggling in a market that has been shrinking, of late, the Chinese clearly sense an opportunity to fill a vacuum.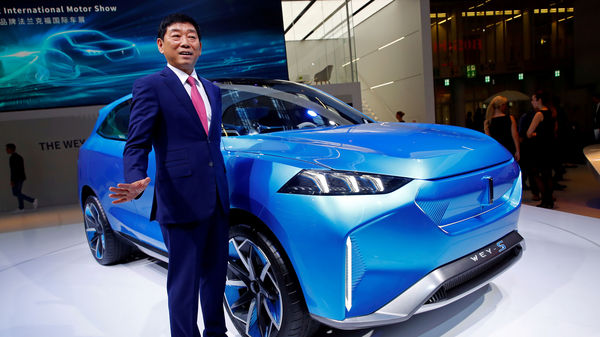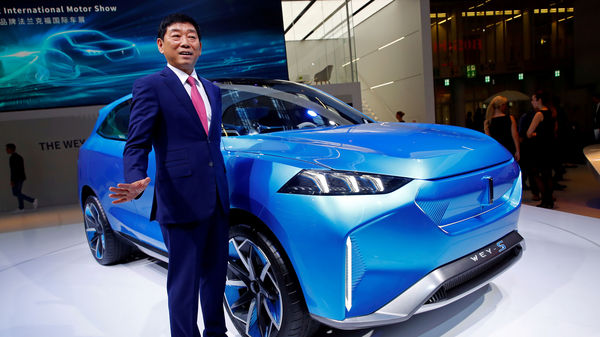 FILE PHOTO: Great Wall Motors CEO Wei Jianjun waves next to Wey S at the 2019 Frankfurt Motor Show (IAA) in Frankfurt, Germany. September 10, 2019. REUTERS/Wolfgang Rattay
Mint reported recently that Great Wall Motors, one of China's biggest automakers, was in talks with General Motors to acquire the Detroit carmaker's last remaining factory in India, located at Talegaon in Maharashtra, which is capable of producing 165,000 vehicles a year. In 2017, SAIC had bought GM's Halol factory in Gujarat. Mostly Chinese companies are looking at brownfield projects of this kind, as it gives them a rapid entry into the market.
With their aggressive pricing, Chinese makers have tasted early success. In 2019, Hector launched midway through the year by MG Motor India, a unit of SAIC, emerged as the country's highest selling SUV, the only segment in which there was some growth in a terrible year for the Indian auto industry.
In value terms, China's car exports still form a minuscule share of the world total, but the country, which is the world's largest production base and consumer market for automobiles, isn't going to accept that status for too long. Chinese brands account for just under 40% of the country's passenger car market, but now their ambitions are global.
They have been pursuing these ambitions through a mix of joint ventures and acquisitions of stricken European carmakers. Thus, the $16 billion Geely Auto Group, ever since its 2010 acquisition of Volvo, is positioning itself as a global auto conglomerate. In 2017, it bought a controlling stake in the UK-based sports car company Lotus and acquired US-based flying car company Terrafugia. Subsequently, it picked up a small stake in Daimler, while last year it signed a joint venture agreement with the company to produce electric smart cars in China for the global market.
China's surge marks a pattern of Asian powerhouses making a play for a share of global auto stakes. What drives emerging economic dynamos such as Japan and South Korea, as well as China, to risk the huge investments needed to venture into overseas markets is the sheer size of the opportunity and the relative openness of the global market. Cars represent the third largest exported product by value, just after crude oil and refined petroleum oils.
The world's lukewarm reaction to the Chinese push is a reminder of how the initial Japanese effort in the 1960s to crack the US auto market with its small fuel-efficient cars was met with scepticism at first. After all, Americans loved big cars with their pronounced tail fins and extravagant styling. A 400% overnight increase in the price of oil, following a production cut in 1973 by the Organization of the Petroleum Exporting Countries, suddenly made these compact vehicles much more attractive than fuel-guzzling American cars. It was a case of a country having the right products at the right time, and Japanese carmakers from Toyota to Honda cashed in. Today, with nearly $100 billion of sales, Japan is the world's second largest exporter of cars, behind Germany, and is almost twice as large as the US.
In the late 1980s and early 1990s, South Korean carmakers led by Hyundai Motor Co. broke into the US market with a compact called Excel, which served as a loss leader for many years before the company met with any significant success. In these difficult times, it had the backing of the South Korean government as well as, vitally, the banks. Hyundai didn't have a very auspicious start. Its first six car exports were to Ecuador and were in exchange for bananas from the country. Reviled on their first appearance for their looks, as well as their poor quality, Hyundai and Kia are rated highly today on both these parameters, with Hyundai's 1998 offer of a 10-year, 100,000-miles warranty marking the onset of that quality journey. Today, the country is the seventh largest car exporter in the world, with a 5% share of global car exports.
Almost inevitably, it is now the turn of China to look at translating the enormous success of its companies at home into a share of the global market. Looking ahead, China has smartly focused on developing its EV base and, in that segment, it is already a world leader in terms of the number of vehicles produced and sold. In recognition of the government's efforts to push EVs in India, Great Wall Motors, China's largest SUV maker, recently announced plans to launch its Haval and ORA brand of electric vehicles in the country. With both brands likely to be showcased at the upcoming Auto Expo 2020, their pricing will be keenly watched.
The progress of this Chinese cavalcade may not constitute an immediate threat to India's runaway market leader, Maruti Suzuki. The purchase behaviour of the Indian automobile buyer is not as fickle as that of the smartphone consumer. But it does point to the absence of a national champion that could have leveraged success in the world's fourth largest auto market to create a global Indian brand.
First Published Date:
09 Jan 2020, 12:24 PM IST
NEXT ARTICLE BEGINS


Shop Now

70% OFF

4% OFF