Tata Motors confident of sales recovery in second half of next financial year
In an exclusive interview, the company's managing director Guenter Butschek disclosed Tata's plans to introduce as many as 12-14 passenger vehicle models over the next 3-5 years.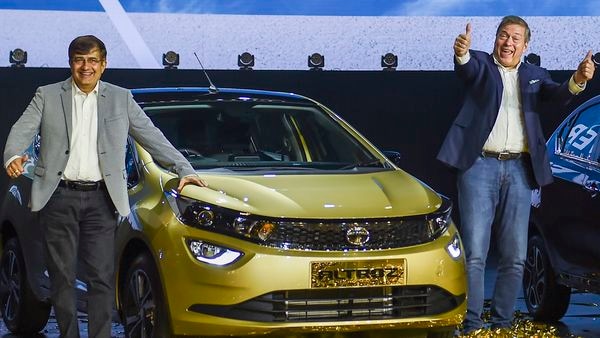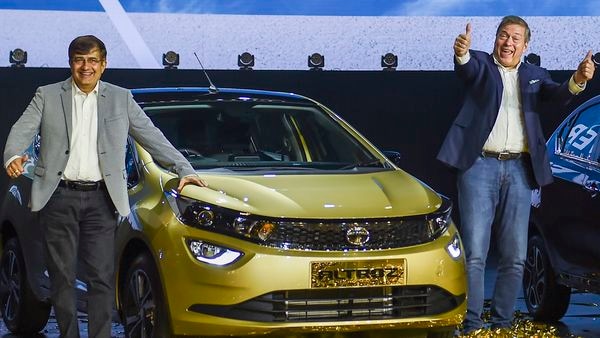 Mumbai: (L-R) CEO and MD, Tata Motors Guenter Butschek and President, Tata Motors Mayank Pareek during the launch of Altroz premium hatchback by Tata Motors in Mumbai, Wednesday, Jan. 22, 2020. Tata Motors entered into the premium hatchback segment with the rollout of Altroz at a starting price of ₹5.29 lakh (ex-showroom India). (PTI Photo/Kunal Patil)
Tata Motors Ltd on Wednesday entered the growing premium hatchback segment with the Altroz model, to take on Maruti Suzuki India Ltd's Baleno and Hyundai Motor India Ltd's i20 models. In an interview, managing director and chief executive Guenter Butschek disclosed the company's plans to introduce as many as 12-14 passenger vehicle models over the next 3-5 years, while it prepares for a recovery in sales in the domestic market in the second half of FY21. Edited excerpts:
How is Tata Motors planning to turnaround its passenger vehicle (PV) business?
We will leverage our investments in two architectures—Alfa and Omega. We have 6-7% market share on the basis of 50% market coverage (presence across PV categories). Along those lines, if we cover 100% of the market, then we would have 14% share. Until today, I could not tap the demand in 50% of the market because I did not have products like Altroz. So, the launch of Altroz is a huge step forward, because premium hatchback comprises 26% of the overall hatchback segment in India. We began working on the Alfa and Omega to build a library of architectures, powertrains, gearboxes and standardized components such as seats, clusters and other modules. It also includes a library of technologies such as connectivity and safety. With the library in place, we can do more with better (product) differentiation, while protecting commonality. With commonality, I reduce my investments and de-risk, and build economies of scale. This did not exist previously. So, the new architectures offer a rich and differentiated product portfolio.
At the same time, we can put in lot more technology as a strategy when we upgrade other products on the Alfa as a life cycle change. Therefore, this also gives us an opportunity of effective life cycle management, which we had not done in the past. That has been one of the reasons why we lost market share in the past and we had invested too little into life cycle enhancement. But now we are back in the game. We have done our homework and now the yield is expected to come and it is all about delivering.
How is the development of electric vehicles streamlined in this plan?
Alfa and Omega are battery electric protected architectures. Whatever will be launched on Alfa will also be available as a battery electric solution. That's because my library kicks in. Ziptron (electric powertrain developed in-house) is one common aggregate in the library and it can be applied on the Nexon EV, as well as to the Altroz EV with some modifications. With that, it can go into all future vehicles based on the Alfa architecture. Going forward, we plan to offer several powertrain solutions in the market and battery electric will be one of them. It will offer increased choices to the customer and will give us the chance with some differentiation on the bespoke products to address the fleet segment as well as the private customer. This will also increase the acceptance of EVs, pave the way to make them mainstream and actually accelerate their mass adoption in the years to come.
How do you define capex prioritization in tough market conditions?
It is a naked reality that you need to align your investments according to your revenue profile in order to maintain control on your cash profile. We are going to take Tata Motors as a cash-accretive business, which includes consolidated as well as different individual business units. In order to do so, when you get into a crisis such as what we have seen in the last 12-18 months now, when your revenue is not as per your initial plan, you need to adjust your spending profile, but in a very conscious way. So, I would say, we did not cut any investment but controlled the investments. On one side we drive strong focus on receivables and, on the other side, we practice full control on the spends. This includes cost-reduction initiatives. We see where can we drive productivity and eliminate waste. This has worked for us and we got the organization on its feet to deliver on this model.
On the investment side, in a nut shell, it is a conscious call to control cash and, thereby, control investments, and try to adjust it to your cash reality without compromising on the future. We are going to get out of the crisis in a stronger condition than what we were when we got into the crisis. We have taken some tough calls, but they are calibrated calls.
How will the company ensure healthy cash flows in CVs?
The backbone of any business, specifically in automotive, is what we call as SNOP process, which stands for supply and order planning. As it is the backbone, we need to pay attention, particularly during a crisis, to keep the organization well-calibrated, to maintain certain balance between supply and demand, which has three elements—volumes, product mix and stock. For stock, you have seen our actions such as block closures. However, the new line of command at TML is that retail triggers wholesale, which triggers production. It is important to produce what moves. And do not produce what will actually create a burden either on your own stock and working capital or on the same of the dealers. You need to control costs and the best step is to not operate the plant at all. So you hibernate the plant for a couple of days and get it back to work in a calibrated approach.
Is the worst behind us?
I don't know. I would wish, but I don't know how the remaining quarter is going to pan out. This is a question of demand and how strong the pre-buy of BS 4 vehicles will be as we get ready for the BS 6 norms. However, the stronger the pre-buy, the stronger the impact of the BS 6 in Q1 FY21. That's the reason why I said that I am somewhat positive for H2 FY21, starting with the festive season. In CVs, Q1 and Q2 will be impacted by the transition from BS 4 to BS 6.
First Published Date:
23 Jan 2020, 12:19 PM IST
NEXT ARTICLE BEGINS