Volvo XC40 review: The most energetic and youthful SUV in its segment
Volvo's XC40 is funky, stylish and feature-rich. Pitted against the BMW X1 and Mercedes-Benz GLA, this compact SUV shares the engine, gearbox, infotainment, safety kit and some other bits with cars like the XC 90, S 90 and the XC60.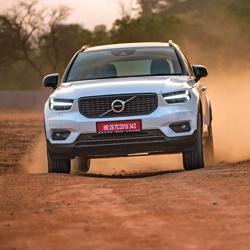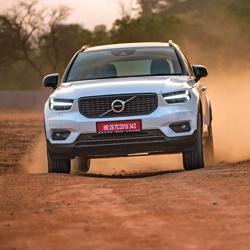 The Volvo XC40 is longer, wider and taller than the Audi Q3, and has a longer wheelbase too, but it is shorter than the BMW X1 in terms of length and wheelbase.
The all-new XC40 is Volvo's newest compact SUV that's funky, stylish and feature-rich, and it's here with all guns blazing to take on the BMW X1, Audi Q3 and Mercedes-Benz GLA. The car will open the brand to a whole new segment of buyers and is likely to be a volume-getter for the company. Volvo is so optimistic it has already stocked its yards with inventory. Is it truly that good?
This is the first SUV based on the CMA (Compact Modular Architecture) platform, shared with its parent company Geely Auto. It, however, still shares the engine, gearbox, infotainment, safety kit and some other bits with cars like the XC90, S90 and XC60 based on SPA (Scalable Product Architecture), so the lines blur. Let's size it up. The XC40 is longer, wider and taller than the Audi Q3, and has a longer wheelbase too, but it is shorter than the BMW X1 in terms of length and wheelbase. Lay your eyes on the XC40 and a shrunken XC60 it is not. The signature front grille with the massive 'iron logo' in the centre, is smaller with horizontal slats and so are the headlamps with the Thor's hammer LED DRLs. Being an R-Design, there aren't any chrome bits, instead everything is blacked-out in line to look sporty. Body cladding is more pronounced, and the 18-inch wheels wrapped in 235/55 Pirelli rubber are just stunning. There's also an option of 20-inch wheels. The upward sloping window line at the rear is distinctive. The rear tail-lamps are unmistakably Volvo and the dual chrome mufflers rounds up an exciting package.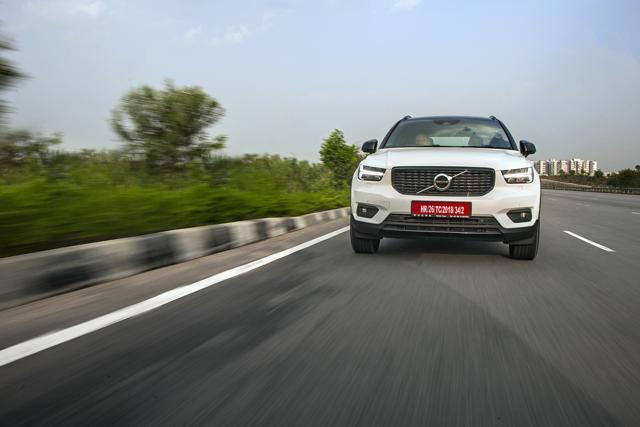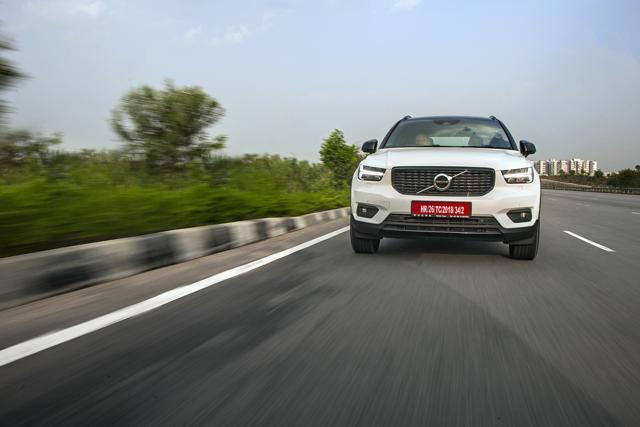 The car is available in only one top-spec R-Design trim, which gets radar-based safety features like blind spot assist, lane keeping assist, autonomous braking, and adaptive cruise control. Like the more expensive S90 sedan, this SUV gets the familiar 2.0-litre, four-cylinder diesel engine in the D4 state of tune (190hp, 400Nm), mated to an eight-speed transmission. All-wheel drive is standard.
It's a car you'd walk into, not climb into. The dash design has a 'wow' effect. There are some really nice and familiar bits inside like the steering wheel, digital instrument cluster and the 9.0-inch vertical touchscreen, shared with more expensive Volvos. Then, there are the vertical air vents highlighted in chrome, and, along with the silver trims on the dashboard and doors, it all appears rather tastefully done. Certain knobs like those for the volume control and cigarette lighter are superbly crafted. Carrying forward its youthful character inside is the 'Lava' orange felt lining in the bottom half of the interiors. Some plastics lower down in the cabin, however, are hard, and, in some places, feel like they're from a class below, but it's not enough to write home about. The seats are draped in a mix of leather and Alcantara with contrasting white stitching. These are electrically adjustable with the driver's side getting a memory function too. They're a bit hard but supportive, and offer plenty of adjustments, including that to extend the under-thigh support (manually).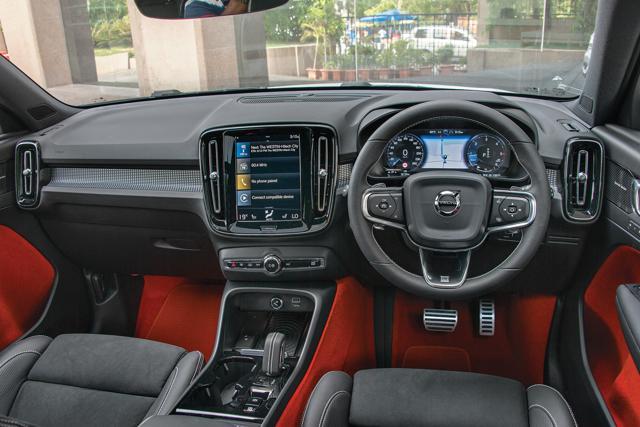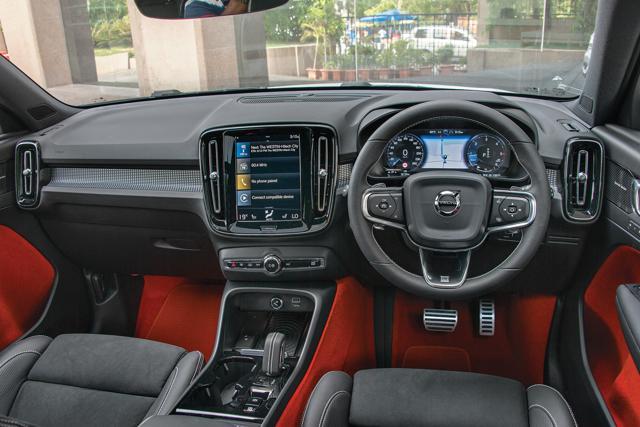 At the back, it's decently spacious in terms of legroom and headroom. Also, the seat itself isn't wide and best suitable for two passengers. Also, the back rest is quite upright, and, while there's a fair amount of green-house area thanks to the massive panoramic sunroof, the open-able window area is quite small because of the upward sloping window line, so passengers could feel a bit claustrophobic.
What's nice is that the cabin is very practical with several storage bits like huge door pockets, thanks to the absence of door speakers (which have been repositioned). There's a good amount of space ahead of the gear console, including a slot to charge your mobile phone wirelessly. The armrest console is large and there's also a cleverly designed removable dustbin in there with a spring-loaded lid, and you get a hidden storage area under the driver's seat. The boot is huge at 460 litres and there's an added storage compartment between the boot floor and space-saver spare wheel area.
This car gets a host of features, including radar-based safety tech like lane-keeping assist, blind spot warning, adaptive cruise control, pilot assist, emergency braking and then some. Other safety kit like ESP, traction control, hill descent control and multiple airbags are included too. Then there's the clever kit like auto park-in and park-out, which helps steer the vehicle in and out of a parking. The 9-inch touchscreen controls all the functions of the car and features Android Auto and Apple CarPlay. The audio experience is enhanced by Harman Kardon. There's a clear virtual instrument cluster that displays maps, so that the driver doesn't need to look away to the left. Features like an electric tailgate, driving modes, auto LED headlamps, panoramic sunroof, four heated seats, dual zone climate control, front and rear parking sensors, reversing camera, are all standard on the XC40 R-Design.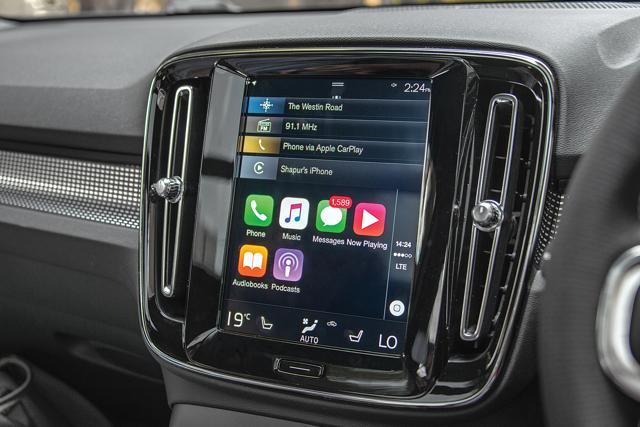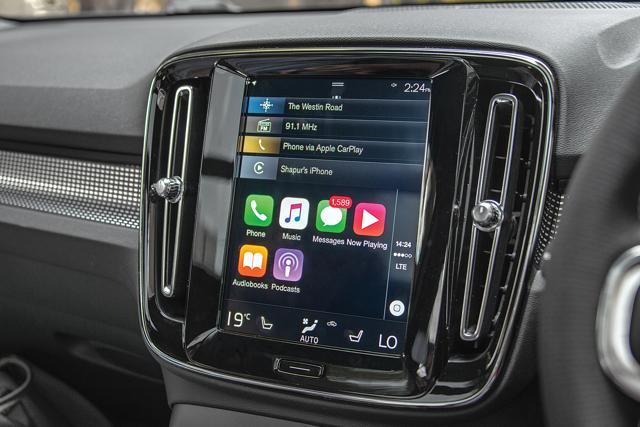 The XC40 is powered by a 2.0-litre, four-cylinder diesel engine that makes 190hp and 400Nm - outputs that are like BMW's X1. Power delivery is quick and the delay before the turbo spools up is minimal. The engine feels energetic and because of its strong mid-range performance, it builds speeds briskly. This motor spins freely until 4,200rpm and begins to feel strained thereafter. Claimed acceleration timing of 7.9sec is in the same ballpark as its rivals. Refinement at idle and cruising speeds is great, although at higher revs the diesel rattle does filters through. What makes the drive experience silky smooth is the eight-speed automatic gearbox that shifts ratios seamlessly. There are paddle-shifters too, for manual control over the gears.
While its bigger SUV siblings (XC90 and XC60) get air springs, the XC40 one gets standard steel springs, and neither are its dampers adjustable. Still, it rides in a composed manner, and although there's a hint of firmness at low speeds, at no point does it crash or get uncomfortable over bad roads despite the 18-inch wheels. The 235/55 tyres do well to flatten smaller road imperfections, but the larger ones do filter through. Stability in a straight line is great, and there isn't any unnecessary vertical movement felt. Its steering is oily smooth and light and gives just the right amount of feedback as the car builds speeds. The brakes are sharp and there's a function on the infotainment screen to make the pedal feel a bit crisper, which is particularly useful when driving fast. On a hilly section with tight twists, the XC40 gives the driver the confidence to brake later and attack corners harder, with its all-wheel-drive system working behind the scenes.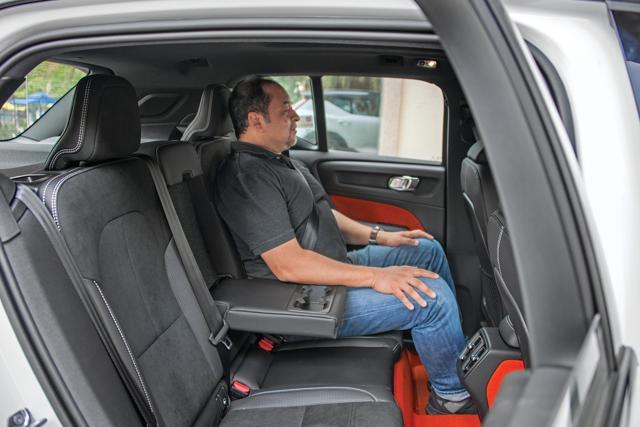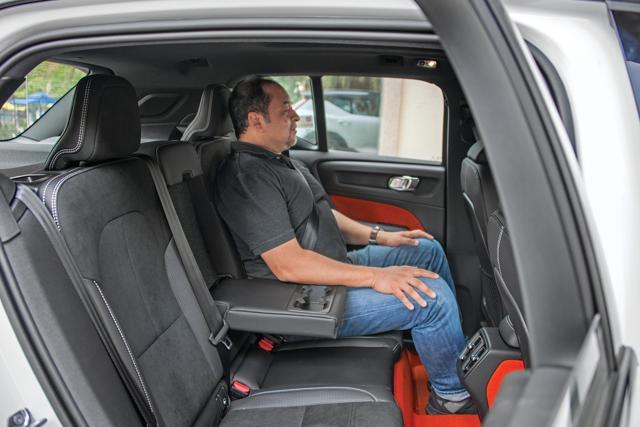 With prices expected to be between ₹43-45 lakh, the R-Design sits in the company of the fully loaded variants of its core rivals but boasts the longest equipment and radar-based safety feature list. Its engine is refined, smooth, making the XC40 nice and energetic to drive. Yes, it does have some flaws like rear-seat comfort, which is poor. However, look beyond that and this Volvo is the most youthful and freshest model in its segment. It's a car that'll tug at your heart strings and with its positives outweighing its shortcomings. So, if you have a Volvo dealership near you and are in the market for a car like this, the XC40 is a car you should have high up on your shortlist.
First Published Date:
02 Jun 2018, 09:14 AM IST
NEXT ARTICLE BEGINS