Volkswagen, China partners to recall 4.86 million vehicles over Takata air bags
Air bags made by Takata have been linked to at least 16 deaths and 180 injuries globally.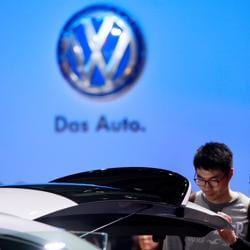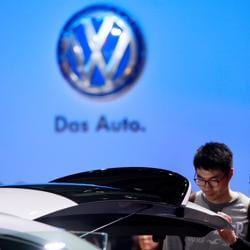 Guests look at a Volkswagen car during the media day at 15th Shanghai International Automobile Industry Exhibition in Shanghai April 20, 2013.
Volkswagen AG and its Chinese joint ventures FAW-Volkswagen and SAIC Volkswagen will recall 4.86 million vehicles due to issues with air bags supplied by bankrupt auto parts maker Takata Corp, China's quality watchdog said on Thursday.
The recall comes after the watchdog asked the German automaker, General Motors Co and Daimler AG's Mercedes-Benz earlier this year to recall vehicles equipped with Takata air bags.
The watchdog estimated over 20 million cars in China had air bags made by Takata, which have been linked to at least 16 deaths and 180 injuries globally. The air bags have the potential to explode with too much force and spray shrapnel.
China's General Administration of Quality Supervision, Inspection and Quarantine (AQSIQ) said VW China would recall 103,573 vehicles, FAW-Volkswagen 2.35 million vehicles and SAIC Volkswagen 2.4 million vehicles.
The watchdog said the recall would begin in March next year and continue into 2019.
Volkswagen officials did not provide immediate comment when contacted by Reuters.
Of 37 vehicle manufacturers affected by the faulty air bag issue in China, 24 had recalled 10.59 million cars as at the end of June. A further five had made plans to recall 1.26 million vehicles.
Volkswagen delivered 3.98 million vehicles in China last year, an increase of 12.2% on 2015, making it the biggest foreign automaker in the country.
First Published Date:
14 Sep 2017, 11:49 AM IST
TAGS:
NEXT ARTICLE BEGINS