Travel restrictions in Delhi, Maharashtra, Karnataka, Kerala, UP: In a nutshell
Amidst the rapidly surging Coronavirus pandemic, several state governments across India have imposed travel and movement restrictions in an attempt to curb the contamination among the public. While Delhi has imposed a six-day lockdown due to the crisis, other states such as Karnataka, Kerala, and Maharashtra too announced travel restrictions.
Here are all the travel restrictions and lockdown norms imposed in various states, that you need to know.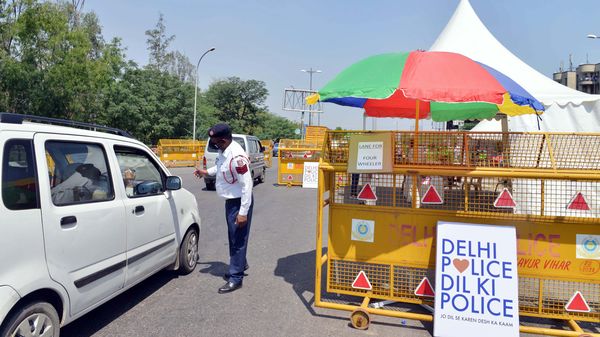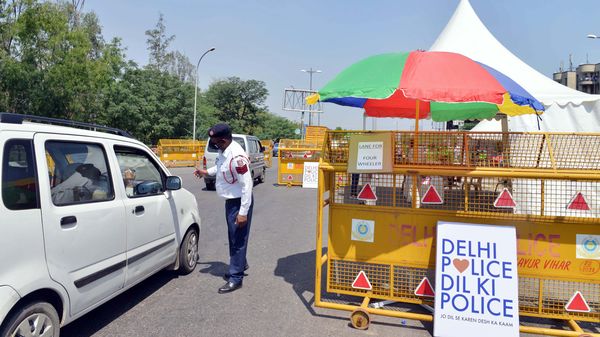 Police check vehicle at a checkpoint set up on road in Noida-Delhi Border.
Delhi:
Delhi government announced a six-day lockdown till April 26, 2021, in view of the rising number of Covid-19 cases in the national capital along with the rest of the country.
While unnecessary travelling and vehicle movement has been restricted in the national capital, there are exceptions as well. The government officials, employees of autonomous bodies and PSUs, essential service workers and the vehicles from the related sectors are allowed to move free, subject to the production of valid identity card.
No restriction on inter-state or intra-state movement or transportation of essential goods has been imposed. Delhi Metro and public buses are functional but with only 50% occupancy. Autos and electric autorickshaws are allowed to run with only two passengers. Taxis, app cabs too are allowed to move with two passengers. Petrol pumps, CNG stations, LPG stations are functional.
Maharashtra:
Maharashtra is one of the worst-hit states in India from the second wave of the Covid-19 pandemic, which forced the government to announce travel restrictions among other norms. The travel restrictions are in effect till 7 am on May 1, 2021.
The travel restrictions have been imposed to ensure that a maximum number of people remain at home. Unnecessary traveling is barred, while the essential service workers are allowed to move by providing valid identity proof. Public transportation too is allowed to be operational for the personnel involved in essential services.
The local trains, metro, and monorail services are operational only for government employees and healthcare workers, upon production of valid I cards. Movement of private passenger transport is only for emergency and essential services and restricted to within the city of residence. The emergency and essential services' workers can avail themselves the state-run buses but these are allowed to operate at 50% of total capacity.
Mumbai Police issued colour-coded stickers for vehicles, which were later withdrawn. However, the vehicles plying on roads are still required to produce e-passes.
Karnataka:
In an attempt to curb the rapidly spreading contamination of Covid-19 virus in the state, the Karnataka government has issued a set of guidelines and imposed a night curfew in the state from April 21. Besides the night curfew effective between 9 pm-6 am, the Karnataka government has also added a weekend curfew to battle the Covid-19 pandemic.
There is no restriction on inter-state or intra-state movement of people and goods. Also, no separate permission or passes are required for that. However, the number of people travelling in buses, maxi-cabs, tempo travellers, and metro has been capped at 50% of the seating capacity. Other vehicles too have to follow the same as stipulated by the RTO.
Movement of people through the public transport system including metro, KSRTC, BMTC, NEKSRTC, NWSRTC, private buses, trains, taxis, app cabs, auto-rickshaw, etc, is permitted adhering to the Covid-19 protocols set by the state government.
State and central government employees, essential services' employees can move and avail transportation upon providing valid IDs. People eligible for vaccination can move and avail transport system upon showing minimal proof. People travelling from and to Karnataka can avail themselves of public transport or private vehicles to move, subject to providing relevant proofs like tickets.
Patients and their helpers and close relatives requiring essential travel are allowed to move. People who need medical assistance can move. In case of emergencies, people required to visit doctors or hospitals are free to move.
Kerala:
Kerala, one of the states that have been battling the Covid crisis since the very beginning of the pandemic in India, has announced vehicular movement restrictions for 48 hours on April 24, 2021; in a similar manner to the last year's lockdown.
Only vehicles carrying people involved in essential and emergency services are allowed to ply on roads. No unnecessary venturing out on roads is allowed. People taking out their vehicles on roads have to provide valid identity cars and mandatory self-declaration informing the purpose of travel. People found to be travelling for needy and genuine reasons are not being stopped.
However, anyone found travelling without an acceptable reason and violating the government restrictions and Covid-19 protocols are being slapped with a heavy fine. The Kerala State Road Transport Corporation (KSRTC) buses are operational, but the number of passengers was too few in most parts of the state due to virus scare.
Kerala may witness a longer spell of such lockdown-like restrictions next week, as the state's Chief Minister Pinarayi Vijayan has said that further restrictions would be discussed at an all-party meeting on Monday.
Tamil Nadu:
Tamil Nadu too has announced a slew of restrictions in the state effective from April 26. The state has also joined other states in imposing weekend lockdowns and has announced a complete lockdown in the state on Sundays, with an exemption for essential services.
Unnecessary travelling has been restricted in the state. However, people working in essential service sectors and people travelling for emergency reasons are allowed to move, but they have to provide valid IDs and reasons. Passengers travelling to Tamil Nadu from other states, except for Puducherry, will need to apply for an e-pass through the government portal.
Cabs are allowed to ferry only a total of three passengers excluding the driver while auto rickshaws will be allowed to carry two passengers excluding the driver. Private and government bus services are allowed to be functional but passengers will not be allowed to travel while standing.
Uttar Pradesh:
Uttar Pradesh is another state that has announced a weekend lockdown, effective till 7 AM, April 26. The weekend lockdown in UP came as an addition to the existing night curfew.
Essential service sector workers are allowed to move by producing valid IDs. Public transport, especially the state-run buses are allowed to run with 50% capacity.
First Published Date:
25 Apr 2021, 11:33 AM IST
NEXT ARTICLE BEGINS


Shop Now

70% OFF