Porsche's 911 GT3 will attract all the attention you can handle
The face of the 2018 Porsche 911 GT3 looks like mine today, after I got a ticket on the way to work: It's a look that can shoot daggers.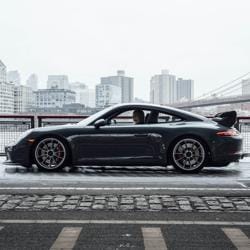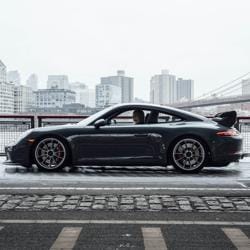 The Porsche 911 GT3 starts at $143,600. The one shown here cost $147,910, with upgrades like the Graphite Blue Metallic exterior and heated front seats.
The rest of the car follows suit, which explains why it attracted the attention of the New York Police Department in the first place. Ovoid bi-Xenon headlights frame the black grille like floodlights. A carbon-fiber splitter flanks the front like a shield. Fighter-jet-worthy air intakes over the rear engine, and a carbon wing cut like a blade, demand that other vehicles "Move. Now."


Its steel-rod-stiff suspension sits as close to the ground as fog; credit its birth at Porsche Racing, which bestowed upon arrival the adjustable camber, ride height, and sway bar settings that keep it clamped to the road.
Also check these Vehicles
Find more Cars
The car is so secure under high speed, so clocked into every input from every finger, that it's tempting to try to take it up the side of a wall and drive sideways. Driving it feels like you probably could.
So, yeah, the car catches some rather unnecessary attention. Especially when you have engaged the button on the center console that reads "Engine Note Enhance."
But it's all worth it. I still want to drive this sucker down to the last thread and then blow it away like the white puff of a dead dandelion. Porsche tried to get the car back from me a few times last week on account of a snow-forecast and summer-tire combination, which is never great, but I wrangled it back. You can pry this one from my cold dead heads (or when I hand it back next Tuesday, according to schedule).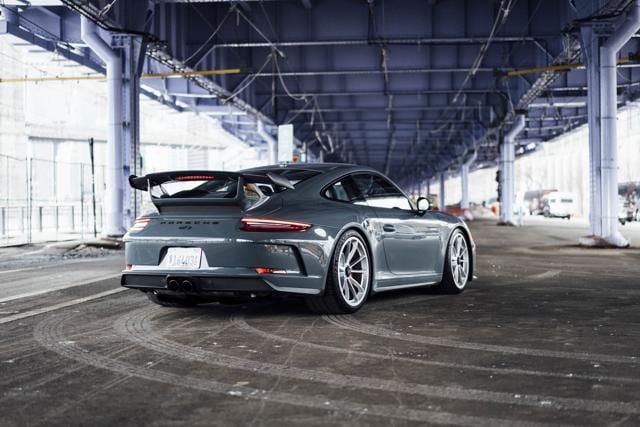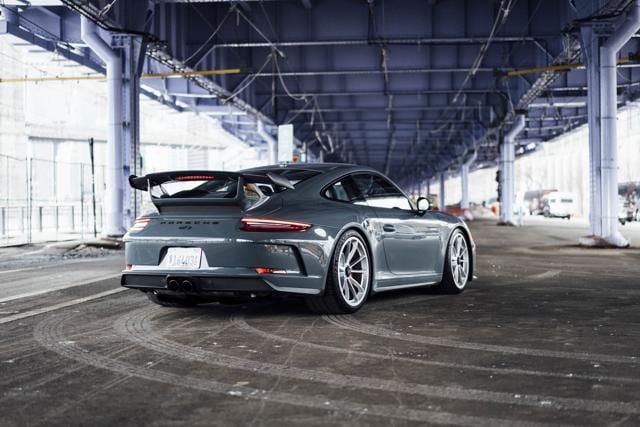 I don't mean to be rude. It's just that the all-new 911 GT3, which we haven't seen for three years, is the unicorn in the Porsche lineup: It's the only one in the group that is naturally aspirated, rather than turbo-ized; has a manual transmission option at no additional cost; and, oh yeah, has real room in the back for a passenger.
Crown Jewel
Even though the GT3 follows the same general roofline of its 911 namesake, it fits in a very specific place in the Porsche family. At $143,600, it's got more punch than the $102,100 Porsche 911 Carrera T—a sleek, sophisticated, daily driver—but it's not as ravenous as the $187,500 911 GT3 RS, the boy-racer, track-hungry, reptilian culmination of the GT3 line. It's a thinking man's car—even more so if you buy the grand touring package on top, but that's a review for another day.
This year's version contains a six-cylinder engine significantly updated from the one found previously in the GT3 RS and has the same six-speed manual transmission as the super-rare 911 R. (That one started life costing $185,950 but goes for nearly half-a-million in the open market—if you can find one.)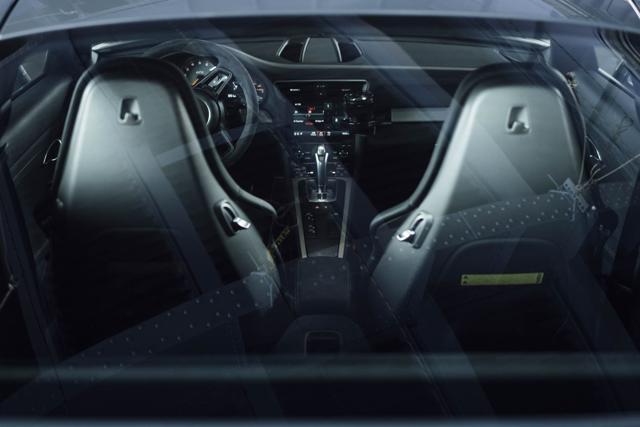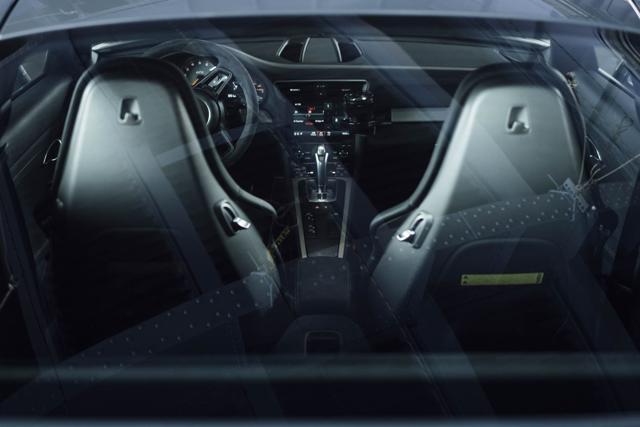 What's more, the GT3 gets 500 horsepower and 339 pound-feet of torque—significantly more than the previous generation and equal to last year's GT3 RS and 911 R. Top speed is 198 miles per hour on the manual version; zero to 60mph is 3.2 seconds under PDK paddles. These specs are extraordinary. They also demand: "If you don't care about extreme rarity, and you want to drive your 911 on more than a track, why wouldn't you buy the GT3 over those two other, much more expensive cars that have also have longer wait times to get them?"
I don't have an answer to that. To buy a 911 GT3 is to access the most legit aspects of Porsche sport driving at a significant discount from the norm.
The Finer Points
Inside, it's structured the same as every other modern 911. But unlike in the GT3 RS, there is no roll-bar here. There aren't "seats," per se, in the back, either. Rather, Porsche has removed the alcantara rear seating and all its accoutrements in order to lighten the car. It weighs a lithe 3,116 pounds—less than, say, the standard 911 Carrera line, among others. The weight also helps maximize the 20-percent increase in downforce over the previous generation GT3.
In place of the missing seats are two seat-shaped cutout ledges and a table-like expanse behind them. The area could probably house a dinner chair, if you pushed it.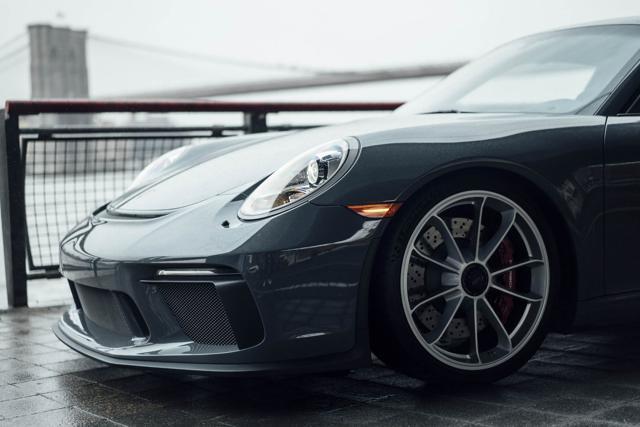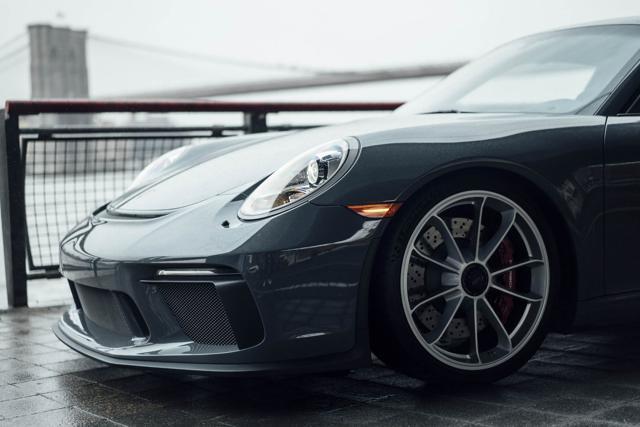 As for me, I put a tall-ish photographer friend back there, in addition to Very Tall me and my Also Tall, bearded boyfriend commanding the cockpit. We were settled enough, with enough space to swim, happy as clams, through Porsche's refreshingly minimal cabin.
Changing the A/C or adjusting the volume on the stereo uses real-life buttons, not glitch-laden touchscreens, and the Bluetooth and Navigation are some of the most intuitive I've seen in any car. There are just enough nods to the needs of modern reality—USBs and a cup holder or two—to make the GT3 feel far more comfortable and fun to inhabit than cars that can cost twice as much.
So, yes, we were happy. After all, we had commandeered a mythical beast of a car. At that point, not even a stop by New York's Finest could have gotten us down.
First Published Date:
10 Apr 2018, 16:42 PM IST
Recommended for you
View all
NEXT ARTICLE BEGINS


Shop Now

55% OFF

21% OFF

73% OFF