Ather 450, a convincing electric scooter you can replace your petrol-sipping bike with
Ather 450, Bengaluru-based start-up Ather Energy's electric scooter, could revolutionise the segment in India. Can this scooter truly be an uncompromised replacement to the petrol-powered scooter?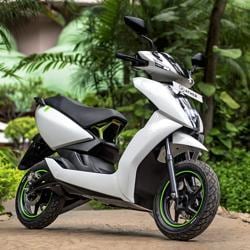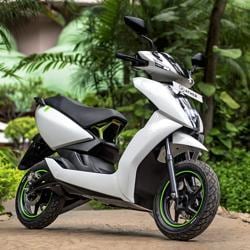 The Ather 450 (and the 340) has been designed as a competitor to a conventional scooter – not an experimental alternative.
Bengaluru-based start-up Ather Energy has launched two scooters, the 340 and the 450, which it claims will revolutionise the segment. Both scooters look identical and share their mechanicals, too, but there's a noticeable performance gap between the two to justify either's existence. I've been assigned only the 450 for a ride. At first glance, it looks normal - and that's the point. The 450 (and the 340) has been designed as a competitor to a conventional scooter - not an experimental alternative.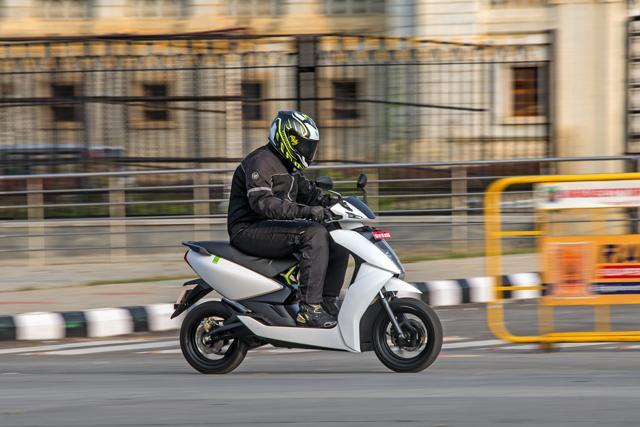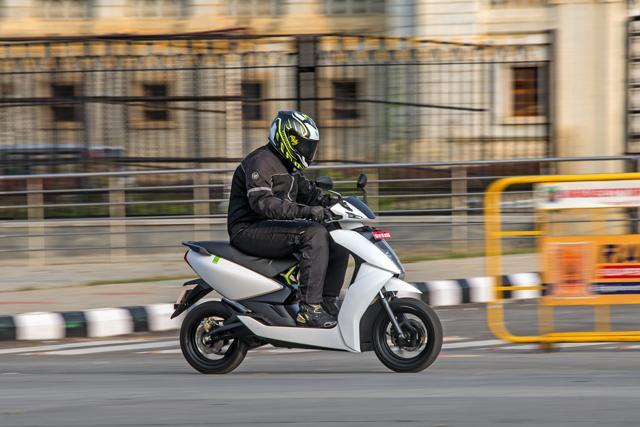 All the lights on the scooter are full-LED units and serve as good design elements. The slim apron, integrated pillion footrest (rather than foldable pegs), stylish number front number plate mount and grab rail gel seamlessly to form a scooter that's trendy but neither underwhelming nor overdone. What stands out is the overall attention to detail, visible even in the superbly finished mirror stalks! Practicality is uncompromised, too, in the way of a roomy floorboard and a very generous, tastefully illuminated under-seat storage bay. Overall, this is a sporty and cool-looking scooter that, thankfully, doesn't try too hard to establish its identity (of being an electric scooter) and certainly doesn't disappoint in any way.
One of the coolest bits on the Ather 450 is the 7-inch full colour touch screen - the core of the Athers' rider interface and a scooter segment first. The screen is an IP65 rated water-proof unit that offers an array of features, all of which can also be controlled via a mobile app. In addition to the usual fare of readouts, the white-backlit screen features three menus - one each for settings and rider insights, navigation (it comes pre-installed with a SIM card which Ather will pay for initially and it will subsequently become part of a subscription service) and park assist (a helpful reverse mode, limited to 3kph). The screen also features an Eco mode option that you can select to aid efficiency; it reduces top speed and response by a reasonable bit. Another fascinating touch, and a by-product of this being a connected scooter, is that it will receive over-the-air updates from Ather ensuring the scooter only gets smarter with age.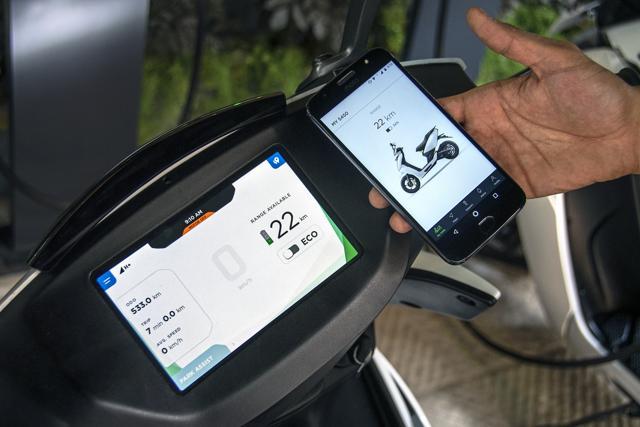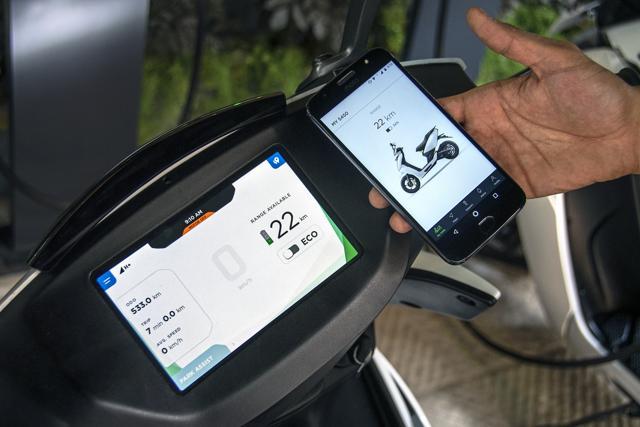 Following a conventional starting procedure involving a key, a kill switch and a starter button, the 450 starts up with a loud in-built chime that may make sneaking out of home a difficult task - just in case you wanted to know!
A gentle twist of the right wrist later, we darted ahead. Out on delightfully empty early-morning streets, the 450 assumed its role of being a sporty scooter in an unbelievable instant. In no time, I was doing conventional scooter speeds in near silence, with only an oddly likable whine for accompaniment, all the way to an indicated 75 kph. It had more to offer, in fact. The zero-lag performance translates to great fun in the city and it offers very usable power delivery. It has a strong mid-range, and this makes overtaking a breeze. Interestingly, its performance isn't hindered much with a higher payload (in this case, a 75kg pillion) either. In addition to spirited in-city usability, the 450 offers decent braking performance and slightly firm (but not cumbersome) ride quality. At 118kg, it's heavier than the usual fare of scooters but not exorbitantly so.
This staggering (in e-scooter terms) performance is courtesy of the IP67-rated lithium-ion battery pack and the IP66-rated 5.1kW brushless motor. The battery pack, which needs replacement every 50,000km, is built by Ather, which has also designed a bespoke (and smart) battery management system for it. In effect, the battery pack sends charge to the electric motor, which then sends the power and torque to the rear wheel via a two-step reduction ratio and an exposed belt drive.
Ather claims a realistic range of 75km in Eco mode and 60km in Power mode for the 450 - this, despite ARAI's own test results producing a 107km range! Ather claims a 2hr 40min home-charging time to 80 percent capacity, 4hr 18min for a full charge and, under fast charging, 1km per minute. At present, fast charging will only be available at publicly installed chargers that are part of the Ather Grid (currently a rapidly-expanding network only in Bengaluru, but Chennai and Pune are in queue). Initial customers will get the home charger for free and even Ather's existing public charging network is accessible for free (to even non-Ather EV owners) for six months, and that's commendable.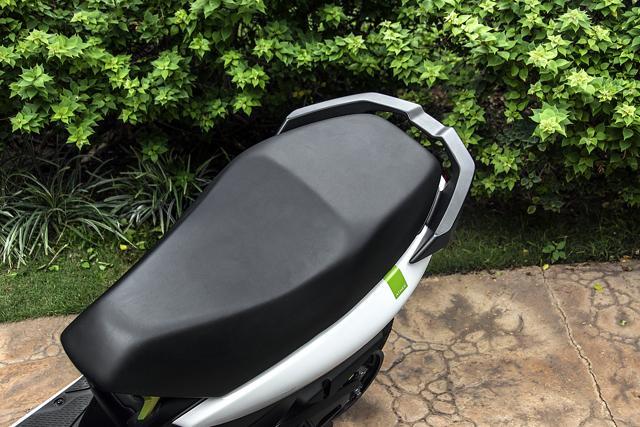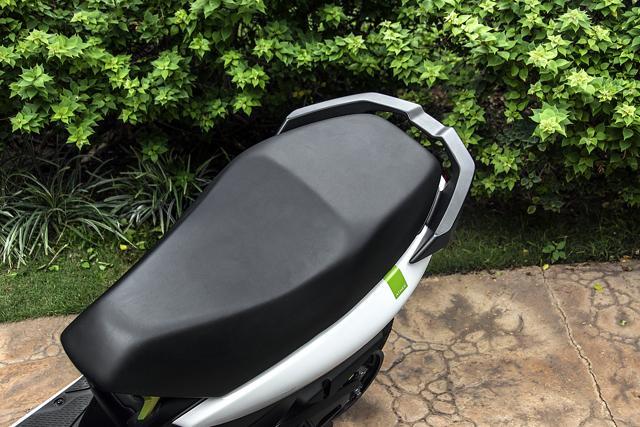 Should you buy one, then? Considering the Ather 450 feels equivalent to a 125cc scooter on most counts - in addition to its cool quotient and meticulously incorporated features - it makes a strong case for itself. It's realistic and practical, and as an overall effort, is miles ahead in terms of being a convincing electric scooter you can confidently replace your petrol-sipping scooter with.
Finally, the prices. Priced at ₹1,24,750 (on-road, Bengaluru; ₹1,09,750 for the 340), the Ather 450 isn't cheap but it does a fine job of justifying its price tag. What that kind of money fetches you is not just a good scooter, but also the opportunity to join an accomplishment, a movement. It's finally time to join the party!
First Published Date:
16 Jun 2018, 10:05 AM IST
NEXT ARTICLE BEGINS