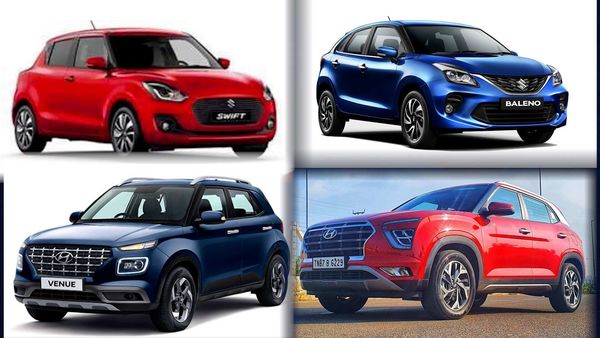 10 top-selling cars in India in February: Maruti and Hyundai rule the list
2 min read
.
Updated: 10 Mar 2021, 12:11 PM IST
While Maruti had as many as seven cars on the list, Hyundai had just three.
Maruti Suzuki and Hyundai Motor continue to rule the sales charts in the passenger vehicle segment in India. The two carmakers shared the 10 top-selling cars in February, 2021. Here is a quick look which cars feature on the list.
1
Despite a drop in sales, Hyundai's Grand i10 managed to stay on top, featuring at number 10 on the list. The drop in sales is marginal at around one per cent. Against 10,407 units sold in February last year, Hyundai could sell only 10,270 units of Grand i10 last month.
2
At number 9 is yet another Hyundai car. Its sub-compact SUV Venue has picked up sales compared to last year. With the introduction of its latest iMT technology, Venue has become a more attractive proposition for buyers. Hyundai sold 11,224 units of Venue last month, up by almost 9 per cent compared to February, 2020.
3
Maruti Suzuki's Vitara Brezza, which continues to top the list of sub-compact SUVs in India, is placed at number 8 on the list. It managed to keep its crown in the segment by a little more than 300 units than Venue. However, its growth has been quite steep since the new generation Brezza offers better powertrain options than its predecessor. Maruti sold 11,585 Brezza last month, a jump of 69 per cent compared to same period last year.
4
At number 7 is Maruti's Eeco, which has been on the list of top-selling cars for quite some time now. In fact, the Eeco continues to grow on a year-on-year basis. It clocked 11,891 unit sales in February, 2021, which is at least 6 per cent higher than 11,227 units sold in February last year.
5
Maruti Dzire remains the lone sub-compact sedan on the list of 10 top-selling cars in India in February 2021. And there is no sign of any decline in its growth whatsoever. Compared to just 7,296 units of Maruti Dzire sold in February, 2020, the carmaker increased its share this year, clocking an impressive 63 per cent rise in sales with 11,901 units.
6
Hyundai's best-seller in India, its Creta SUV, has increased its lead over rival Kia Seltos SUV by some distance now. It is placed in top five of the list with 12,428 units sold last month. While the year-on-year growth of 1675 per cent seems unreal, the fact is that the old generation Creta was on its way out in February last year, as the carmaker could sell only 700 units.
7
The top four slots on the list continue to be completely dominated by Maruti. Alto, the hatchback that has become almost synonymous with the brand, has seen a marginal dip in sales. It could sell 16,919 units last month compared to 17,921 units back in February 2020, when it held the number three spot on the list.
8
At number three is Maruti's new generation WagonR. A marginal growth of around three per cent saw it go past Maruti Alto's sales figures last month. Maruti sold 18,728 units of WagonR in February, 2021 compared to 18,235 units during the same period last year.
9
Maruti WagonR has conceded its number two position on the list to Baleno, which is the carmaker's best-selling premium hatchback. Baleno has seen a significant rise in sales when compared to last year. Maruti sold 20,070 units of Baleno last month, up by almost 21 per cent from February, 2020.
10
At number one is Maruti Swift hatchback, which continues to rule the charts. In fact, in February last year too, Swift was the number one best-seller in India. With a significant 8 per cent year-on-year growth rate, Maruti sold 20,264 units of Baleno last month. In February last year, Maruti could sell 18,696 units.