Royal Enfield Thunderbird 500X review: A fun everyday motorcycle with style, attitude
So far, Thunderbird ownership has involved a simple set of rituals: Buy one, source aftermarket alloys for it, add auxiliary lamps and a prayer flag, and you're good to go. Now, Royal Enfield knows the Thunderbird demographic only too well and it has decided to step in and save you the trouble of a trip down aftermarket lane. Meet the Thunderbird 500X - a refreshed, urban-focused take on RE's popular wannabe cruiser.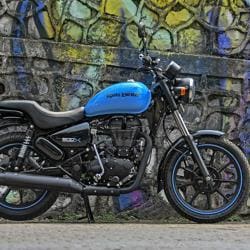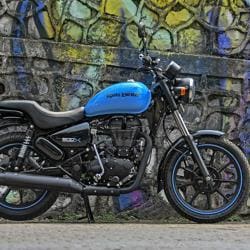 the Thunderbird 500X is a refreshed, urban-focused take on Royal Enfield's popular wannabe cruiser.
The 500X is powered by the 499cc motor from the Thunderbird 500, which produces 27.2hp and 41.3Nm of torque, and the engine is mated to the same five-speed gearbox. What RE has attempted to achieve with the X is a contemporary-looking cruiser that suits the urban palette. The X wasn't destined for layers of chrome; and with the blacked-out cycle parts came the possibility of alloy wheels - so RE shod it with one at either end (that should suffice, right?) with the a 19/18-inch (front/rear) combination. What you notice first, however, is the paint job. RE has kept it bright and simple, although it has clearly drawn inspiration from the Triumph Street Twin. You can choose from between two colours for this bike - orange and blue - and the fuel tank is the sole recipient of these new colours. Everything else on these motorcycles is some form of black (gloss or matte, in other words). I think it looks neater, more modern and certainly fits the role of an urban motorcycle better than the conventional Thunderbird. Also, while I'm not a fan of alloys on retro motorcycles, the ones on the X do the job and look better than the inevitable aftermarket alloys that find their way on most Thunderbirds.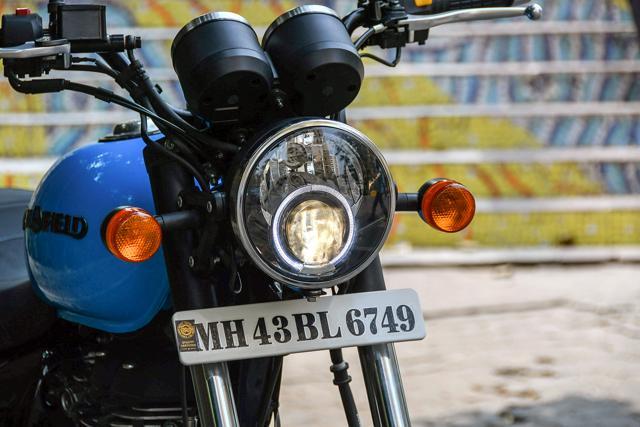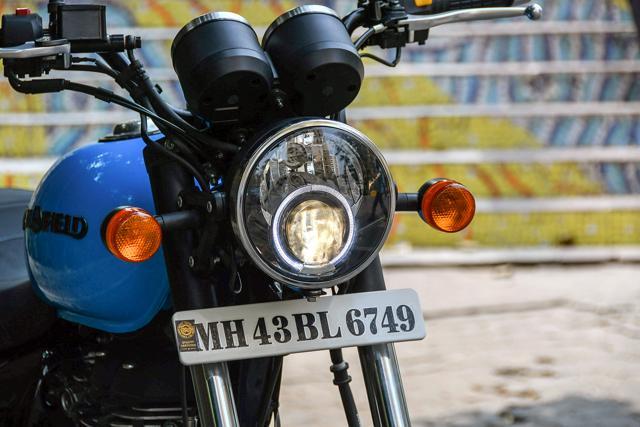 The headlight lens now gets a darker surround, to provide a stronger contrast to the projector light and DRL. The headlight dome, itself, is now a matte-black unit and gets a cool three-point bracket that's neatly finished - you know where to look, if you have a motorcycle project to complete. The fork is blacked out, too, although rubber bellows on the fork legs would accentuate the all-black effect RE has tried to achieve with the Thunderbird X range. The new handlebars are a simple, upright unit (the ape hangers are exclusive to the regular Thunderbird), also new is a one-piece seat, which looks aesthetic and is well-finished. A nice, if discreet, detail on the seat is the stitching, which is matched with the colour of the fuel tank. Lastly, there isn't a back-rest/sissy bar any more, which means the bike's posterior ends in a tail-light unit (same as on the Thunderbird but with a matte-black shroud, instead of chrome) mounted on a slightly-shortened rear fender. The grab-rails have been neatly tucked in under the pillion seat and go with the minimalist theme.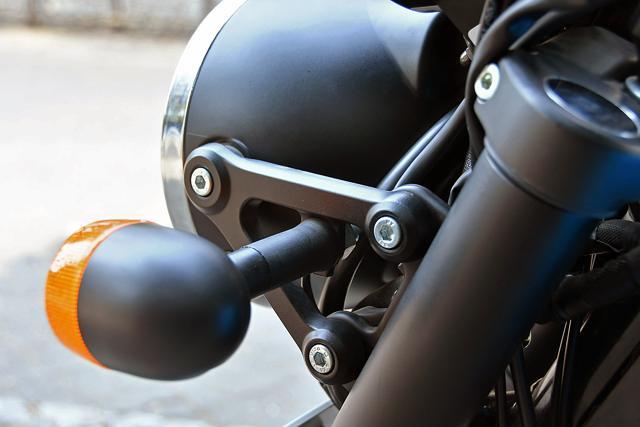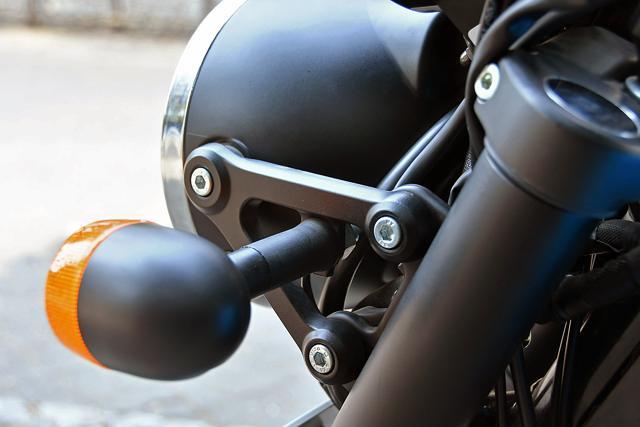 Also check these Bikes
Find more Bikes
Since it is mechanically and dimensionally identical, there isn't a difference to the 500X's mannerisms, as such. It remains a motorcycle with an enjoyable ride quality and even the worst of Mumbai's roads didn't affect its composure or plushness. To be honest, I did expect RE's newest investment - those alloy wheels - to finally introduce a 17-inch size into the range but sticking to a 19/18-inch wheel combination (with tubeless tyres) still works well. Smaller wheels would definitely make it more flickable in the city - where RE believes the X belongs. Also new are the tubeless MRF tyres - 90/90-19 (front), 120/80-18 (rear) - which offer decent grip. Although they aren't the most confidence-inspiring units on urban surfaces, especially under hard braking. The 500X does get a disc at either end (280mm at the front, 240mm at the rear) though ABS will only make a debut in 2019.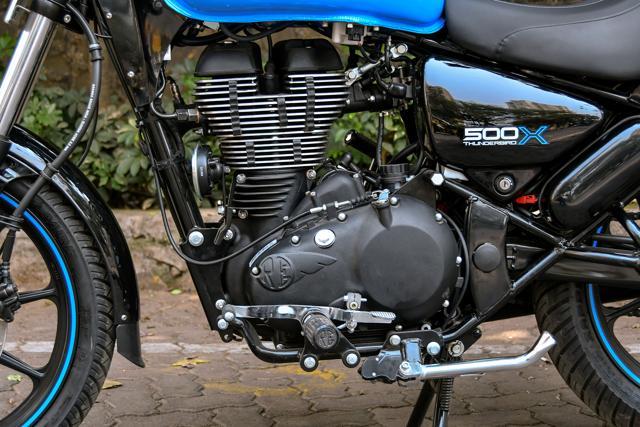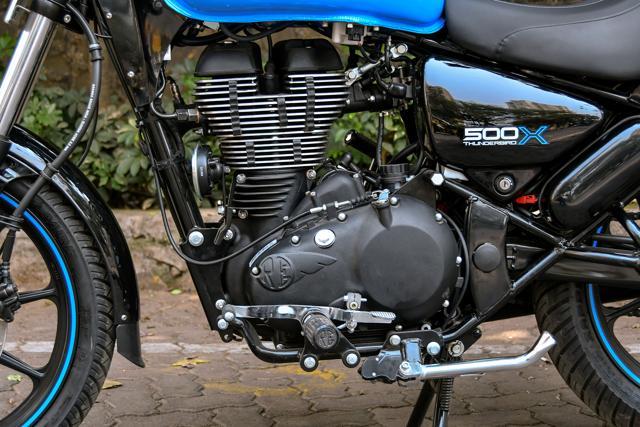 The engine has a muffled thump to it and you will enjoy its mild pulse at low revs. At revs higher than 3,500 rpm, however, the pulse turns into a vibration (at the handlebar and pegs) and that could have been ironed out to gel with the X's slicker appearance. I also found the gearshift offering needless travel - a tighter unit with a pronounced mechanical feel would be better - which got uncomfortable, at times, owing to the feet-forward stance. The handlebar certainly makes the Thunderbird easier to manage in the city although a slight adjustment (tilting it closer to the rider) will perhaps make it even more comfortable than it is, at present. I did notice different-looking bar-end weights on the X, as opposed to the regular Thunderbird but I doubt it makes even a fraction of a difference - should have been black instead of chrome, perhaps?


If you're hell-bent on buying a Royal Enfield but can't bear to keep chrome bits shiny and rust-free, the Thunderbird X is for you. It looks fun and stylish and certainly will appeal to those looking at an everyday motorcycle with an attitude (if not outright character, like the older generation of Royal Enfields). The Thunderbird has always been a decent highway companion (not the least due to its 20-litre fuel tank) and the X is no exception to this. However, the lack of a backrest and the curvature of the rear-end of the seat means it's pretty uncomfortable for pillions, as we discovered during our stint with it. The grab-rails, too, aren't the most ergonomic units and could have either been more generous or positioned better. Royal Enfield is in the process of designing a backrest for the bike. Until that materialises, pillions will have a hard time hanging on. RE is, in fact, also considering a small fly-screen for the X range. While that won't come with any aerodynamic gains, it should make for a prettier front-end than what you already have.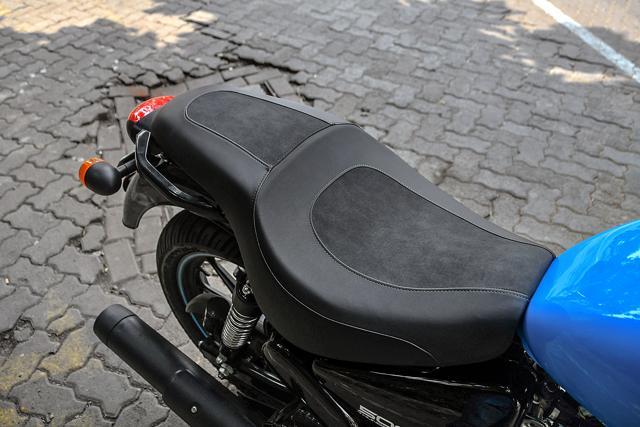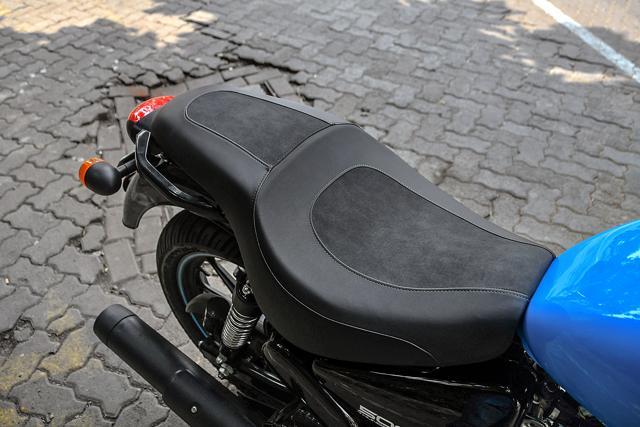 Yes, particularly if you aren't a fan of the smaller-displacement breed of cruisers (the Bajaj Avenger and Suzuki Intruder, namely) and aren't convinced by UM Motorcycles' products. You should also buy one because it's cool and hip while still staying characteristically laid-back and relaxed. At ₹1.98 lakh (ex-showroom, Mumbai), the new Thunderbird is ₹7-8,000 more expensive than the regular model - which is a fair increment, given that you get factory-fitted alloys and tubeless tyres, as well. Only the prayer flags have been left to you, but a ride to Leh should sort that out, right?
First Published Date:
10 Mar 2018, 09:05 AM IST
NEXT ARTICLE BEGINS


Shop Now

70% OFF

65% OFF