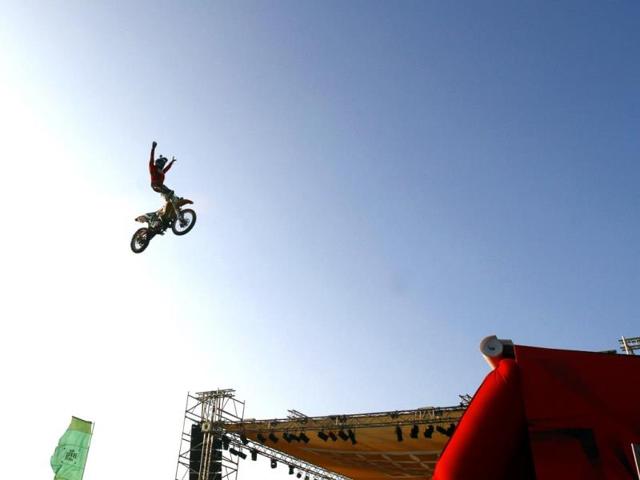 India Bike Week 2014: 7,000 bikers throng venue, demand for high-end brands grows
9 min read

.

Updated: 27 Jan 2014, 12:57 PM IST

At the the India Bike Week 2014, bikers felt that over the last few years the biking culture in the country has received a boost because of the availability of many high-end bike brands in the country.

I have been to Goa for the sun and sea. I have been to Goa for the nightlife and the parties. I have been to Goa for the flea markets, and once, even for a destination wedding on one of its beaches.
Similar Bikes
But I had never imagined I could be in Goa for 48 hours without a single glimpse of the sea, or any of the things that I associate in my mind with Goa, and still be happy.

To be honest, I wasn't happy when I started January 17. The sprawling grounds, dotted with tents, food stalls, stages, inclines and parking spaces, the venue of the India Bike Week 2014, was not exactly the way I had imagined it. In my naivete I had imagined the venue would be on the beach, on the warm sands, and near enough to the sea for me to bolt whenever I felt like.
But that sense of disappointment evaporated with my first sightings of the bikes. It started with the HOG (Harley Owners Group) Parade from Mumbai. Perhaps the adrenaline rush of seeing those big bikes ride down the narrow turn of the road can only be surpassed by being on one those mean machines yourself. My wow moment? When I saw a PYT (pretty young thing, for the uninitiated) match style with safety in a black helmet accessorized with red feathers to resemble a Mohawk hairstyle.
About India Bike Week
The India Bike Week was conceptualised by Martin Da Costa, CEO, Seventy Event Media Group and his team. "It started because so many in the company were avid bikers and missed having an event of this sort.
There were small biking events that was organised by individual brands, but not something that brought together bikers from across the country," explains Martin. Seventy approached Fox Travellers with the concept and the first India Bike Week was held in 2013 in Goa.
In its second year, the two-day festival, held on January 17-18 in Goa, "was bigger and better and drew over 7,000 bikers from across India," said the organisers ."We looked at the format for various international biking events while organising the event, but there is no event like India Bike Week, that includes stunts, competitions, discussions on biking, latest trends and related subjects under one umbrella," said Martin.
The list of two-wheelers on display at the event was awe inspiring, classic cruisers, sportsbikes, vintage bikes, modified bikes…. Being prime sponsors, Harley Davidson, drew the maximum number of riders. But was a strong turnout of BMWs, Royal Enfield, Triumph, Kawasaki and even one or two Hero Honda and other utility two-wheelers.
"India is a country of two-wheelers. For most Indians, the bike is still the first vehicle they own. It's true that for many it is a utility vehicle, but the trend of leisure biking is also picking up in India," explains Keertan Adyanthaya, managing director, Fox International Channels, one of the organisers of the event, himself an avid biker.
Passion bikers and Leisure bikers
Amitabh Singh is an airlines captain. But when not flying planes, he loves to ride a Harley Davidson. "The biking culture in India has picked up over the last two years. I am part of a biker group in Delhi. Our members are those between the age of 23 to 52 years," says Singh, who had ridden down from Delhi for the event. Mumbai-based Vir Makai, "grew up on his father's bike". His passion for biking, helped him professionally, when he set up an agency to take people on bike tours. "The concept of exploring a place on a bike is picking up in India," he says. Jay Kannaiyan, who rode around the world on a bike while on his way back to India from the US agrees, "There are many who want my experience. So I started organising bike tours to exotic locales."
Bikers feel that over the last few years the biking culture in the country has received a boost because of the availability of many high-end bike brands in the country. "Many senior working professionals are going back to biking," says Makai. A case in point is the Benetton (India) managing director, Sanjeev Mohanty. Mohanty's first bike ride ever was in 2011 when he road home his Harley Davidson Road King from the showroom. "Leisure biking is building up in India. There are predictions of 2,500 superbikes (those over 7500 CC engines) being sold in India in 2014," he says. Mohanty very rarely drives his Harley to work. "But biking on the highway in the weekends is liberating," he says.
All is not hunky dory with biking in India, however. Bring up the death in police firing of a stunt biker in Delhi last year and Makai says, "India has a bike phobic culture. We associate rowdy behaviour with biking," he says, adding, "bikers should also take care to follow rules and not give anyone the chance to say that two-wheelers are a nuisance on the road." Agrees Sachin, a stuntbiker from Mumbai, "We never do stunts on the road." Sachin rides a Pulsar. "I started stuntbiking as a hobby, before taking it up professionally. There's good money in it. Bike companies and event managers often call us to perform. We get about ₹40,000 per show," he says.
There are many who have turned their passion for bikes into a profession. Mrityunjaya Dash and Saikat Basu, are IT professionals, who are also into modifying bikes. They are based in Hyderabad. The duo insists that there is a demand for such work. "Last year there were 20 customised bikes at the India Bike Week. This year there are 60," points out Dash. Reza Hussain, whose customised bike Keleno Mortale (Deadly Venom) won an award at the festival, has done engineering and MBA, but wants to take up modifyinf bikes as a profession now. "People still think modifying bikes is the work of uneducated mechanics."
Women in a man's world?
When Sheetal Bidaye wanted to ride a bike, it wasn't an issue at home. Her mother rode a two-wheeler in Pune. She describes herself as a biker and a writer and is also the admin of Bikerni, an association of women bikers.
She has a Limca record under her belt. "I was the first Indian rider to have reached Turtuk, a point in Ladakh, that is on the border with Pakistan Occupied Kashmir," she explains. But Bidaye still has to put up with sexist remarks while on the road.
"When I participated in Raid The Himalayas, some of the organisers too were uncomfortable to have a woman rider. One of them told me even before the trip started that it was okay if I couldn't win," she recalls. Bidaye doesn't really care. Nor do most women bikers.
"I can take care of myself," says Ambika Sharma, a biker from Delhi, who rides a Harley. But there are some basic problems that women riders have to face. "Most companies do not make bikes keeping women riders in mind. Height is a problem. Especially while riding off-road, it is difficult to touch ground when you need to," explains Bidaye.
That doesn't deter the passionate biker though. HT spotted even a woman stunt biker at the India Bike week, Anam Hashim from Pune.
Wonder on wheels
Ted Simon
"The primary motivation for me to undertake the world tour was curiosity. Today we are so flooded with images. It is important to remember that world is not what it seems to other," says Simon, who had undertaken a solo four-year journey on a Triumph Tiger in 1973.
"I spent four months in California because of a girl I met and fell in love with. When you are traveling you are meeting people for a short time.'
'The relationships are therefore on a higher pitch. I never felt like stopping," says Simon, adding, "The feeling I got from that trip was that I had come to grips with the world, what really matters also what's wrong. I had the feeling that I had important things to say."
Aspi Bathena
Aspi Bathena is one of only two Indians to have raced (twice) at the Isle of Man TT races and won a bronze replica in his first race. "In those days racing was difficult because we had to build our own bikes. We didn't get proper race bikes in India. Nor did we have proper gear. And the Isle of Man is the toughest race because there is no track. One lap is 60 km long. That's how I lost a part of my finger during my second race there. My hand got stuck between a wall and the handlebar," says Bathena.
Nick Sanders
The British motorcyslist, has circumnavigated the globe on his motorcycle seven times. He has also set a world record for riding around the world in 19 days.
"The first time I went around the world I went on a cycle. Then I wanted to do something different, so I biked. Then someone offered me money if I could finish the tour within a certain number of days and set a record and that's how I started fast-riding across the world," explains Sanders.
He has since made a career out of biking. Companies sponsor him to undertake record-making journeys. Ask him of his most challenging journey and he says,"I crossed Uganda in 1983 during a civil war, that was challenging. I witnessed many horrific things."
Jay Kannaiyan
Jay Kannaiyan quit a job in the US to ride back home to India. "I had been sponsoring a child through a website and I got the chance to meet her in Zambia . She was seven years old then. Her name is Abigail and when her mother called her Abi, I felt a connect, because I was called Abi as a kid at home," he says.
Eliza Massey
Eliza Massey started on a world tour on her bike in October 2012, when she was already a grandmother.
"I am photographing people and cultures that I see on my travel and intend to compile a book," she says, adding, "One problem I faced was that I was carrying too much stuff, I am a woman (laughs). I knew little of bikes. When I started I was carrying three litres of oil, because my mechanic told me to."
Bharadwaj Dayala
Bharadwaj Dayala set out in 2006 to travel alone around five continents for over 19 months on his Indian made motorcycle. "All you need is a very strong urge to go," says Dayala of his trip. Dayala traveled across the world alone for over 19 months on his India-made bike. "The first wall is getting visas. Indians till recently were not known as travelers. They think you are going to work. It took me two years to get all the visas. It is so much easier to ride," he says.