Italy to crack down on electric scooters after deaths and accidents
The Italian government on Tuesday announced a crackdown on the use of electric scooters on city streets, looking to cut accidents, reduce injuries and prevent pavements from becoming cluttered obstacle courses. Updating Italy's highway code, the government also announced it would suspend driving licences for people caught using a mobile phone while behind the wheel and promised zero tolerance for anyone found drunk or on drugs while driving.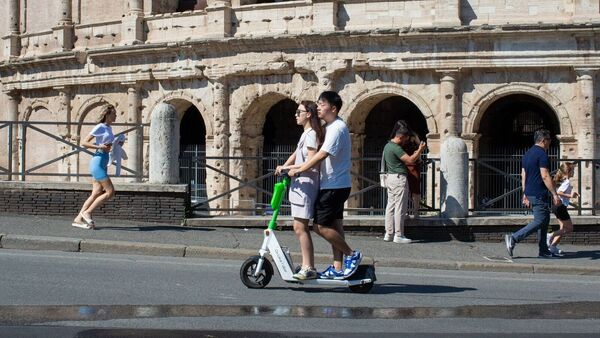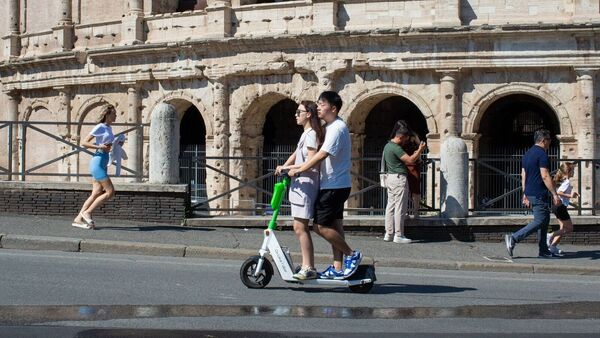 Two people on a e-scooter, and pedestrians, pass the Colosseum in Rome. Italy may crack down on use of e-scooters, hailed as either the future of urban transport or considered to be a menace on city streets.
Like in many European countries, the use of e-scooters has boomed across Italy in recent years, with rental companies flooding major cities with scooters for rent that are popular with locals and tourists alike.
However, police have reported countless accidents, with six people dying in Rome alone over the past two years while riding scooters. Scooters have also caused problems for pedestrians, with no rules in place for where they should be left.
Under the new regulations approved by the cabinet, riders will have to wear a helmet and have insurance, while e-scooters will now be required to have a registration plate. The measures will have to be approved by parliament to become law.
It will be forbidden to ride the two-wheelers outside of built-up areas, such as on major highways, or to leave them parked haphazardly on pavements.
"We need to restore a bit of order. Thinking about the pavements of the big cities like Milan and Rome, it is like a gymkhana for people with pushchairs," Transport Minister Matteo Salvini said after unveiling his plan.
Parisians voted in April to ban them from the French capital. There has been no such suggestion in Italy, although various cities have looked to cap the speed limit of scooters and reduce the number of firms that can hire them out.
First Published Date:
28 Jun 2023, 08:58 AM IST
NEXT ARTICLE BEGINS


Shop Now

70% OFF

65% OFF