Want to live your Mad Max fantasy? Ditch the bike, go for a $28k Polaris Dune Buggy
Imagine, if you will, the strategy meeting that led to the new Polaris RZR XP Turbo S.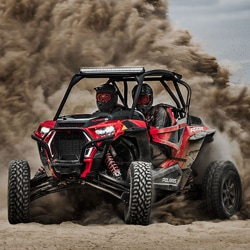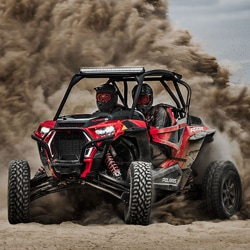 The Polaris RZR XP Turbo S' tires are larger (32 inches), the ground clearance more sizable (16 inches), and its suspension allows each wheel to travel up to 25 inches.
Executive #1: "I'm thinking 10% honey badger, 10% and 90% spider cricket."
Executive #2: "That doesn't add up, but let's do it."
Of course, it didn't actually happen that way. The off-road vehicle unveiled this week by Polaris—like the spider cricket—is the result of a natural evolution in the motorized toy market. In the early 2000s, companies like Polaris, Bombardier Recreational Products, Kawasaki and Yamaha added extra seats and a cage to protect riders to their already popular ATVs. The concept took off, and prices for side-by-sides, as such vehicles are known, are now entering luxury territory.
This may be news to city dwellers, but on the outskirts of town these vehicles are a cultural phenomena. Polaris estimates 500,000 drivers worldwide bought one last year to hunt, fish, farm and generally live out their Mad Max fantasies. In comparison, the total market for motorcycles in Europe and the U.S. is only slightly bigger, at around 680,000, according to Harley-Davidson.
Trending Bikes
Find more Bikes
Side-by-side vehicles are similar to ATVs in capability and function, but they cost twice as much, turbo-charging profits for the companies that make them. In short, an all-terrain vehicle may be a paragon of discretionary spending, but it's also the primary reason Polaris market cap has surged six-fold in the past decade.


The new RZR XP Turbo S is larger, faster, more capable at crawling over obstacles and more expensive than most side-by-sides. "It literally is the biggest, baddest machine we've ever launched," Wine said. "It's more like an F-150 (pickup truck) than an off-road vehicle."
With a starting price of $27,499, it's priced like a pickup as well. In fact, one can get a bare-bones F-150 for just a few hundred dollars more. However, the RZR is a far more capable of off-road shenanigans. The tires are larger (32 inches), the ground clearance more sizable (16 inches), and its suspension allows each wheel to travel up to 25 inches. It will hit 45 miles an hour in low gear and get airborne with ease.
The latest RZR is also a bit of a defensive move from Polaris. Can-Am, Bombardier's brand, launched a similarly insane Maverick X3 a year ago. Most notably, the Maverick was the widest side-by-side on the market, stretching the wheel-base to 72 inches laterally, making it less likely to tip and roll. At $18,000, it's also far more affordable than the new Polaris.
Around the same time Can-Am made its product push, Polaris recalled more than 70,000 of its off-road vehicles due to fire hazards from potentially faulty fuel systems and heat shields. Wine said the company has worked through those issues and retained close to 50% of the market for off-road vehicles.


Critically, that market is both fast-growing and small. "People who know what our products do represent less than 10% of the population," Wine said. "So the opportunity to grow that is massive." The company plans to spend $260 million on R&D this year, which represents almost five percent of 2017 revenue.
To that end, Polaris is increasing its marketing budget and targeting young consumers—really young consumers. Alongside the new RZR, the company also unveiled a kids version, the Ranger 150 EFI. Designed for 10-year-olds, the little buggy is a $5,000 gateway drug for dirt fiends. The rig allows adults to use a smartphone to set up a passcode protected start and a digital speed limit. The machine also has geo-fencing technology, so parents can allow little rippers to wander off-road, but not too far off.
First Published Date:
09 Mar 2018, 12:14 PM IST
Recommended for you
View all
NEXT ARTICLE BEGINS


Shop Now

55% OFF

13% OFF

73% OFF