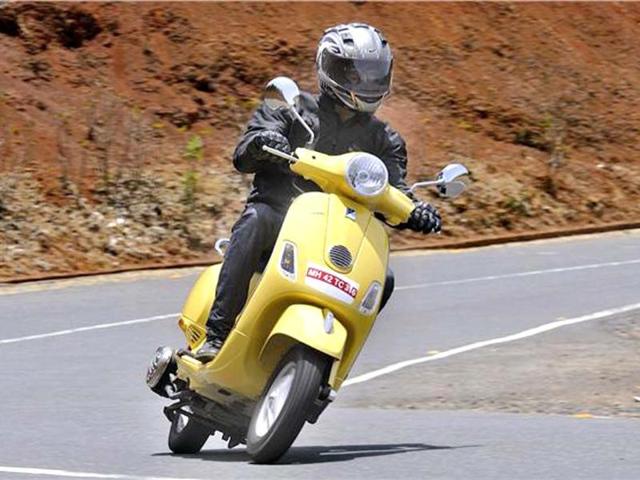 Vespa LX 125 comprehensive review
3 min read

.

Updated: 26 Nov 2012, 07:12 PM IST

Vespa's return to India comes in good time, when the scooter market here is showing healthy growth and ample promise. The LX125 is well suited to India.

Born in Italy, bred in India, the LX125 is priced a hefty chunk more than its rivals. Does it deliver that much more value?

Vespa's return to India comes in good time, when the scooter market here is showing healthy growth and ample promise.
Similar Cars
The LX125 is well suited to India.
Everything was beginning to seem picture perfect, till Vespa announced the LX125's unusually high price. Let's find out whether the Indo-Italian newcomer has what it takes to justify asking a premium over its rivals.
Arguably the best looking Indian scooter, the Vespa LX125 is perfectly proportioned, its smoothened, timeless lines having been well received ever since first seen back in the 1940's.
It's rounded front apron runs a smart border, above which sits a rounded clear lens, halogen headlight that brightens up inky nights. The new Vespa has top-quality, elegantly formed switches that incorporate push-to-cancel indicators, comfortable palm grips and machined alloy brake levers that rank among the best on any Indian scooter.
A let down is Vespa having omitted a rear brake lock clamp on the LX125. We however like how the voluminous front storage bin sits flush in the panel beneath the steering, opening with a light push of the ignition key into its slot. Detailed engineering has gone into both stands for this scooter, the LX being easily propped onto its main stand, and the side-stand deploying an auto return feature.
The LX enjoys many perfectly evolved design touches, with even little details being properly addressed.
Sold in several options of trendy bright paint jobs, the Baramati built Vespa comes with good overall quality and smart fit-finish.
The button started LX125 is powered by a four-stroke, single-cylinder engine that displaces 125cc. The Vespa is the only Indian scooter to breathe through 3-valves.
This air-cooled powerplant is carburetted unlike several fuel-injected Vespa's available worldwide. Maximum power is 10.06bhp made at 7500rpm, and peak torque, 1.08kgm delivered at 6000rpm.

The LX's CVT transmission works seamlessly, saving riders the added chore of working a clutch and gearshift. The new engine emits a creamy smooth power delivery, with a refined, buzz free feel.
Performance is adequate, the 0-60kph dash completed in 10.07 seconds. In the city, the LX125 is peppy enough for zippy traffic signal getaways.
Vespa scooters have often used a monocoque chassis, the LX125 showing off a rigid, steel structure on these lines. The scooter's seat is plush and roomy, with the riding position feeling just right, comfy, upright and with the handlebar set at the correct height.
Ride quality is good, even when riding with an adult pillion or negotiating poor roads and the LX is light and stable to ride.
The Vespa corners just as well as any scooter on 10 inch rims. A weak front brake proves the single biggest letdown on the Indian LX125 and is a safety hazard that needs urgent addressing, for it provides inadequate bite, as well as stopping power. Given the scooter's high price, Vespa would do well to offer the LX125 with a front disc brake.
The LX125 comes shod with grippy MRF rubber front and rear.
The LX125 proves frugal for an automatic, 125cc scooter, returning 40.7kpl during our testing in real world, Indian city riding conditions, this improving a bit when testing on the highway, where it gave us 42.1kpl.
Vespa's new scooter is a well rounded package. The LX125 is just as stylish as it gets on a scooter. This is unquestionably going to be the scooter members of the fairer sex will aspire to reach college astride, having said which, affluent male businessmen could also want to be seen on one. Barring its ineffective front brake, the LX rides and handles fine too, which leaves just one hurdle it is sure to find hard to overcome, its ₹70,000 on-road price, which makes this India's most heavily overpriced scooter, hands down.

BOX
Ex-showroom (Delhi) ₹66,000 (ex-Maharashtra)
Engine
Fuel Petrol
Installation Inclined from vertical
Type 125cc Single-cylinder, 3-valve air-cooled, four-stroke
Compression ratio 10:1
Power 10.06bhp at 7500rpm
Torque 1.08kgm at 6000rpm
Power to weight 88.2bhp per tonne
Transmission
Type CVT
Dimensions
Length 1770mm
Width 690mm
Height 1140mm
Wheel base 1290mm
Chassis & Body
Weight 114kg
Wheels 3-spoke alloy
Tyres 90x100x10 inches (Front and rear)
Suspension
Front Single-side shock, trailing arm
Rear Monoshock
Brakes
Front 150mm drum
Rear 140mm drum
Performance