The Yamaha YZF-R15 V3.0 is a more potent motorcycle than any other R15 yet
This R15 V3.0 is better-looking, more powerful, has more equipment on offer and is, crucially, faster. So, has its evolution come from a sense of performance-oriented righteousness or has it emerged, instead, from a sense of catching-up-to-do?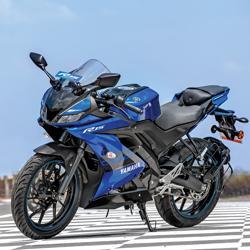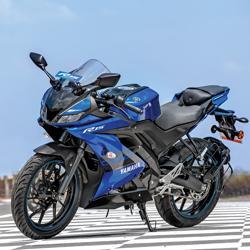 The third generation of the Yamaha YZF R15 looks terrific and, more importantly (and finally), it has a balanced overall design.
Looks are subjective, but I think the R15 V3.0 warrants a universal agreement on its styling. It's terrific and, more importantly (and finally), it has a balanced overall design. Previous R15s have been underwhelming in some respect or the other but this one is a job completed perfectly. The new design has introduced twin-eye LED headlights which look sinister - especially with that air duct housed between them. The bubble visor is neatly integrated and feels substantial. The 'gills' on the fuel tank (now 11 litres, instead of 12) scream 'R1' and the tail-end does the same thing.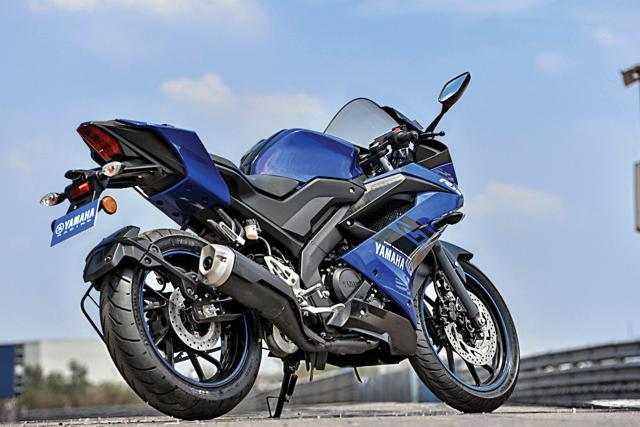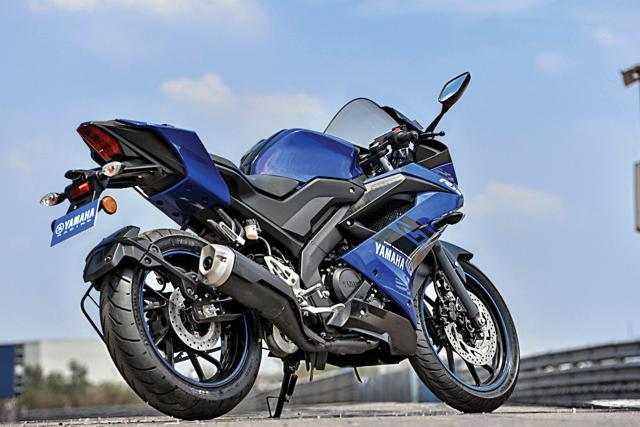 Another nice touch is the two-tone paint job (black on blue is my pick of the lot, the other one is gloss red on matte grey), which adds to the lithe, aggressive design. The new all-digital instrument cluster is horizontally laid out (with a white backlight as well as a shift-light in the same shade) and is informative, but not complex. Overall, the R15 V3.0's looks will have a magnetic effect on prospective buyers and it's not hard to figure out why.
Also check these Bikes
Find more Bikes
The 155cc, liquid-cooled, SOHC, four-valve motor may be familiar in its basic construction, but it has noticeably different implications in its current form. To elaborate, the motor now has a 1mm-larger bore (hence the extra 6cc), a new intake and exhaust system, and it also sports Variable Valve Actuation (VVA). The VVA system essentially employs a solenoid coil-based valve operation mechanism that utilises low-cam and high-cam intake rocker arms. This has an appreciable impact on its performance at either end of the rev range. Not to mention, the motor now produces 19.3hp at 10,000rpm and 15Nm peak torque at 6,500rpm, which has contributed considerably to its performance. Also new is a slip-and-assist clutch, making the R15 V3.0 the first 150cc motorcycle in India to offer this feature. As a result, you get a clutch lever that's light in operation and a rear wheel that's no longer interested in hopping under hard downshifting.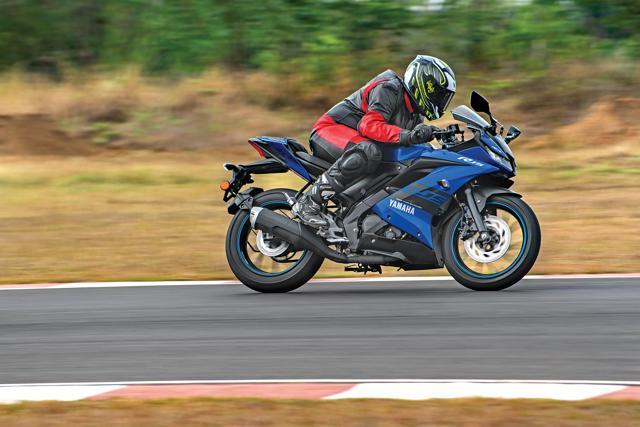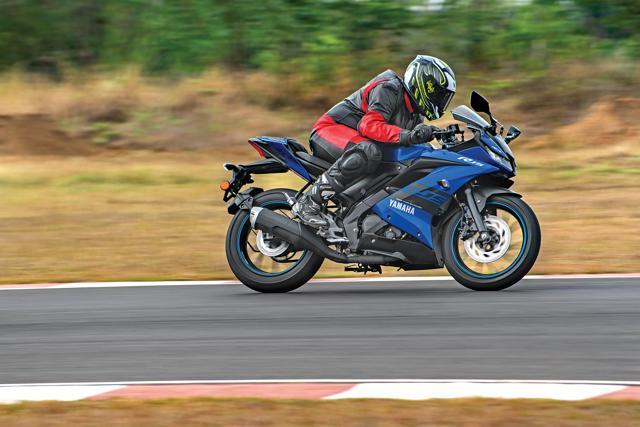 Unlike the R15 V3.0 on sale internationally, the Indian version makes do without an upside-down fork and trades it in for a fatter (than before) 41mm telescopic fork. Is this a bad thing? Not really, since the fork is progressive and feels appropriate under very hard braking and quick changes in direction. The linkage-type monoshock does feel stiffer than on older R15s, however. Despite its higher kerb weight (139kg; 3kg heavier than the V2.0), the R15 feels like an R15 should - compact and immediate; although unlike the first-gen model, it isn't as natural. This is also down to the shorter wheelbase (1,325mm, down by 20mm) and decreased trail (88mm, as opposed to 98mm). The Deltabox frame-equipped R15 V3.0 is, overall, more clinical than it has ever been - and that's great news for those of you with track-day aspirations.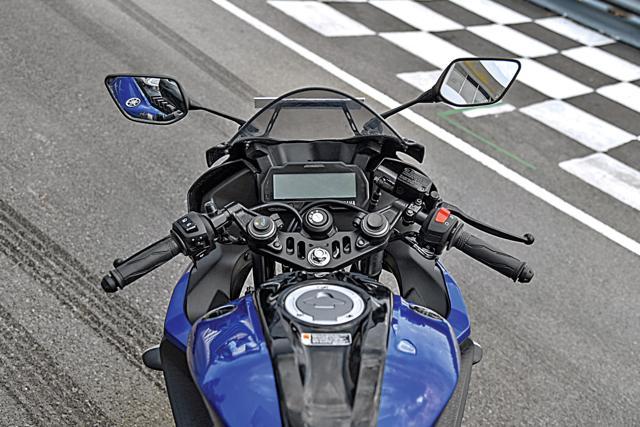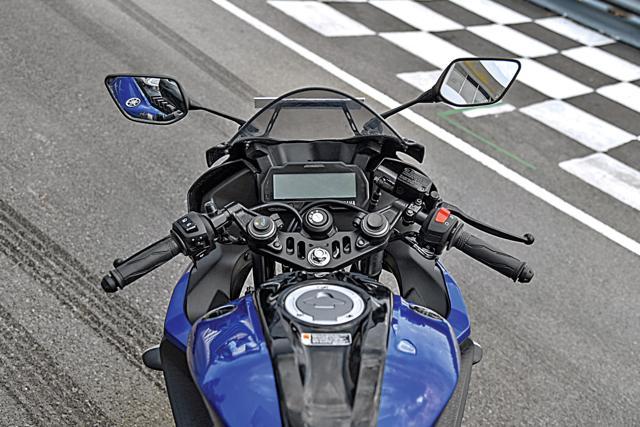 Its brakes, on the other hand, aren't as good as they should be. The front brake felt inconsistent. Across the bikes Yamaha had lined up for us to ride, and even with the best of the lot, the front disc (bigger than the V2.0's, at 282mm) just didn't have the kind of bite you'd expect from a motorcycle that's firm in its resolve to make the most of every corner. Also odd is the optional Metzeler (yes, in the singular) Yamaha offers for the rear end only! To further fuel the fire, the performance of the stock 100 section MRF Nylogrip rubber at the front isn't impressive either (note that the MRFs aren't radials). This is disappointing, to say the least; because here's a motorcycle that loves to be cornered hard, and it likes to stay leaned over, even at triple-digit speeds.
Before you ask, yes, it's a better performer, in every sense. The busy single-cylinder thrum is vocal right from idle and it takes a refined tone up to its 11,500rpm redline. The older R15s were perhaps a tiny bit smoother - but then the V3.0 is running a higher compression and makes more power, as well, which should account for some stress. This engine and gearbox are a match made in heaven and the combination translates to a happy performer. The R15 V3.0 is forever excited about being ridden fast and hard and all of it is conveyed in a linear, progressive manner. It certainly has an enjoyable top end (and a top speed in the region of 135kph or so) and feels very usable even close to its redline. However, any rider above 5ft 10in will find it cramped; but that's not a deal breaker and it does seem roomier than the V2.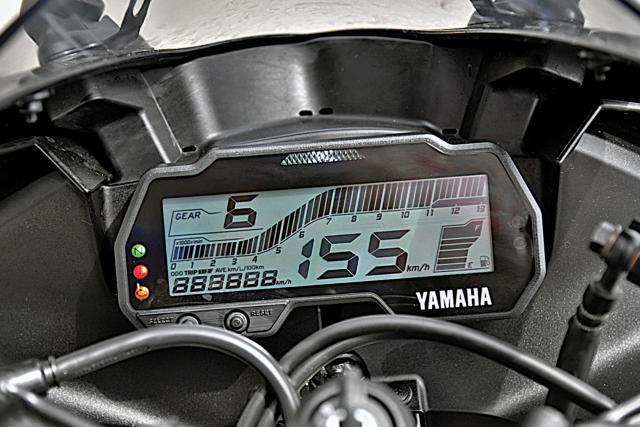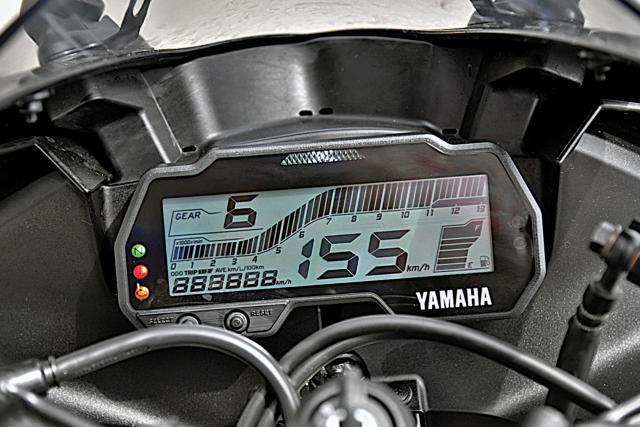 The riding geometry is now even more committed than before, given that the clip-ons are set lower and the seat height is now 15mm taller (at 815mm). That is not going to be easy over a commute. Harder to forgive are the strangely rough and inconsistent welds and surfaces (the chassis and the handlebar triple clamp being prime examples); this is something you don't expect on a ₹1.25 lakh R-series machine. The switchgear, too, seems to have come off the FZ25 - while that's not a burdening disappointment, it wouldn't hurt to see more premium and exclusive switches from Yamaha. Lastly, while LED lights are certainly the future, I hope the ones on the R15 don't turn out to be anything like the FZ25's weak and jittery headlights.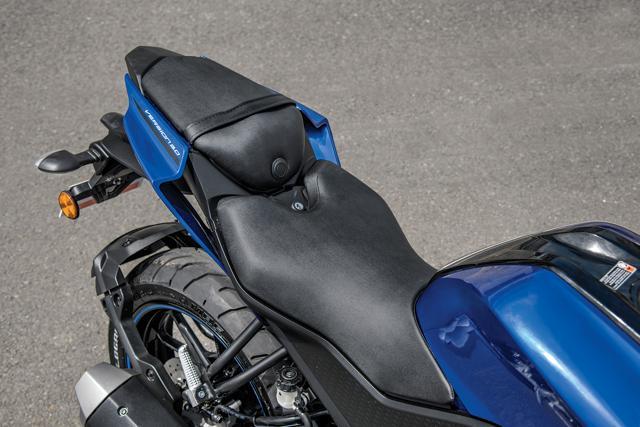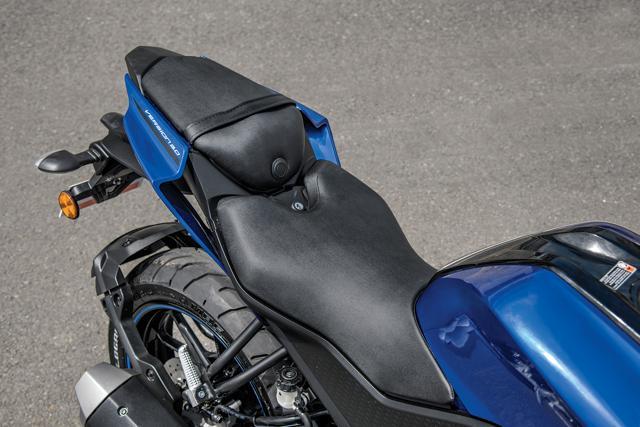 Finally, coming back to the question we started with - Is this really a heartfelt evolution, then? Or is it a case of Yamaha finally deciding to catch up? The first-ever R15 set the tone right, but the V3.0 - with merits and improvements in abundance - isn't a revolutionary leap ahead of the original. It's fun but not a fascinating new formula. Above all else, it isn't magical. Nonetheless, it's a more potent motorcycle than any other R15 before; and at ₹1.25 lakh (ex-showroom, Delhi), that's great news for us enthusiasts.
First Published Date:
07 Apr 2018, 08:57 AM IST
Recommended for you
View all
NEXT ARTICLE BEGINS


Shop Now

55% OFF

21% OFF

73% OFF