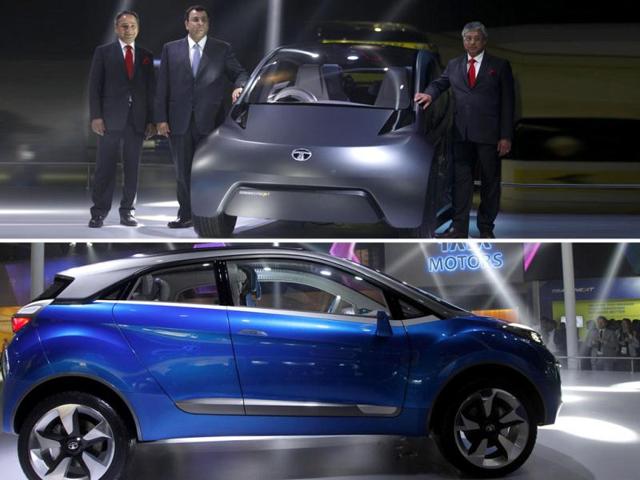 Tata Motors looks for resurrection, unveils SUV Nexon, ConnectNext concept cars
1 min read

.

Updated: 06 Feb 2014, 12:30 AM IST

Indian auto major Tata Motors today unveiled a concept compact sports utility vehicle Nexon along with another concept car ConnectNext, giving a glimpse of its future direction in terms of technologies as it bids to make up lost ground in passenger vehicles market.

Tata Motors is most likely to launch its compact sports utility vehicle Nexon next year. The company unveiled Nexon concept at the AutoExpo on Wednesday. "Nexon is much closer to the launch than any other concept.
Similar Cars
We will launch it in the market within the next 24 months," Ranjit Yadav, president, passenger vehicles, Tata Motors told Hindustan Times.
The sub-4 metre compact utility vehicle segment is becoming intensely competitive with multiple launches as a host of auto makers including Tata, M&M, GM, Honda and Datsun, inspired by the success of Renault Duster and Ford Ecosport are eying a slice of this emerging category. Datsun Go+ compact SUV will be launched in early 2015.
Talking about its relatively late entry into this emerging segment Yadav said "Are we late into the party? Yes, we are. But when we enter we will have disproportionate market share for a new comer."
Besides the recently launched compact sedan Zest and hatchback Bolt, Yadav said the company will further expand its petrol car line up. The company recently launched a petrol engine series branded 'Revotron'.
Yadav said that after the launch of the latest Nano Twist with a power steering the sale of the micro car picked up. "We just started shipping Nano Twist in January. The sales are substantially higher than December," he said. He said the company has a product plant for up to 2020.
About the impact of the unfortunate demise of the company MD Karl Slym Yadav said "Karl was a great leader and inspirer with ability to build teams. The best tribute to him would be to go ahead and win". About the company facing vaccuum at the top he said "I am sure the company will come out with appropriate action in the near future. You will hear from us very soon."
More pictures: