Mitsubishi Outlander review: The solid, dependable SUV you are looking for
Mitsubishi hasn't had an all-new product in India for six years. But with the launch of Outlander in India, the brand hopes to make a comeback in the Indian market. The SUV may be a bit plain, but without doubt a solid, dependable one.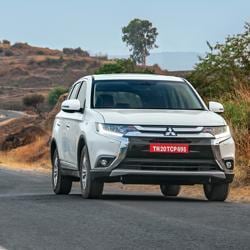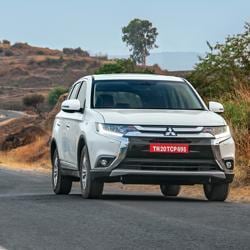 This model of the Mitsubishi Outlander was launched overseas in 2012, and this facelifted version was introduced in 2015.
It's 2018 and this new Outlander is the SUV that will spearhead something of a renaissance for Mitsubishi, which for a long time had only one model - the Pajero Sport - on sale in India. Yes, they reintroduced the Montero in late 2016, but that was merely a facelift of the existing model.
This car is a generation up from the one sold here before, but how fresh is it, really? You see, this model was launched overseas in 2012, and this facelifted version was introduced in 2015. But even though this version of the Outlander is already three years into its life cycle, it bears Mitsubishi's striking new family face. It's made up of slim, part-LED headlamps (with an L-shaped running lamp signature) that flank two thick bars of chrome that make up the signature grille. And below the lamps, two more bars of - yup, you guessed it - chrome, extend to the base of the bumper in a reverse-C-shape, framing the lower air dam. Mitsubishi has played it quite safe with the profile and rear. Things are far more conventional here, with a thick shoulder line that ends with a set of LED tail-lamps that look a bit ordinary. However, what really spoils the fun is Mitsubishi's decision - no doubt in the pursuit of better comfort - to fit this SUV with 16-inch wheels, which look a bit puny inside those big wheel wells.
Also, I'm happy to report that the multifaceted nature I remember from the old Outlander has returned in the new one. We start things off on a narrow but smooth patch of tarmac that's snaking up the side of a mountain. The AWD system, via an almost comically large button on the transmission tunnel, is set to Auto, which means the rear wheels will spring to action only when they're needed. I'm not being merciful with the throttle either, and realistically, this is not the way anyone would drive their crossover or SUV. But as I hammer from corner to corner, trying my best to catch this chassis out, I can't. It responds to inputs so predictably and benignly, I've inadvertently cracked a smile. The steering has a nice weight to it, and though there is a small amount of slack, it feels far more connected than you'd expect in a crossover. It's also very direct, which actually makes steering this car a lot of fun.
Likewise, there is some body roll, sure, but once again, it's surprisingly subdued and you can easily forgive it once you work the car into a flowing rhythm going down the road. So, it's no sports sedan or hot hatchback, but for a crossover, gosh it's good! Better than a Honda CR-V? Perhaps; it certainly comes close. The suspension is not firm, but it's not too soft either. It's only when you attempt to drive over bumps or undulations at unnecessarily high speeds that you'll get a bit of bounce and float. The rest of the time, the ride is all but flat, and yet not at all harsh. They've really nailed the dynamics of this car, and it seems to have been done with simple, old-school engineering.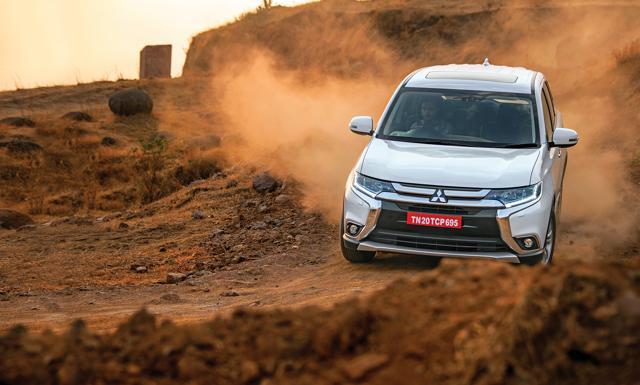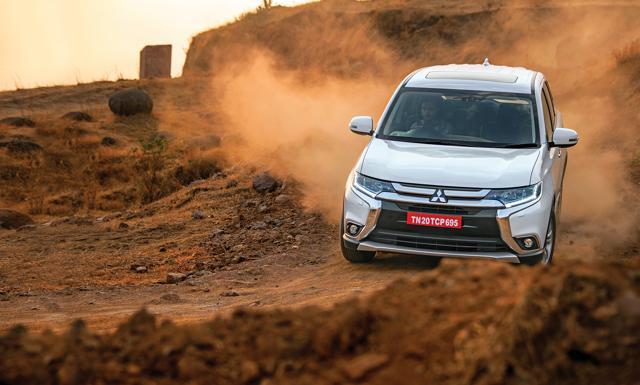 What's also very old school is the engine. For one, as is the norm with SUVs of any shape and size in this country, a diesel, even if as an option, is a must; rising fuel prices and emissions be damned. There's been no replacement for this motor since 2008, because it is exactly the same. The 2.4-litre MiVEC naturally aspirated four-cylinder petrol engine even has the same power and torque outputs, 167hp and 222Nm, as before. The kerb weight of the car, however, seems to have reduced by a not-too-significant 13kg.
The thing is, it's not a bad motor at all. As with most of these old-school high-capacity Japanese four-bangers, power delivery is strong right from the word go, and this 1.6-tonne SUV shoots off the line with surprising gusto. What doesn't help though is the automatic gearbox. As with last time, it's a CVT - it's a good CVT, but it will never be as smooth or seamless as a dual-clutch or a torque converter. There are virtual gears or steps that you can shift to, using the set of nicely finished paddles which, as before, are attached to the steering column; but honestly, they only work in ideal situations. It's usually better to let the gearbox do its own thing, and here too, you can get it to rev quite high, but you can't help feeling you aren't getting the most out of the motor. In more relaxed driving, refinement is really good, and the CVT works just fine at city speeds.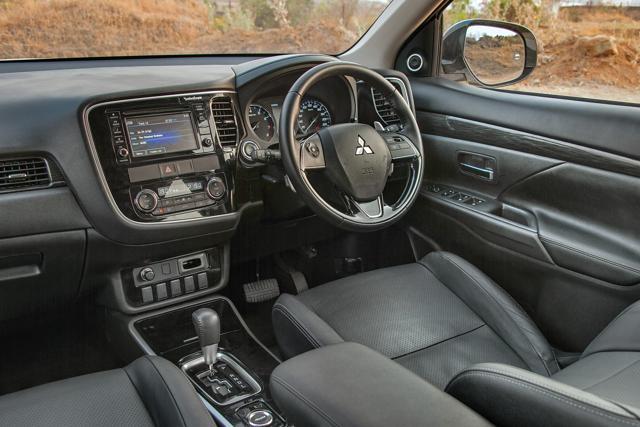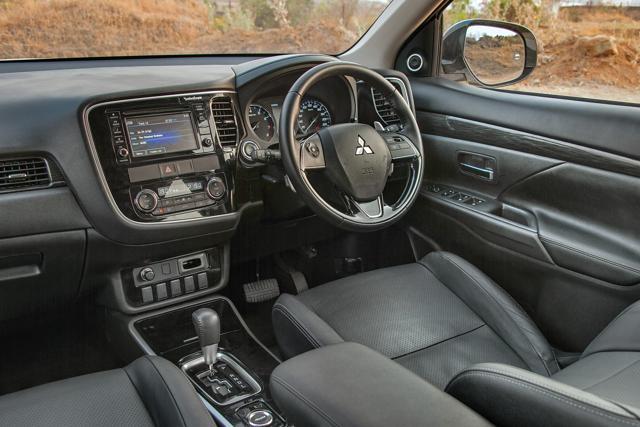 If we're being objective about the interior, there's not a lot wrong with it and it certainly gets the job done. It now has seven seats, which is always a good thing in an SUV, the seats are wrapped in leather, the dials look good and have a neat colour screen between them, there's automatic headlamps, wipers and climate control, a sunroof, the driver's seat is powered, the front seats are heated, and there's a solid battery of safety equipment, including traction and stability control, hill start assist and seven airbags! There's even, like before, a 6.1-channel Rockford sound system with a subwoofer in the boot; it's no sophisticated hi-fi unit, but it's bassy and better sounding than most mainstream audio systems.
The front seats are comfortable and offer a view out that's (expectedly) somewhere between low-slung and high-rise, and the back seats are all about making a compromise. The middle row can be slid a long way back and forth, from zero legroom to luxury levels, but that also determines the space in the last row. We found that a middle position is a good compromise, but headroom might be a bother for taller passengers. The third row, as you'd expect, is low to the ground and offers a knees-up seating position, best limited to use by kids only; no surprises there.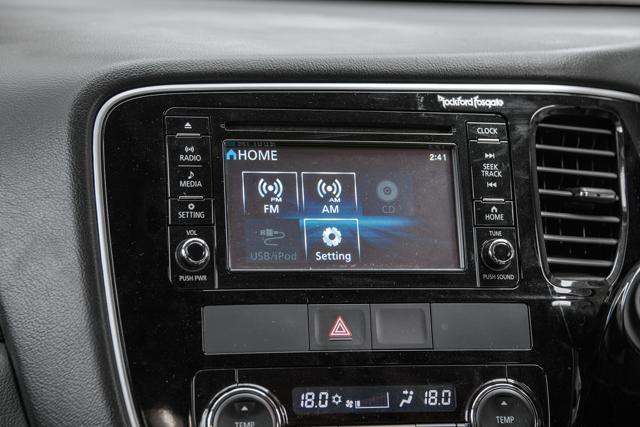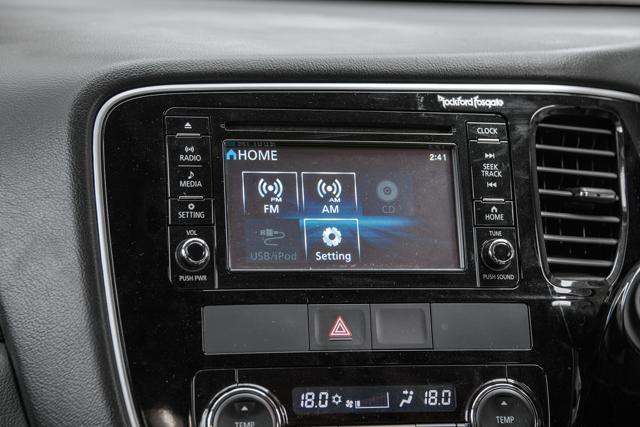 There's a touchscreen unit, but at 6.1 inches, it's quite small, and the clunky interface feels a bit like an aftermarket unit. Apple CarPlay? Android Auto? Satellite navigation? You won't find those here. The other missing feature is purely functional, but in today's 45degC heat, we are certainly feeling the absence - there are no rear AC vents in this seven-seat SUV!
On the face of things, the Outlander isn't a car that will get you running to a showroom. The face looks bold, but the rest of the car doesn't stand out too much. It's also not got the most lavish of cabins and it's missing some key equipment. So, whichever way you look at it, this is an SUV that could have done with a lot more flash. But, its fundamentals are strong, and at an expected price of around ₹30 lakh, this just could be the solid and dependable SUV you are looking for. Still, if you find the Outlander a bit plain, we wouldn't blame you for choosing one of the more modern alternatives.
First Published Date:
26 May 2018, 09:03 AM IST
NEXT ARTICLE BEGINS