Maserati Levante 2018 review: A characterful machine
We drive the luxurious Maserati Levante to see if the SUV can match rivals like the Mercedes-Benz GLS and Audi Q7.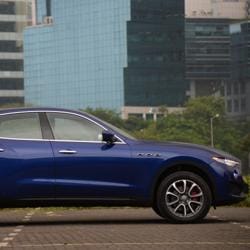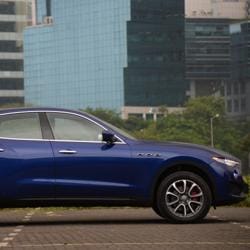 The new Maserati Levante takes on Mercedes-Benz GLS and Audi Q7.
As I glance down to the touchscreen at the centre of the dashboard, I catch a quick glimpse of the plaque with the car's name on it. Only out of the corner of my eye though, and for some reason, the first word my brain registers - again and again - is 'Leviathan'. The plaque says 'Levante' of course, which is the name of a Mediterranean wind that can turn into a gale in an instant; go figure. But Leviathan is the sense I get from behind the wheel of this SUV, and I suspect that was, at some level, Maserati's intention too.
For a five-seat SUV, this thing is enormous, especially its length, which is a few layers of paint thicker than five metres, an unusually large percentage of which is bonnet. It feels it from behind the wheel too, as I peer down that vast hood and try to get a feel for its extremities. I've got the snug, sporty driver's seat almost in its highest position in order to achieve this, but taller folk might be able to lower it to a position that feels closer to a conventional Maserati.
This car has certainly got the outright mass to be an SUV, it rides - even on its air suspension's medium setting - high off the ground, it's got huge wheels and chunky tyres, and a monstrous grille at the front.
Once you're ensconced in the cabin of the Levante, it's certainly more Maserati than 4x4. Red leather would look outlandish in most SUVs, but here, somehow, it just works. And it is soft, supple leather too, Neptune's trident stitched delicately into the headrests, and it feels like you're sitting in expensive lounge furniture. Our car is trimmed in the now-somewhat-passé 'piano black' wood, but I've seen the other wood trims and they feel sufficiently rich too. In fact, fit and finish is the best we've sampled in a Maserati yet, and there seems to have been an improvement from even the Ghibli and Quattroporte of 2015.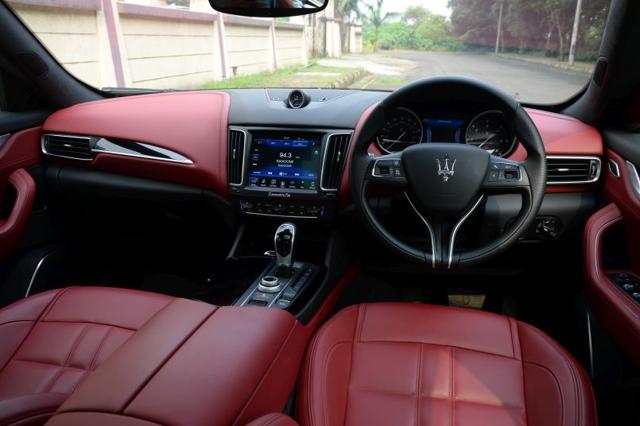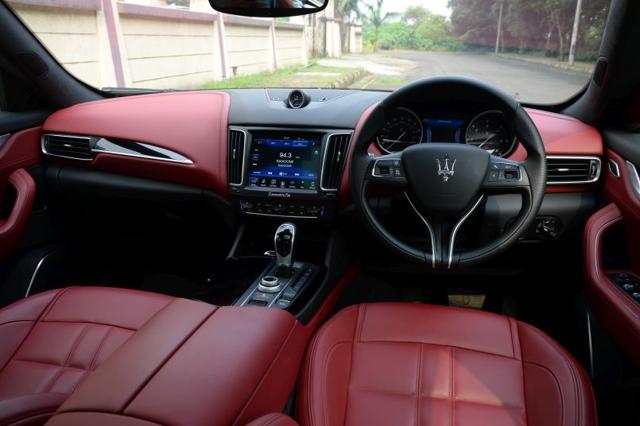 What you'll also love is the back seat. Not initially, as you step high off the ground and then duck under the low roof, but once you're in place and cocooned in that lovely leather. It feels like a Maserati should.
Where it starts to feel unlike the Maseratis we've become used to - and this is a compliment - is how much more user-friendly the interior is. The controls are intuitive and logical, the buttons are where you expect them to be and there's even a click-wheel controller if you don't want to use the touchscreen on the move, and it works great! And, speaking of touchscreen, the 8.4-inch unit is a huge improvement too. It's still not quite as slick, quick or feature-packed as the BMW iDrive or Audi MMI, but this latest FCA unit has just about everything you need, like navigation, Apple CarPlay and Android Auto. It also has 360-degree cameras, but don't go expecting things like a heads-up display or self-parking. You can also choose from a variety of wood trim and leather grain, including a silk-based option from design house Ermenegildo Zegna, and there are three levels of hi-fi audio system, topping out at a 1,280-watt, 17-speaker affair from Bowers & Wilkins.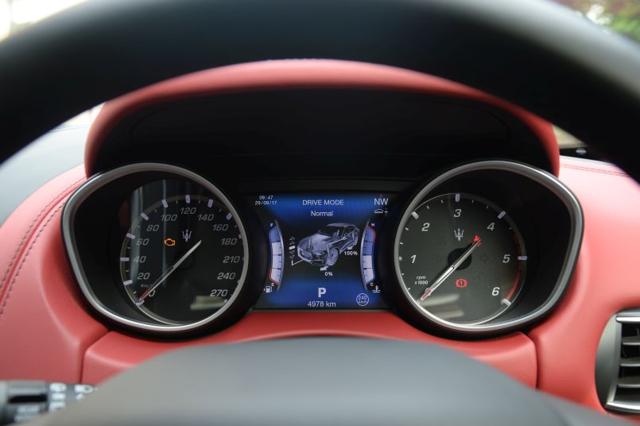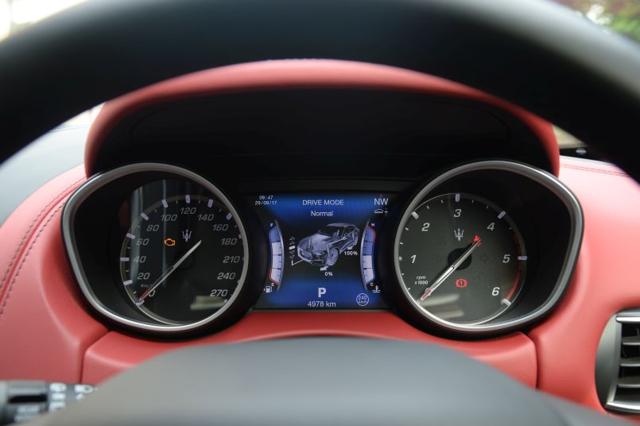 The Levante also has a long, three-metre wheelbase, but it rides on air springs all round, which gives it a standard ground clearance of 207mm and can be raised to 247mm for off-roading and lowered to 162mm for easier loading. That's a monumental problem taken care of, but the suspension setup also imbues the Leviathan with a ride quality that's quite typical of a large, air-sprung car. There is a bit of float - easily curbed by switching to Sport damper mode - but overall you get a rather excellent sense of being isolated from the road.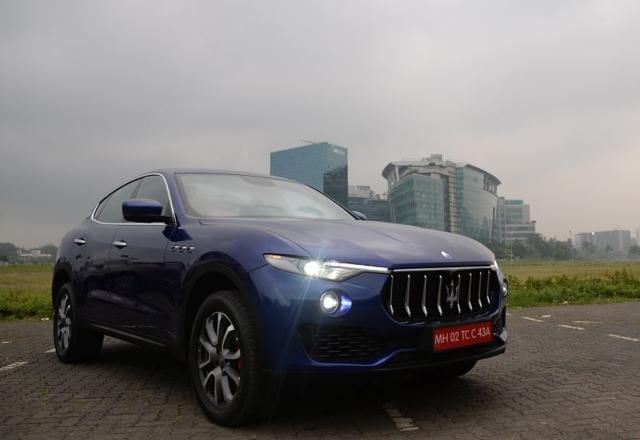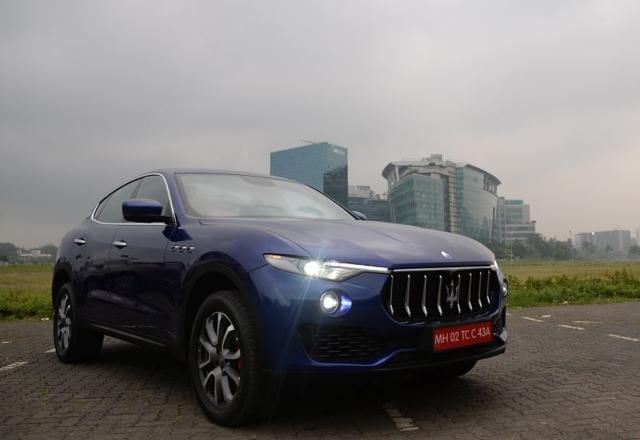 This car has a solid 275hp and 600Nm motor, and even though it's pushing 2.2 tonnes of Italian sculpture around, the performance is about par for the course. 6.85sec from 0-100kph is not bad at any rate. And all the while, you're treated to a soundtrack no diesel engine has any right to make - it sounds like a bona fide sportscar!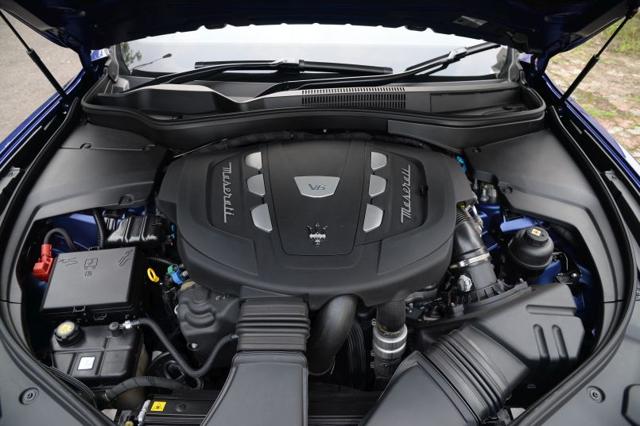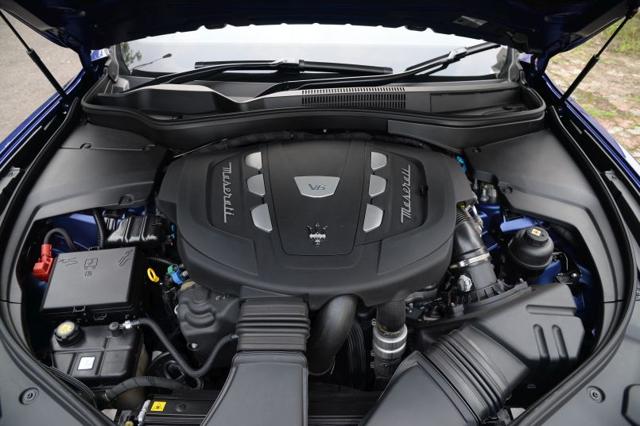 So, what is the Levante's USP? It's something that just can't be quantified - it's charm. It lives in the softness of the leather, the flamboyant design and the rumble of the engine. It's all those Maserati traits that shine the brightest, and will make you want to choose this flawed but characterful machine. And for the first time, this is a Maserati that you can actually enjoy on Indian roads.
First Published Date:
14 Oct 2017, 02:39 PM IST
TAGS:
NEXT ARTICLE BEGINS