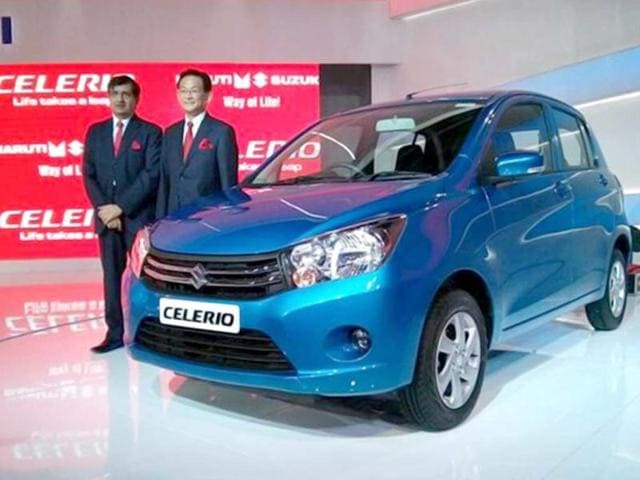 Maruti Celerio review: This gearless wonder is good to go
3 min read

.

Updated: 07 Feb 2014, 01:00 AM IST

They are easy to drive, hassle free and practical for city driving, but somehow automatic or gearless cars have never taken off in India. They are supposed to be costly, slow off the mark and gas guzzlers. The Celerio may change all that, writes Sumant Banerji. Full coverage: Auto Expo 2014

They are easy to drive, hassle free and practical for city driving, but somehow automatic or gearless cars have never taken off in India.

Though there are many options among premium cars, in the mass market small car segment the number of cars with an automatic transmission can be counted on finger tips.

The big drawbacks are the high cost, lower fuel economy and relative lack of acceleration.

Maruti wants to change all this. And it wants to do it with the Celerio, the replacement for the highly promising but underperforming A Star.

Design and styling

The Celerio has a new platform, longer than the outgoing A Star, but it clearly isn't a brand new design. The front in bits and parts seems like an amalgmation of the Toyota Etios and Maruti's own Estilo. It is proportionate and looks big. And while it is not ugly, it is not very exciting. We drove it on city roads and through crowded bylanes, without drawing a second glance. The rear is almost a copy of the Alto 800. It looks awkward and boxy. What uplifts the design somewhat are the lines and creases at the side that break the monotony.

Of late, Maruti has been rather subdued with design, and Celerio is no great shakes on this front either.
Interiors : Roomy but nothing creative
The interiors of the car are in line with most other contemporary Maruti models. There is an overplay of plastic and the practical nature of the hatchback leaves creativity on the back seat. It is a simple design where everything is where you need and nothing is out of place. Compared to the existing A Star there have been some improvements on quality of plastic and the knobs and levers seem more durable.
Maruti has also plonked in a lot of features like bluetooth connectivity and steering mounted controls on the top-end ZXi variant. There are also dual air bags and anti-lock brakes. At the rear, there is generous space. Headroom and legroom is par for the course. The tall boy design also makes the cabin roomy.
The car is powered by a 1-litre K series engine that is omnipresent in a host of Maruti cars — from Wagon R to A Star and Estilo. It offersfamiliar performance with a maximum power output of 68 Ps and 90 Nm torque. Maruti said it has worked on making the car more refined and silent on this powertrain, but at least in the manual 5-speed it did not feel any different from other cars.
The big story however is in the auto gear shift technology that promises to revolutionise driving in India. In that avatar the car does not have a clutch pedal and does away with the need to change gears. Slot the lever into D and the car rolls ahead, and the gear shift, while not seamless, is efficient. This is a really easy car to drive and like we experienced on congested roads, highly convenient.
Verdict
The automatic version of the car at ₹4.29 lakh is barely ₹40,000 more expensive than the geared version that makes it by far the cheapest automatic car to have. At 23.1 kpl, it is also highly fuel efficient and Maruti claims the manual and automatic are as efficient. Which takes care of two major reasons why automatic cars have not succeeded in India.
On the flip side are the car's uninspiring styling and boring interiors. Another major flaw is that Maruti does not offer a top-of-the-line variant with the auto gear shift, at least not yet. So you don't get airbags or ABS. That is a fundamental flaw and the car is not for the evolved drivers who value style over functionality. But in terms of convenience and ease of driving at an unbeatable price, Celerio has everything going for it.