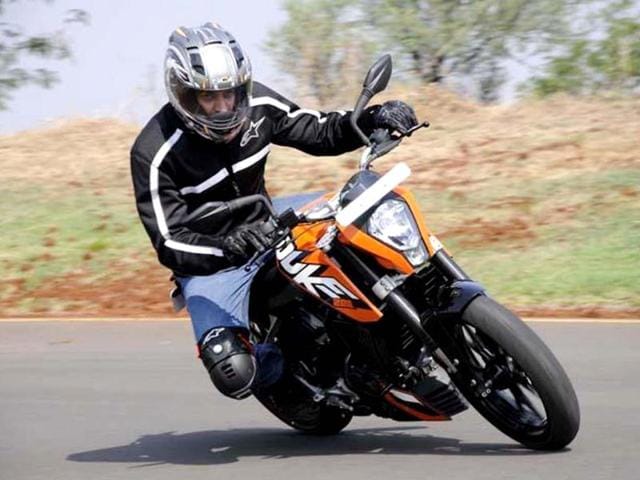 KTM 200 Duke review, test ride
4 min read

.

Updated: 05 Dec 2012, 01:43 PM IST

Although predominantly a KTM, some may spot a lot of Bajaj in the 200 Duke, a muscular, aggressive and striking looking bike. The front mudguard is short and sporty. Riding at night is secure thanks to a bright headlight. The instruments are compact

Although predominantly a KTM, some may spot a lot of Bajaj in the 200 Duke, a muscular, aggressive and striking looking bike. The front mudguard is short and sporty. Riding at night is secure thanks to a bright headlight.
Similar Bikes
The instruments are compact. The 200 Duke disappoints with Bajaj typical grips, which always offer good grip, but feel uncomfortably hard in gloveless palms.
On the other hand, cleverly illuminated, crisp working switches are also ala Bajaj. The massive tank region is deeply grooved for good thigh grip, although tall riders could find their knees feeling a shade cramped if you like sitting deep into your bike, hugging the tank. And while complaining about ergonomics, we also found the rider's ankle grip panels behind the footrests located too low for viable use.
There's ample space for the rider, and the front seat is well padded. As on several sportsbikes, the pillion seat is seldom going to be your position of choice. Good overall quality and acceptable fit-finish are present on the KTM 200 Duke.
Engine & Performance
There's no dearth of high tech features on the 200 Duke's alloy cased, dohc, button-started engine. This is a 199.5cc, four-stroke, fuel-injected powerplant with liquid-cooling, four-valves and a close ratio six-speed gearbox. It's really smooth everywhere in the powerband. A powerful engine for its class, the 200 Duke makes 25bhp at 10000rpm.
On the go, the KTM 200 Duke exhaust sounds delightful, really sporty and healthy for a single. Although throttle response is crisp higher in the powerband, fueling does feel slightly unsettled in a narrow band between just past idle up to 3000rpm. Once past this hurdle, the 200 Duke engine feels pretty much flawless, power building smoothly anywhere post 4500rpm, and surging strongly with a vibe free nature into the meat of its powerband over 7000rpm in every gear. The clutch feels perfectly weighted, and works with positive action and just enough progression. This is clearly an engine tuned for city riding, the 6-speed box geared short.
It's a shortstroke engine that begs for high revs before you find serious power. The enthusiastic 200 Duke engine displays a flowing, sweet revving character that adds a lot to riding pleasure. It's quick for a 200cc bike, taking an impressive 9.52secs to pass 100kph after launch.
Ride & Handling

The 200 Duke has a sporty riding position, with the rider footrests located far behind. The new KTM uses impressive chassis parts; a steel fabricated trellis frame, with fat upside-down front forks. Behind, you sit on a linkage free monoshock and there's even an alloy swingarm. The treats don't end here, with ByBre disc brakes at both ends fed by steel braided hydraulic lines.
Wide handlebars with superior leverage makes maneuvering the Duke through crowded city traffic simple. The 200 Duke comes with firm ride quality that helps keep the bike planted when slicing up corners. It flicks quickly from upright and safe to well beyond dicey lean angles, at which point you start to appreciate its low-profile, MRF radial front and rear tyres. Although the aggressively rounded rear with its limited contact patch did sometimes slip a wee bit when pushing over the limit, overall grip levels felt good.
The 200 Duke loves to corner, while its brilliant chassis encourages you to ride hard. The bike always steers exactly as you want it to. The brakes are supremely powerful front and rear, with the front feeling perfect, but rear often misbehaving with over enthusiasm. You'd do well to take your time getting used to the razor sharp rear brake on the 200 Duke, for it takes no more than a light tap to generate enough brake force to lose grip at the rear. Another complaint we have is the height adjustable brake pedal feeling uncomfortably long, making it tricky and unnatural to operate even for people with feet as big as size 12.
All told, the 200 Duke still gets our vote for honestly trying so hard and being amongst the better handling motorcycles to pick up in India today.
Fuel Economy
Fast and furious it may be, but the KTM-200 Duke somehow isn't too unfair in the economy stakes either. The Indo-European KTM 200 Duke returned 35.7kpl during its city fuel tests with us riding on crowded Indian roads, this improving to 38.2kpl when out on the highways.

Verdict
Despite its flaws, the 200 Duke is amongst the very best sporty 200cc streetbikes in India, thanks to Bajaj and KTM's generous, no-compromise on specifications approach. Go for a CBR or YZF-R15 if looking for a more glamorous bike that excels in a race track environment, or wait for the Pulsar 200NS if you require more comfort. The KTM 200 Duke is a hard to beat package if you've been holding out for a streetbike on steroids. It's peppy, light and sharp handling. Read the full road test in the Autocar India May 2012 issue.
What it costs
Ex-showroom (Delhi) 1,17,000
Engine
Fuel Petrol
Installation Inclined from vertical
Type Single-cyl, liquid-cooled, four stroke 199.5cc
Bore/stroke 72/49mm
Compression ratio 11.3:1
Valve gear 4 per cylinder, DOHC
Power 25bhp at 10,000rpm
Torque 1.94kgm at 8000rpm
Power to weight 183.3bhp per tonne
Transmission
Type 6-speed
Gearbox 1-down, 5-up
Dimensions
Length 2002mm
Width 873mm
Height 1274mm
Wheel base 1367mm
Ground clearance 165mm
Chassis & Body
Wheels 17inches
Tyres 110/70 x 17 (f), 150/60 x 17 (r)

Suspension
Front Upside-down forks
Rear Monoshock, alloy swingarm
Brakes
Front 280mm disc
Rear 230mm disc
Performance
0-20 0.68sec
0-40 2.04sec
0-60 3.78sec
0-80 6.06sec
0-100 9.52sec
0-120 15.35sec
Economy
City 35.7kpl
Highway 38.2kpl