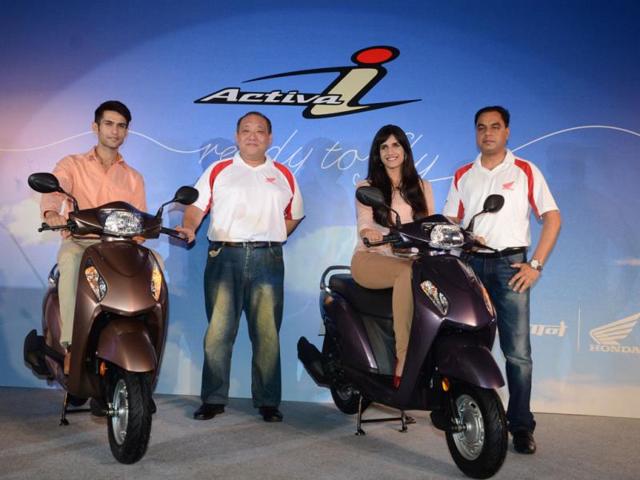 Honda Motorcycle launches ACTIVA-I at Rs. 44,200
2 min read

.

Updated: 14 Jun 2013, 04:43 PM IST

Honda Motorcycle and Scooter India(HMSI) today launched a new scooter, ACTIVA-I, priced at Rs. 44,200 (ex-showroom Delhi), its most affordable model in the segment.

Japanese auto major Honda isdeveloping a completely new two-wheeler in India that could hit the market within a year, as part of strategy to strengthen its position in the country.

A joint team of about 200 engineers of the company's two arms, Honda Motorcycle & Scooter India (HMSI) and Honda Research & Development India, is currently working on the project.
Similar Bikes
'Yes, there is work going on to produce a 100 per cent locally developed product in India,' HMSI President and CEO Keita Muramatsu told reporters here.
He, however, did not elaborate whether it would be a scooter or a motorcycle.
Elaborating on the project, HMSI Vice-President Sales & Marketing Yadvinder Singh Guleria said: 'The work is happening at our technical centre at Manesar, which has an integrated system of design, engineering, purchasing and quality under one roof.'
There are 100 engineers each from HMSI and Honda R&D India working at the moment, he added.
When asked by about the timeline of the launch of the product, Guleria said: 'Within next one year we hope to be able to show you something.' In January this year, Honda had opened its technical centre at Manesar as part of strategy to spearhead its global innovation from India.
The firm, which traditionally operates its R&D as a separate entity across all 2-Wheeler, 4-Wheeler and power product divisions globally, took a deviation from it with the new technical centre. It had a combined design, engineering, purchasing and quality control under one roof at the Manesar centre to create a system that 'advances local development of higher quality product at low cost'.
'We are the only two-wheeler maker in India with a wind tunnel testing and it puts us in an advantage while developing truly fuel efficient two-weelers,' Guleria added.
HMSI today launched a new scooter, ACTIVA-I, priced at ₹ 44,200 (ex-showroom Delhi), its most affordable model in the segment. The gearless scooter powered by a 110cc engine will be available for sale across the market by the end of the month. It is being positioned as a personal compact scooter.
'As a leader in the automatic scooters segment, Honda's entry into the personal compact segment with ACTIVA-I is its next strategic step towards reinforcing its market leadership,' Muramatsu said.
HMSI currently has three other gearless scooter models Dio, Activa and Aviator all powered by 110 cc engines, priced between ₹ 44,718 and ₹ 53,547 (ex-showroom Delhi).