A supercar disguised as a limousine: Bentley reveals the Continental GT3-R
With a 0-100km\/h time of 3.8 seconds and a limited production run of just 300 examples, expect it to fly out of the dealership as fast as it goes round a track.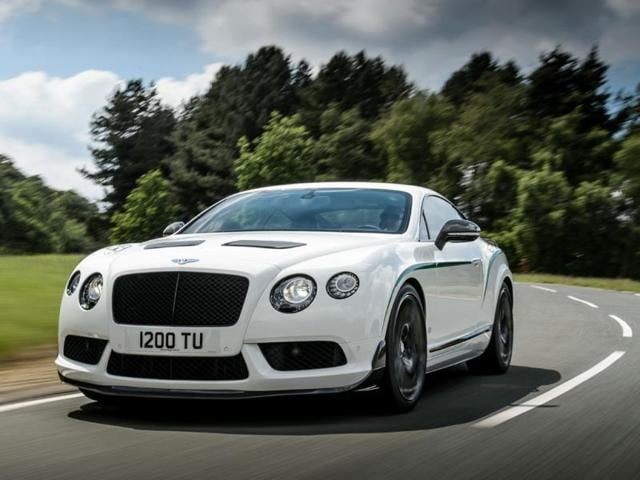 With a 0-100km/h time of 3.8 seconds and a limited production run of just 300 examples, expect it to fly out of the dealership as fast as it goes round a track.
Rumors have been circulating for a number of weeks that Bentley has been building a snarling, ferocious supercar version of its luxury-focused Continental GT; and on Tuesday, the British brand confirmed the reports by unveiling the very new, very fast and very exclusive Continental GT3-R.
Inspired by the Continental GT3, Bentley's latest race car, it manages to retain a host of the creature comforts clients have come to expect -- so lashings of leather covering a hand-built interior - while dialing up the performance to new levels.
When information first started leaking that Bentley was planning something special, sources were claiming that the GT3-R would have rear-wheel drive and a 700bhp engine. And, while the actual car 'only' has 572bhp on tap and that power is delivered to the road via all four wheels, it's still enough to catapult the car from a standstill to 62mph in 3.8 seconds, more than enough to keep up with Porsches and Ferraris.
As Wolfgang Dürheimer, Chairman and Chief Executive of Bentley Motors, comments: "The experience of driving a Continental GT3-R is awe-inspiring, and takes the dynamic abilities of our Grand Tourer to new heights. We were inspired to create something extremely special for the road by the performance of our Continental GT3. It is a celebration of the Bentley passion for building outstanding drivers' cars. To be a true Bentley, the GT3-R had to be the most luxurious track-inspired Grand Tourer ever, and this car pushes our trademark combination of luxury and performance to a new level."
To achieve all of this, the V8 engine has been given new, specially developed turbochargers and the car's four-wheel-drive system has been overhauled so that it is capable of torque vectoring for the first time. Simply put, that means that the amount of power being delivered to each of the rear wheels can be individually controlled and adjusted. Combine this with a new stability control system, an eight-speed paddle-shifting automatic gearbox and the fact that the GTR-3 is significantly lighter as well as faster than the standard Continental GT and you have the formula for a car that's equally at home on the limits of grip in the tightest of bends as it is pulling up outside a three-Michelin-star restaurant on the Côte d'Azur.
However, it had better be dinner for two, as in order to save weight and up performance, the GTR-3 has undergone a rear seat amputation and all that has been left behind is a parcel shelf, albeit one exquisitely wrapped in leather and Alcantara.
Staying in the cabin, the perfectly matched dark wood veneers are also absent, replaced instead by a handcrafted carbon fiber dashboard, center console and door panels. The front seats have been redesigned so that they're wider, offering extra bolster support to help mitigate some of that g-force in the corners, and the steering wheel has been specially machine forged.
On the outside, the exterior finish is non-negotiable. Each of the 300 examples will come in a special white paint with green linear accents to highlight the car's wider side bulges. The effect is finished off by a fixed rear wing made from carbon fiber and a new front splitter spoiler also crafted from the same lightweight material.
The Bentley Continental GTR-3 will make its official debut at the Goodwood Festival of Speed in the UK on June 26. The order book is now open and Bentley hopes to deliver the first complete cars before the end of the year.
First Published Date:
18 Jun 2014, 04:37 PM IST
TAGS:
NEXT ARTICLE BEGINS