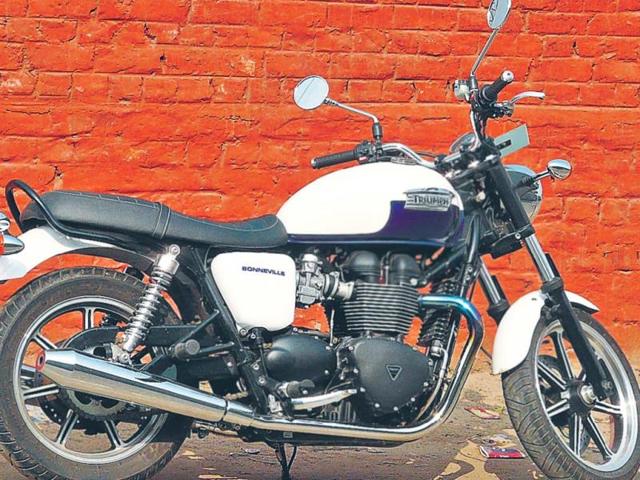 A bike that both experts and novices will enjoy
3 min read

.

Updated: 04 Feb 2014, 07:06 PM IST

The UK company's 'heritage' bike is a practical workhorse, and not meant to just glam up the garage

First, a bit of history. Triumph's Bonneville was first made in 1959, with a 650cc parallel twin engine that grew in stages to 750 cc and now 865 cc. The name Bonneville comes from the Bonneville Salt Flats of the US, where Triumph and other companies race to set land-speed records.

The Salt Flats still exist, and the land-speed attempts are an annual event, still in place.

The present-day Triumph Bonneville, though it looks much like the old machine, is very much a modern bike, though the engine is still an air-cooled parallel twin. There is visible effort to hark back to heritage, but don't let it fool you: This is a serious biker's bike that, while appearing soft and leaving you want to park it in the drawing room, packs sufficient power to do well as a street bike, especially in Indian conditions.
LOOKS
The looks scream "this is a historic bike" — but in a country that is bred on the Royal Enfield Bullet, what it means is that it blends right in. You can ride it to the market and park it without worrying about a crowd scratching the paint. Only the two exhaust pipes and the alloy wheels may be a give-away that this is not a Bullet.
Having said that. if a crowd is what you want, this may not be your baby. It is more likely to appeal to people who relish the vintage look.
ENGINE PERFORMANCE
This is where the familiarity with the Bullet ends. Firmly. The 865cc twin dishes out a fair amount of what bikers would call "usable power" - that is, it won't rear up and throw you off, but if pressed, will get you there in a hurry, maybe a couple of seconds off the pack leader if s/he is on a sports bike.
The Parallel cylinders give out a throaty growl, not the rat-a-tat of V-twins, and rise to a muted whine when throttled. Enthusiasts may find the exhaust note lacking in character. Power is 68PS@7,500 rpm, and torque 68NM@5,800 rpm. These are quite similar to, say, the Harley Superlow, the closest to this bike in price and specs, but the power is delivered across the rpm spectrum, with particularly good low-rev grunt.
RIDE, HANDLING
This is a street bike, so it is not built for a high-speed race. The tyres are rather skinny compared to most big bikes around these days, but they have the measure of the roads, both highway and potholed side-streets. Our test drive was positively a joy, with the five-speed gearbox allowing the rider the option of sprinting to three figures, or getting there slowly in the fifth gear.
In traffic conditions, the lowend power and torque come in handy, with even 40 kph in fifth gear not raising a wobble out of the engine, and the skinny tyres come into their own while weaving through traffic. Shock-absorbers are much better than peers. Cruising at 100-110 is cool, and one can hit even the third fifty without much of a struggle. That is when one starts wishing for a windshield, which Triumph provides in its extensive list of accessories. Also on that list are more such essentials as a well-padded seat and handlebarend mirrors that would transform this bike from a staid middleaged office -goer to a much more attractive package. All that would add up significantly in the bill, but one can build up the bike gradually.
VERDICT
At ₹ 5.7 lakh (ex-showroom, Delhi), the Bonneville competes with the Harley Superlow, which is marginally costlier, and the Ducati Monster, which have similar power and engine configurations as well. Ducati, which is going through catharsis, more or less threw away its brand-value with the Indian rider due to its home troubles.
The Superlow, Harley's lowend offering, is set to be overtaken by the US giant's own smaller city-bike, the Street 750, set for launch at the Auto Expo. Speculation is that it will be priced at below ₹ 5 lakh, but performance would be slower.
Harley has more badge-value in India, but serious riders at the lower end of the price band are more concerned about the ride quality. And on that count, the Bonneville is easily buyworthy,, both for relative beginners and the more experienced riders to relax with.