One for the road
The 'small' tourer from the Benelli range that DSK is set to launch, is a capable machine. Pricing will be key, though

One-for-the-road
Benelli who?
That was the initial reaction of many people when DSK Motowheels announced its marriage with the Italian bike-maker —its second one (sans divorce) after tying the knot with Korean company Hyosung. How the dual marriage will pan out, time will tell. This story is about bikes.
Benelli is a revered twowheeler maker from the country that has given us Ducati, Ferrari, Lamborghini et al. Their machines, particularly the 3-cylinder TNT 899, are held in high esteem by bikers who try to eke out the last ounce of performance.
We got to take a spin on the TNT 600GT, which the company says is "a forward-looking sport touring, mid-sized, the intelligent and smart motorcycle". Is that so? Let us find out.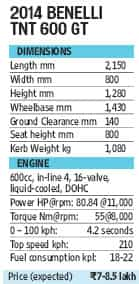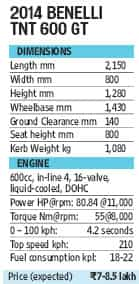 LOOKS
The TNT 600GT tourer is a naked bike, like its sibling the 600i, but in character it is an out-and-out tourer. TNT stands for 'tornado naked tré' — the tré referring to the trellis frame.
The unit we got to ride had panniers tacked on, easily detached, and it appears a larger machine than its 600-cc engine would have us believe. The upright stance, the high seating and the front windshield add to the 'grown-up' look.
In a range of tourers that spans the Triumph Tiger 800 to the top-of-the-line BMW K1600 GT in India, the 600 GT does not really set the heart racing. But its purposeful projector headlights; massive upside down front forks that look like they can handle anything nature can throw at them; rear off-centre single shocker and swing-arm; a steel trellis frame... all talk of a capable machine.
The wheels, at 17 inches, could have been larger, but they don't seem emasculated. With a large wheelbase, negotiating curves may be tough - though, of course, the main purpose is to "tour", not to race.
COMFORT, RIDE, PERFORMANCE
Like all tourers, the seating is rather high at 800 mm (cruisers, for instance, come at 680-720 mm), though not uncomfortably so. What strikes a sore note is the rider's seat, which feels a trifle 'underpowered' in terms of padding. A 500-km ride would be likely to leave his behind at least sore, if not worse. The pillion is comfortable, though again, without a wraparound seat, the rider does slide around during braking and takeoff.
Start it up, and the engine literally purrs to life. Now, this is the highlight of this 600-cc bike - it has an inline liquid-cooled four-cylinder engine. Yeah, you heard right - four-cylinders. That will make it the smallest inline four bike in the country when it hits the streets, with 81 HP of power and 55 Nm of torque on tap, a six-speed gearbox and a promised top speed of 210 kph.
The engine, as we said, purrs. It is almost noiseless, compared to the aggressive roar of streetbikes. Step on the gas, though, and it really takes off. In three gears, you are in three-figure speeds and purring along. Speedbreakers, potholes, crowds, nothing counts as we weave through and out of city traffic.
Step on the brakes, come down to 30 or 40 kph, and you don't need to step down from the sixth. Throttle again, and it takes right off again, without any fuss. One can do this all-day long, and all-night thanks to the throw of the projector headlamp. One would not even need to stop for fuel, thanks to the huge 27-litre tank. With claimed mileage of 20 kpl, that means over 500 km of riding range without refuelling, which is mighty impressive.
The seat, though — they should do something about that.
The four cylinders give the rider an assurance of power on tap, though 80 HP may not be much to rave about. However, the company carefully explains, these specs are for the European models. Indian specs would be released when the bikes are launched. Benelli has learned something from the recent chastening experience of Triumph, on claimed performance specs of its bikes.
But Benelli needs to learn one lesson quickly - the ongoing brouhaha over safety. The 600GT does not offer ABS, even as an option. They would have to change that mighty quick, with the government having announced that ABS would be mandatory for big bikes, maybe as early as next year. That may drive up the cost, which DSK Benelli has promised would be extremely competitive.
On the whole, a bike worth waiting for. The pricing would set the tone: Anything in excess of ₹ 8 lakh would disappoint bikers, and something closer to ₹ 7 lakh can make it a best-seller. T he big g er question mark is about whether DSK would be able to offer sufficient aftersales service. Wait and watch.
First Published Date:
30 Jan 2015, 10:46 AM IST
TAGS:
NEXT ARTICLE BEGINS