Maruti service stations to show off gizmo power
The next time you visit a Maruti service centre, you may be greeted by a service executive wielding a tablet device, who will inspect your car, give the estimated cost of repair in less than 10 minutes, HT reports. Pain killer app

Maruti service stations to show off gizmo power
The next time you visit a Maruti service centre to get your car serviced, you may be greeted by a service executive wielding a tablet device, who will inspect your car and give you the estimated cost of repair and service and the time of delivery of the vehicle in less than 10 minutes.
In its bid to hasten the process of inspection and reduce the turnaround time, Maruti dealers have bought around 1,000 tablets for front-end executives at over 250 service centres.
"What we wanted to do is integrate technology with our systems to manage customers better," said Rajesh Uppal, executive director (IT), Maruti Suzuki India Ltd.
"There is heavy rush during morning hours, and in the ordinary cuorse of things, it takes a lot of time to attend to each customer. With the help of these tablets the duration of interaction is less than 10 minutes."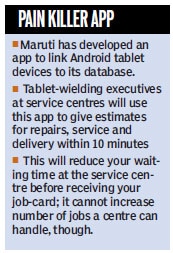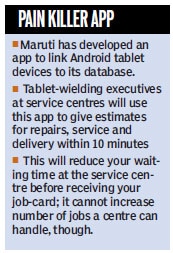 This does not mean that more cars can be serviced in a day. But customers need not wait in a queue at the dealership before the car is fully inspected and they get an invoice or job-card.
Maruti has developed in-house, an Android-based application that connects the tablets to its central database.
At the touch of an icon, the executive gets to know the history of the vehicle and can assess possible repairs it may need.
There are over 3,000 MSIL service centres in India, covering over 1,400 cities. Uppal said that gradually, all of these workshops would be integrated with this system.
In the last fiscal year, over 17 million cars were serviced by Maruti at a rate of 50,000 cars a day all over India.
First Published Date:
14 Apr 2013, 21:03 PM IST
TAGS:
NEXT ARTICLE BEGINS