Mahindra gives its Scorpio more venom
M&M's staple SUV gets a new look; though not pathbreaking, it will retain its customer base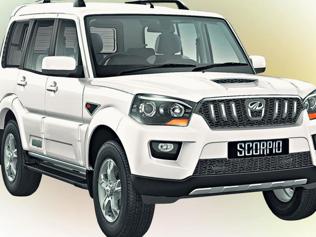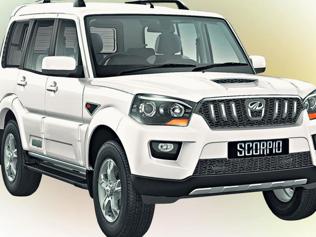 Rugged-as-ever
IF Mahindra and Mahindra (M&M) is a household name in India in the sports utility vehicles and people mover departments, the Scorpio deserves much of the credit. Over a decade ago, its development came when the company wasn't really being pushed by the competition but by its stagnant portfolio. Scorpio was a gamble, one that paidoff — turning M&M around and laying the foundation for successes such as the Bolero and XUV (at least initially).
A new version has not been forced on the firm, either, but has been born out of a period of stagnation. Can Scorpio 2.0 revitalise the company again like its predecessor did?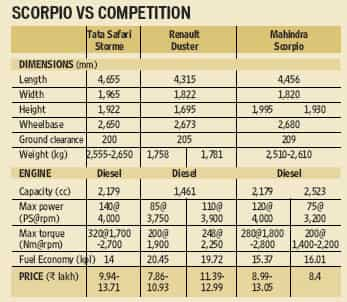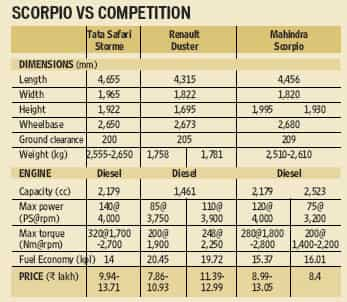 IS IT NEW?
That is the first question that comes to mind and there is no easy answer. One look at the car and it is becomes evident that it is just a refresh of the old model. It still has the road presence that consumers, cutting across age groups, have come to love. Changes include a revised front with a less pronounced grille, and a more angular projector headlamp cluster, replete with LED eyebrows. Mind you, these are not day-time running lights and only light up when the vehicle is parked. There is a refreshed rear also, with black cladding on the door and a new tail lamp cluster. Overall, the design has not changed much but these tweaks do add a little excitement to the car.
What is decidedly new is the interior. The new car gets a completely redesigned dashboard. The quality of plastic, and fit and finish have improved by leaps. Even the electronics and the touch-screen infotainment system work without glitches. The wheelbase has not changed so the rear leg-room hasn't improved, but the cabin remains airy, with large glass area.
However, ergonomically it is still not cutting- edge. There are no bottle holders on the front doors, for instance, and no central lock button either. Also, it continues to have the two side-facing jump seats in the third row that do not serve any purpose and are, in fact, unsafe without seat belts.
OLD PERFORMANCE, BETTER HANDLING
The new Scorpio carries the same engines from the outgoing version. Unlike Duster, it continues to have a ladder-on-frame chassis, but the suspension set-up is a lot stiffer. Clearly, the idea was to address the vehicle's infamous handling. With the 2.2-litre-mHawk engine there is perceptible turbo-lag at low rpms but it is compensated by a terrific mid-range. What has not been refined is the gearbox and the inconsistent brakes— old bugs in all M&M vehicles. While the ride quality has improved, at three-digit speeds it has a tendency to bounce around like a speedboat. The vehicle is solidly built and the heavy clutch is a reminder of its bulk. The chassis structure means that it drives more like a pick-up than a car with a monocoque body.
VERDICT
During a tea break, mid-way through our test, a crowd gathered around the car and pronounced an instant verdict — gaddi changi hai (good vehicle). Our verdict: it may not be able to convince those looking for refinement and finesse, but the Scorpio's core customer isn't going anywhere else. At 60,000 units sold every year for over 10 years, that is some customer base.
It may not be a breakthrough vehicle, but maintaining existing standards is in itself an achievement.
First Published Date:
14 Nov 2014, 11:24 AM IST
TAGS:
NEXT ARTICLE BEGINS