Hero Xtreme 200R review: Not exciting enough to beat a Bajaj or TVS
Hero's newest motorcycle, the Xtreme 200R, is a clear step-up from the 149cc Xtreme Sports. It is sporty looking, but in terms of outright performance, it falls short of the standards set by Bajaj or TVS.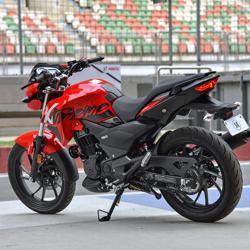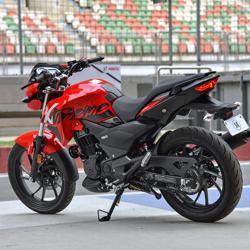 The Hero Xtreme 200R is not a head-turner.
Down a short straight within the short loop of the Buddh International Circuit, I'm comfortably crouched over the Xtreme's handlebar. The digital speedo is reading 105kph - not phenomenal, but not bad either, considering my near-100kg kerb weight and the limited straight on offer. The 199.6cc, single-cylinder motor is close to its limit at this point but there's still some more left. None of this is startling, given that we've been in this performance league for far too long, so what is it that the Xtreme 200R is out to achieve?
Let's pull up in the pits and go over its details. The Xtreme 200R is a clear step-up from the 149cc Xtreme Sports. The motor is a heavily reworked unit from the Achiever 150 and it offers a substantial increment in terms of output figures - 18.4hp and 17.1Nm. Transmission is a five-speed unit and the motor is a conventional, carburetted, air-cooled 2-valve unit that's gimmick-free. These figures impress in isolation but its immediate rivals - the Bajaj Pulsar NS200 and the TVS Apache RTR 200 4V - have a significant edge over it that cannot be overlooked.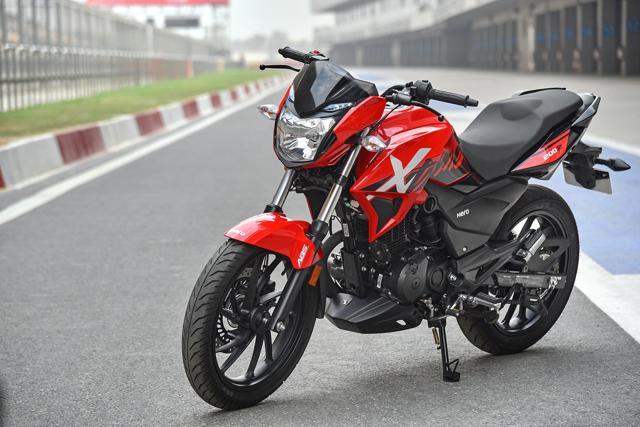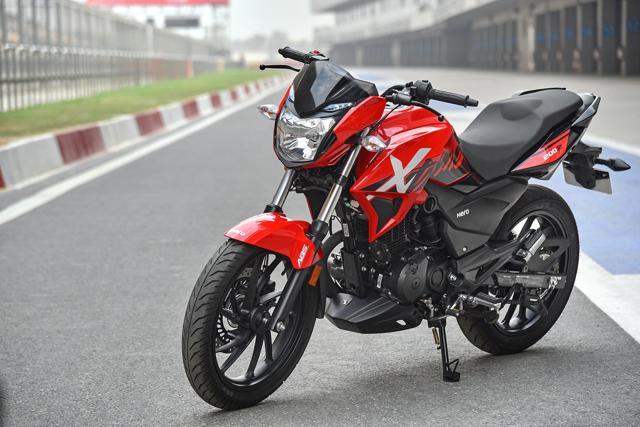 There's no debating its defeat on paper, but is it as easy a wipe-out in reality as well? Disclaimer first: the evaluation that follows is in the context of smooth, flowing, bump-free tarmac. A thumb of the starter button (a kick starter is present) fires up a motor that sounds promising intent and is one that is noticeably refined. The snick into first gear is nondescript - a good thing - and releasing the light clutch reveals a peppy motorcycle.
The Xtreme makes it clear from the onset - it's engineered for torque and a strong-mid range. It lacks the RTR and Pulsar's outright street-racer approach but comes across as a more enabling performance commuter. I'm happy to report, it certainly aligns itself to the philosophy of the original CBZ Xtreme - to be a fast but uncompromisingly usable street bike. In that context, the Xtreme 200R begins to emerge as a likeable motorcycle. The handlebar (a conventional unit) isn't too low-set and the pegs are comfortably rear-set; oddly enough, it gets a single-piece seat (the cheaper Xtreme gets a split seat) although the resultant riding position is commanding, offering terrific leverage in a stress-free layout. The riding geometry is happily supportive of enthusiastic real-world riding (read, a world in which you may not necessarily have knee-sliders on) which, again, falls within the brief of the Xtreme family.
If toys are your thing, the Xtreme won't particularly excite you. It gets a simple digi-analogue instrument cluster, with an analogue tachometer and a blue backlit screen featuring a speedometer, a trip meter, an odo, and a digital fuel gauge but unfortunately, not a gear position indicator. Just above the digital screen are a bank of tell-tale lights of which one stands out in particular - a tiny orange circle which reads ABS. This is, as some of you may have guessed, Hero's first-ever ABS-equipped motorcycle and while it may not warrant celebration (since it's the norm for two-wheelers above 150cc launched after April 1, 2018), it's an important addition nonetheless. The Xtreme, like the Pulsar NS200, only gets a single-channel unit, however; the Apache RTR 200 4V is the only one to offer dual-channel ABS in its class.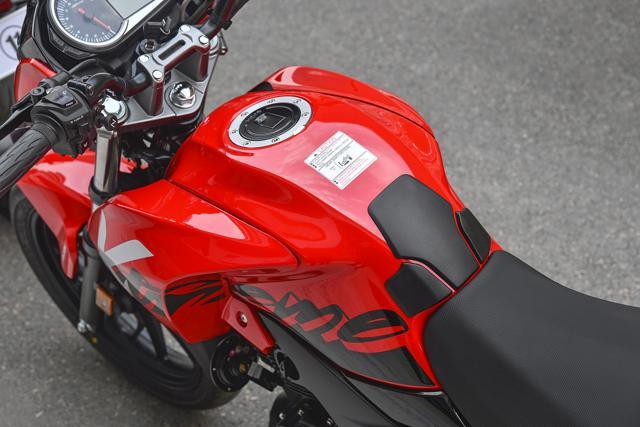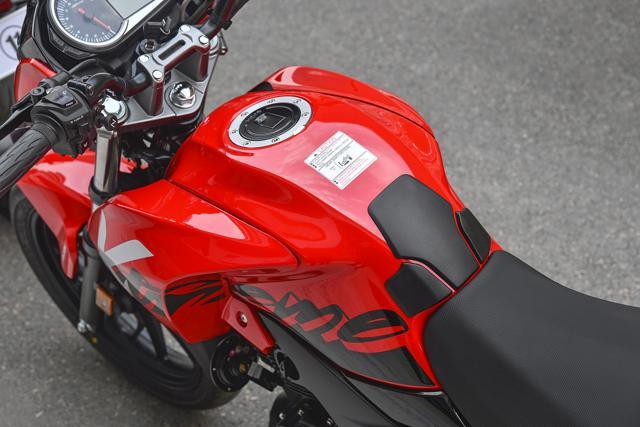 Thankfully, its braking mannerisms leave nothing to one's imagination. The combination of a 37mm fork, a 100/80-17 front tyre (widest in its class; the rear gets a 130/70-R17, both tubeless while the rear is a radial) and a 276mm disc (220mm at the rear) translates to predictable, precise braking performance. The front brake lever feel is neutral, and braking is neither too sharp nor too sensitive - great for everyday usage. Another impressive addition is that of a steel braided hose for the front brake.
Now, we can move on to my favourite bits on the Xtreme - the ride and handling. A fair stint on the first-gen Xtreme led me to expect wonders in this department - it was a revelation, to say the least - and I had an inkling of what to expect. True to this expectation, the Xtreme 200R proved to be delightful in the corners, despite not being (or coming across as) a track-focused machine. The Xtreme 200R is all about finding quicker lines within the city, while also being able to have an enjoyable time up the twisties, a short while away from home. The MRF tyres (Nylogrip Zapper FYM at the front and REVZ-S at the rear) are encouraging of this manner of riding - as far as I could interpret on the BIC's surface - and there's more to them (good levels of grip, that is) than just being amply sized. At the BIC, I was left optionless but to scrape the foot-peg feeler bolts all through, which did get a bit unnerving.
While the BIC was an ambitious canvas for the Xtreme 200R to strut its stuff on, it didn't disappoint in the areas of predictability, composure or responsiveness. It may not excite dreamy-eyed boy-racers with a dangerous opinion on physics, but for city-bound enthusiasts, it presents a balanced overall package. While I couldn't put the suspension through an arduous rough-surface test given the limitations of my riding environment, it did come across as poised and quite encouraging of aggressive cornering, too. Venturing occasionally onto the kerbs indicated at pliant ride quality for the street. This is the only monoshock in Hero's current line-up (the Impulse had one) and is a 7-step adjustable unit. I happened to be riding it on the fourth step, closer to its peak stiffness.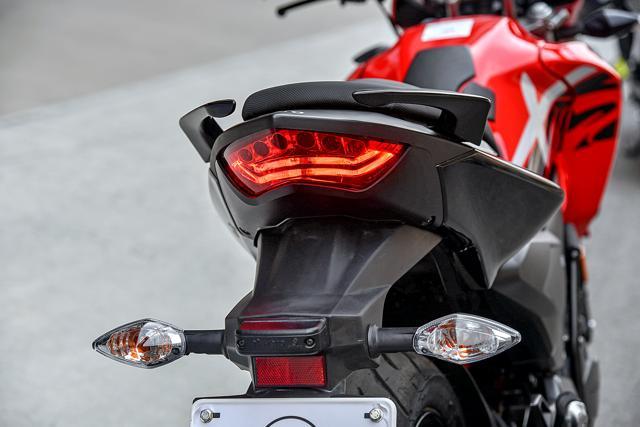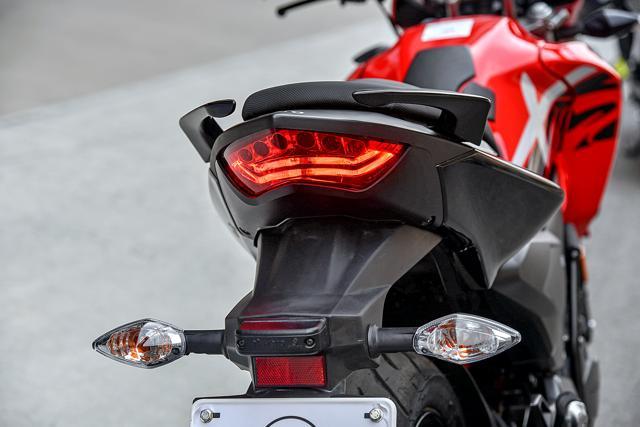 Finally - and a bit weirdly, in the world of automotive storytelling - we come to the looks. Let's face it - the Xtreme was never a head-turner (not in a conventional sense at least) and the 200R isn't much of one either. Its conventional silhouette has no trick up its sleeve although it's easy to identify it as the larger sibling, thanks to the pronounced tank extensions, among other details. Looks, as we have forever agreed upon, are subjective - so let's leave it at that. What you'll like unanimously is the paint quality and the fit and finish of the panels, both of which are set at a respectable level. The controls feel robust and built to last, although the choke lever mounted below the LHS switchgear pod seems like an afterthought. The bare metal rear brake lever, too, seems out of place on a 200. Another aspect I will have to reserve comment on is the headlight's performance, although I couldn't help but notice that it shares its tail-light with the Xtreme Sports.
So, should you buy one? If you are somebody who has done time in the sub-150cc segment for far too long, have saved up along the way but haven't seen a drastic evolution in your riding cycle, the Xtreme 200R is for you. If your riding pattern is still dominantly utilitarian (with some respite on weekends, perhaps) you will appreciate its mix of a tractable motor, overall comfort and undemanding layout. Given its simplicity, we expect the Xtreme 200R to be priced competitively - around ₹90,000 or perhaps even slightly cheaper. Sales should begin before the end of June. Now, the Xtreme 200R does little in terms of outright performance to make you walk away from a Bajaj or a TVS dealership. Having said that, it does have very likable qualities if you are at peace with your riding priorities and don't own a set of racing leathers.
First Published Date:
02 Jun 2018, 09:16 AM IST
NEXT ARTICLE BEGINS