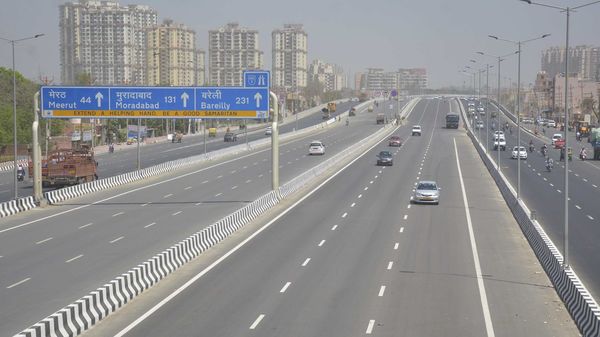 Delhi to Meerut in 45 mins: 10 things to know about the newly-opened expressway
1 min read
.
Updated: 02 Apr 2021, 08:15 AM IST
The expressway will also reduce the travel time of commuters from Muzaffarnagar, Saharanpur, Haridwar and Dehradun to Delhi.
In a big relief, people travelling between Delhi and Meerut can now zip between the cities in just 45 minutes instead of hours taken before. The smart highway was opened for public on Thursday (April 1, 2021), three years after Prime Minister Narendra Modi had inaugurated the first phase of the Delhi-Meerut Expressway in May 2018.
After a digital inauguration of the highway, Union Minister Nitin Gadkari shared a video of the project on Twitter and wrote, "Delhi Meerut Expressway has now been completed & opened to traffic. We have fulfilled our promise of reducing travel time between Delhi - Meerut from 2.5 hours to 45 minutes."
Here is a look at ten key features of the Delhi-Meerut Expressway.
1
The 82-km-long Delhi-Meerut expressway will consist 60 kms of expressway and 22 kms of national highway. The project has been developed at a cost of ₹8,346 crore.
2
The expressway will have a total of 24 four small and big bridges, at least 10 flyovers, three railway bridges, 95 underpasses and several pedestrian bridges.
3
The Delhi-Meerut Expressway has been constructed in four separate phases. It starts from Nizamuddin Bridge to UP Border, while the second phase is between UP Border and Dasna, the third phase is between Dasna and Hapur and the final phase connects Hapur and Meerut.
4
Vehicles on the Delhi-Meerut Expressway will have a speed limit ranging between 80 kmph and 100 kmph across different stretches of the highway. Display screens will be installed at every 10 kms to show the speed of each vehicles passing through.
5
For security purposes, as many as 72 CCTV cameras have been installed in the fourth phase of Expressway from Dasna to Meerut. In all, more than 4,500 lights and cameras have been installed on the entire road for the safety of commuters.
6
The Delhi-Meerut Expressway will also have provisions for cyclists and pedestrians. There is over 2.5 meters cycle corridor and 2 meters-wide footpath alongside the roads on phase 1 and phase 2 of the expressway.
7
To make the journey pleasant at night, colourful lights have also been installed on the expressway. Separate lighting has been provided on the pavement and cycle track.
8
The Delhi-Meerut Expressway will introduce Automatic Number Plate Recognition (ANPR) cum FASTag based Multi Lane Free Flow Tolling System for the first time. This will help deduct user fees for the highway without stopping vehicles at toll gates to ensure free flow of high speed traffic.
9
There are several entry and exit points on the Delhi-Meerut Expressway for smoother connectivity. These points are located at Akshardham, Dundahera, Sarai Kale Khan, Dasna, Indrapuram and Noida.
10
There will be a special Emergency Call Box (ECB) provision for timely approach at the time of emergency for the road users. Facilities like ambulance, crane, petrol pump, restaurants, maintenance of vehicles shops have been developed for the convenience of commuting vehicles.