BMW launches its first hybrid & costliest car i8 at
₹

2.3 cr

Luxury carmaker BMW has introduced its costliest car in the country by rolling out the 'i8' sports car, which also is its first model hybrid car.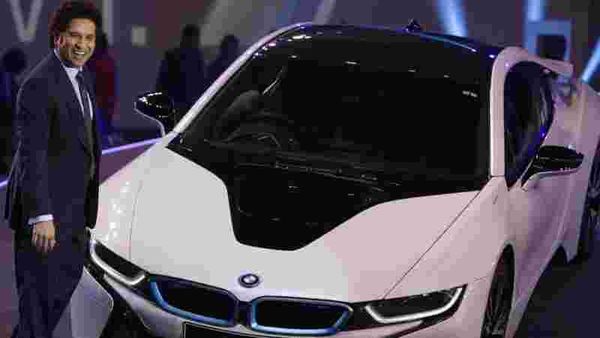 Luxury carmaker BMW has introduced its costliest car in the country by rolling out the 'i8' sports car, which also is its first model hybrid car.
At ₹ 2.29 crore ex-showroom Mumbai, BMW i8 is also the first offering from the German car major's sub-brand 'i', which focuses on sustainable mobility and hitech car development.
The machine sports a 1.5-litre petrol engine and a 131-hp electric engine, offering a combined power of 266 hp, a combined mileage of 47 kmpl and can gain a speed of 230 km.
It also sports a regenerative breaking system, which is another first for the company.
Only its larger rival Mercedes offers the regenerative breaking system technology here, which enables maximum power saving as each time one applies the break, it recharges the battery and every other electrical gadget in the car.
The dual engine, fitted on a carbon fibre body, makes it one of the safest sports cars from the BMW stable. Brought in from Germany as a completely built unit (CBU) the i8 is ₹ 2.3 crore showpiece only the ultra rich can afford.
Launching the car, BMW Group India president Philipp von Sahr said the new machine, so far sold over 18,000 units worldwide, is the symbol of change and innovation from BMW and is positioned to help the government achieve its ambitious target of over 7 million electric cars on road by 2020 under the national electric mobility mission.
Launched in August 2013, the National Mission for Electric Mobility seeks to secure energy security, mitigate adverse environmental impacts and push domestic manufacturing by helping put 6-7 million electric vehicles on the road by 2020. The government will be offering incentives worth ₹ 1,400 crore to consumers and auto manufacturers under this.
The German luxury car major began the i project 2007 to sustainable mobility and the i8 comes with the regenerative breaking system and stands as the future of urban mobility. High-performance plug-in hybrid burns more adrenaline than fuel with revolutionary BMW e-drive system, and latest BMW efficient dynamics technologies.
He said i8 is the first plug-in hybrid vehicle from the sub-brand BMW i, and the car is available at exclusive BMW i dealerships in Mumbai, New Delhi and Chennai from today.
On the rationale behind the i8, Sahr said, 'the global automotive industry is witnessing a paradigm shift from the conventional combustion engine to sustainable mobility solutions. And BMW i is a ground-breaking concept for sustainable mobility and a new understanding of premium-strongly defined by sustainability.'
The four-wheel drive sports car, available in four variants, was launched by cricket icon Sachin Tendulkar, who also is the brand face of the group here.
First Published Date:
20 Feb 2015, 03:08 PM IST
TAGS:
NEXT ARTICLE BEGINS