Withdraw Datsun Go from India: crash test agency
Two days after car fails safety test, NCAP writes to Nissan chief Ghosn; letter yet to reach Japanese co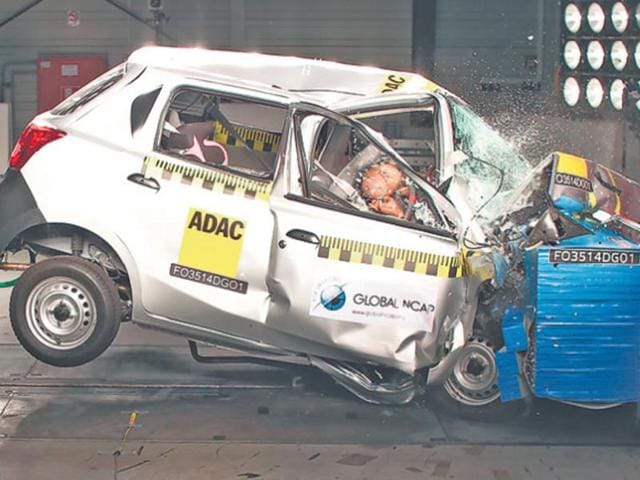 Two days after Japanese car major Nissan's sub-brand Datsun's entry-level model Go flunked a crash test, Global NCAP, the agency that conducted the test, has written to Renault Nissan chairman Carlos Ghosn urging him to discontinue the model in India as it dents the global car major's safety credentials.
The Go, which was launched earlier this year and competes with the Maruti Alto and Hyundai Eon at the bottom end of the Indian car market, scored zero stars for adult occupant protection and just two stars for child occupant protection.
The vehicle's structure collapsed during the test and it was rated as unstable.
"It is extremely disappointing that Nissan has authorised the launch of a brand new model that is so clearly sub-standard," said Max Mosley, chairman, Global NCAP. "In these circumstances I would urge Nissan to withdraw the Datsun Go from sale in India pending an urgent redesign of the car's body-shell. Given Carlos Ghosn's responsibilities as chairman and CEO of Nissan and president of the European Car Manufacturers Association, he should now demonstrate leadership both in Nissan and on behalf of the vehicle industry generally that corresponds to the UN's legitimate expectation that automobile safety should be improved."
During the test conducted this week, Maruti Swift also flunked the test, as most of the cars in India are sold without features like airbags and anti lock brakes in the entry level variant.
In January, NCAP had tested five other small cars — Tata Nano, Hyundai i10, Maruti Alto 800, Ford Figo and Volkswagen Polo — and all of them failed the test on various counts.
When contacted a Nissan spokesperson said they had not received the letter calling for a discontinuation, yet. The company had earlier responded to the tests saying the car met all the prevalent norms in India.
Global NCAP can only make recommendations related to the safety of the vehicles.
First Published Date:
07 Nov 2014, 11:02 AM IST
TAGS:
NEXT ARTICLE BEGINS