Volkswagen jumps to the front of the SUV queue
The new Tiguan represents the first shot in what Volkswagen is describing as a full-on SUV offensive.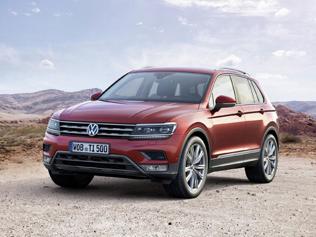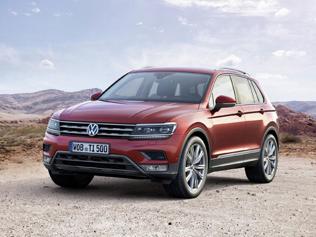 The new compact SUV has been revealed ahead of the Frankfurt motorshow. Photo:AFP
The new Tiguan represents the first shot in what Volkswagen is describing as a full-on SUV offensive. And if every crossover-inspired model that follows in its wake is as much of an improvement as the second generation Tiguan is over the car it's replacing, VW could well have the market to itself.
Unveiled on the eve of the Frankfurt motor show, the new Tiguan may look similar to the outgoing model, but in reality it is a clean-sheet design and one that offers better technology, higher comfort, better efficiency and more head, leg and luggage space.
The extra space is due to the car being 60mm longer and 30mm wider and by increasing the space between the front and rear wheels. In the back there's now 29mm of extra rear passenger knee room and 615 liters of luggage space with the rear seats in place but moved slightly forward -- that's a 145-liter improvement. Drop them altogether and there's 1655 liters on offer.
But as well as more space, there's more intelligence on offer. There's little doubt that the SUV shape appeals to the car-buying masses, but different drivers want to do very different things with them. The old Tiguan was all about SUV style. The new model is very sharp aesthetically, but can deliver on those looks too.
The car can be specified with an off-road front end which vastly improves approach angle to 25.6°, crucial for tackling steeper obstacles, as is ground clearance (up to 200mm) and decent four-wheel drive. The Tiguan can be ordered with front- or all-wheel drive and has a new multi-mode traction control and stability system for choosing how the car should behave and the prevailing road conditions. What's more, from 2016, it will be available in a longer wheelbase version too.
As for high-tech features, it's the first VW SUV to be offered with a head-up display and even the entry-level model will came with pedestrian monitoring, city emergency braking and lane assist and lane departure warning systems as standard.
Check the options boxes and a 12.3-inch digital dashboard display, adaptive cruise control capable of taking over stop-start driving in congested conditions and a full 360° panoramic camera view optimized for on- and off-road use are available.
The first-generation Tiguan was a huge hit -- 2.64 million examples to date -- and VW believes that demand for SUVs and crossovers of all size is only going to grow. It's forecasting that in the compact segment alone, sales are ready to motor from 8.17 million units to 8.93 million models annually within the next two years and for the moment at least, the Tiguan is looking like it could take the lion's share of this demand.

First Published Date:
15 Sep 2015, 11:21 AM IST
TAGS:
NEXT ARTICLE BEGINS