Virtual showrooms: A look at the future
Walk into an automobile showroom and a virtual replica of your favourite celebrity guides you through the cars and two-wheelers on display.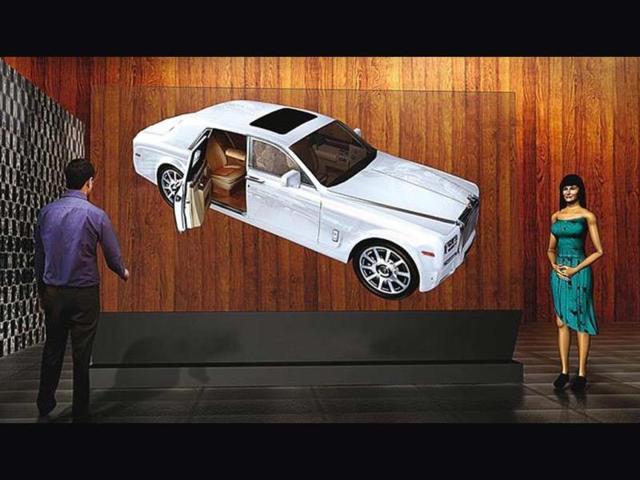 Walk into an automobile showroom and a virtual replica of your favourite celebrity guides you through the cars and two-wheelers on display. If you wonder what the car looks like in maroon or how the engine internals perform, a simple hand gesture can paint the car in the shade of your choice or extract its engine and assuage your curiosity.
This is Meerut-based, 29-year-old math wizard and founder of Brain Programmers, Nitin Vats' vision of an ideal automobile showroom.
Vats' company is committed to developing ultra-realistic, virtual showrooms that, apart from creating almost life-like virtual automotive models, offers the option of virtual sales staff too. Often, people buy a vehicle in the variant and colour of their choice by looking at a brochure and a key-ring with shade samples.
"If you're in the market to buy a new automobile, chances are you will like to compare at least two or three models before zeroing in on one. Additionally, in the showrooms, you will almost certainly not find all the combinations of colours and trim options across the OE's portfolio," says Nitin.
This is especially a problem with luxury car manufacturers which offer several combinations of interior trim and exterior paint. Globally, some manufacturers have resorted to an orthodox solution. For example, BMW in Abu Dhabi constructed a huge 35,000 square metre showroom to showcase 70 cars and 10 motorcycles in various colours and trim levels. Setting this up cost it US$ 81 million (about ₹486 crore). Similarly, Audi invested a whopping US$ 245 million (about ₹1,470 crore) in Dubai to set up a 15,000 square metre showroom showcasing 57 vehicles.
Vats argues that the expenses of setting up such mammoth showrooms are an unnecessary waste of company resources and manufacturers can, instead, opt for adopting a virtual showroom for a fraction of the cost. Yes, the concept of three-dimensional car models isn't new and manufacturers such as Audi, Nissan and BMW have invested millions of dollars to develop their own virtual reality models in some of their showrooms. Yet, Vats reasons that the current crop of three-dimensional and virtual reality car models developed by them are far from convincing. He emphasises that there is a need for such showrooms to be more realistic in terms of their size, texture, details and functionality to replace a real car on the showroom floor; hence defeating the purpose. Also, if carmakers choose to develop these technologies themselves, it will utilise a lot more time and money as they would have to begin from scratch.
To make the virtual models look accurate, Vats' team spends about a month scanning every small detail of an actual car or bike including running gear and underpinnings. This data is then crunched by their proprietary software to create lifelike renderings. This typically takes three months to deliver. Interacting with the model (flipping it around, opening doors, operating the electronics in the cabin etc.) is done via a motion sensor (such as Microsoft's Kinect) programmed for intuitive gestures. We saw a few of his created models and they seem quite convincing about their realistic textures - especially the accurately recreated light sources.
"Our software uses millions of more polygons to render the images and hence gives it a distinct edge over the others," explains Vats. These life-sized models can be projected on a transparent screen or through a holographic projector for the best results and its portability means manufacturers can easily setup 'showrooms' in footfall-heavy areas such as malls.
Another USP is that Brain Programmers can also design a life-sized virtual salesman (typically with a celebrity's face and voice) that will use Apple Siri-like intelligence to explain the product to consumers.
"Salespeople may have limited knowledge about all their products and at times, there's also some dilution in information," says Vats. With humanoid virtual sales assistants, human error is avoided and the CEO's pitch can be directed straight to the consumer without being watered-down.
Hero MotoCorp is among the first Indian companies to have invested in Vats's product and the company also showcased it at this year's Auto Expo. The two-wheeler major hopes to roll out virtual showrooms later this year.
Escalating real estate prices and ever-expanding product portfolios means virtual showrooms may just be the practical future of automobile showrooms. And while the ultimate feel of a real product is hard to replace, this indigenously developed technology does promise to come very close. Will other OEs follow suit?
First Published Date:
06 Jun 2014, 10:56 AM IST
TAGS:
NEXT ARTICLE BEGINS